At the Natural Product Expo, I tasted a lot of products marketing themselves as post-workout snacks, but many were too low in protein. According to Tim Rich, a Fitness Manager at Crunch Gym, anyone doing endurance or strength training needs at least 10 grams of protein right after an intense workout to help with muscle repair and recovery. The following new products live up to their protein-packed hype — with more than 10 grams of protein per serving, they each make a perfect — and quick — post-workout snack.
11 Grams of Protein: Small Svelte Shake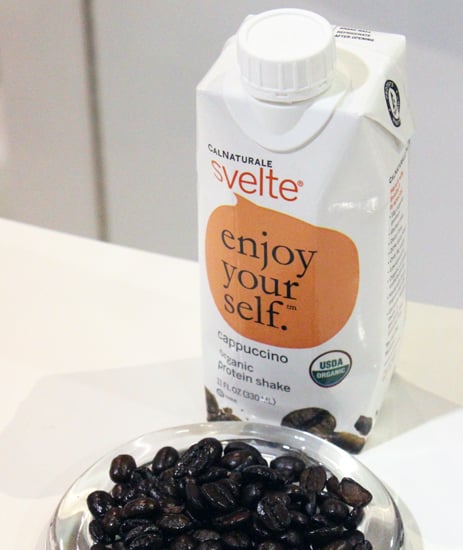 Made with soy milk, the new smaller size of the Svelte Shake is delicious at room temperature from your gym bag or cold from the fridge once you get home. Unlike many of the protein shakes I tasted, there's nothing grainy about the dairy-free Svelte shakes — they're smooth, creamy, and not overly sweet.
12 Grams of Protein: The Gluten-Free Bar


Vegan, chock-full of protein power, and obviously perfect for someone with a gluten intolerance, The Gluten-Free Protein Bars are all natural and delicious. Unlike many power bars on the market, you'll be able to recognize (and pronounce) every ingredient listed.
Keep reading for one more sweet snack with 20 grams of protein.
20 Grams of Protein: ProYo Yogurt


Probiotics, the healthy bacteria that improve digestion, were a top trend at the expo. Each flavor of ProYo Frozen Yogurt contains five different strains of healthy probiotics, and also manages to cram in 20 grams of protein. Developed after the founder was recuperating from a weight-lifting injury, he knew that ample protein was necessary to repair damaged muscle tissue. I'd love to know this refreshing treat was waiting at home as my workout reward.