Healthy Holiday Eating Tips From Patrick Murphy
Celeb Trainer Patrick Murphy's Tips For Tackling Holiday Eats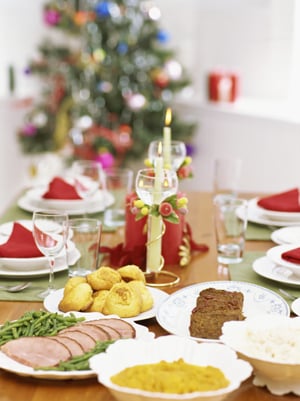 Sometimes the holiday season can feel like gluttony on a stick. If you're worried about bottomless cocktails, cookie platters, and never ending buffets, celebrity trainer Patrick Murphy (in the past, Patrick has worked with Eva Longoria and Olivia Wilde) shared a few tips with us that will keep your waistline in check all through the holidays.
Buffet style? Hit the line last! Patrick says that people who hit the buffet first, overload their plates with food to avoid getting back in line. The "fresh out of the oven" presentation also influences them to take larger helpings. Since picked over food psychologically makes you choose smaller amounts, being one of the last in line is a good way to practice portion control.
Eat proteins first. When approaching a holiday table filled with glorious carbs, Patrick suggests putting more protein on your plate and eating that first. Proteins slow the absorption of carbs, which can help prevent a spike in blood sugar.
See more tips when you read more.
Use a salad plate for dinner. It's a pretty simple trick, but it works. As Patrick says, "Even if you go for seconds, those seconds will still be smaller."
Savor dessert, slowly. Take the time to really enjoy your first few bites of a dessert. "From then on," Patrick says, "it's the law of diminishing returns." Enjoy those fist bites slowly and obnoxiously and then be done with dessert.
Put the focus onto family and friends. While food is a big part of the holiday season,  enjoying the company of your family and friends is more important. Patrick says instead of being an eating machine, kill calories with conversation, games, and other activities. "Make food your back-up entertainment."