Healthy Holiday Snacks
Healthy Nibbles For Holiday Snacking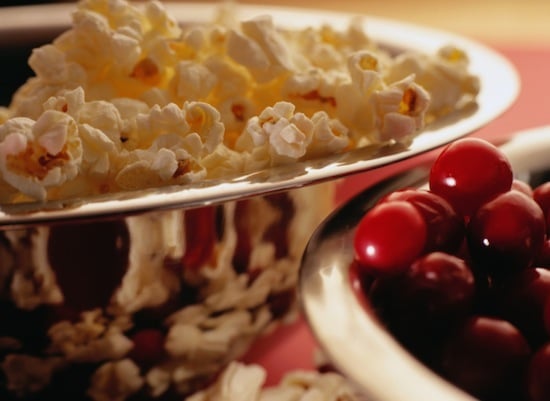 It's inevitable that the snack table is one of the most popular socializing zones in the house during the holiday season. Due to their close proximity to the television, treat-filled coffee tables are prime targets for unconscious nibbling — and who doesn't like snacking while watching a sporting event or a favorite Christmas movie? This year, try removing the bowls of candies and chocolates and replacing them with healthier snack options. Here are some of my favorites that are just as tasty, and your guests won't even know the difference!
Kettle Corn: Kettle corn is always a holiday favorite, so instead of buying premade kettle corn — which is often full of sugar and calories — why not make your own healthy version? Here's a recipe to try. Rapunzel Organic Whole Cane Sugar is an unrefined, unbleached, sun-dried sugar, which retains most of the minerals and vitamins in the sugar cane. Using the stove-top cooking method, heat oil, add one to two teaspoons sugar per one tablespoon of popcorn, let the sugar melt, then toss in the kernels. Shake the pot while popping, so the caramelized sugar can coat each kernel. Pour the kernels into a big silver or red bowl, and you have a light, sweet snack for your visitors!
Nuts: Always a popular snack in my house when I was little, bowls of raw nuts in their shells are the perfect snack for partygoers because they make you work for the goodness inside the shells, and they are a healthy treat! Pick up some heavy-duty nutcrackers for some serious cracking, and then head to the store for raw hazelnuts, walnuts, almonds, or Brazil nuts. My personal favorites are walnuts (yes, their omega-3 content helps protect against coronary heart disease, depression, and menstrual cramps), but a good mixture of the nuts listed above provides health benefits as well. If you want to stuff your face with nuts (a quarter cup of raw walnuts contains 201 calories), good luck, because it takes awhile just to get a few out of the shell!
Party Mix: Party mix is a staple snack at holiday parties. The problem is some store-bought versions are often loaded with salt and calories, thanks to ingredients like butter or margarine. I like this healthier version that uses Toasted O's and reduced-fat pretzels in its recipe. Don't worry — there's less fat but still lots of flavor!