Healthy Homemade Snacks to Save Money
Save Money, Help the Planet With These DIY Healthy Snacks
Eating healthy isn't always cheap, but it's a must if you want to improve your overall health. If you choose to buy organic or exotic options like dried blueberries — $13 for a small bag! — snacks can quickly eat up your food budget. Find out how to nosh on healthy nibbles and still have money left in your wallet.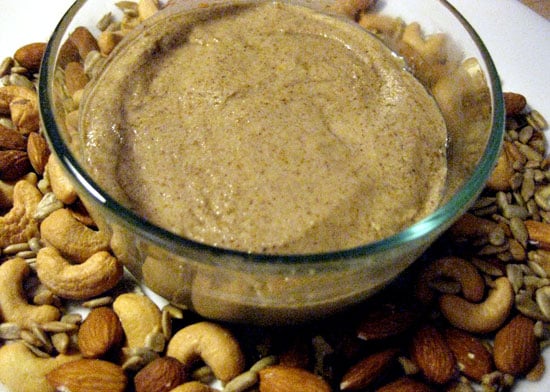 Cheese sticks: Instead of buying individually wrapped cheese sticks, save money and avoid plastic packaging by making your own. Buy a block of your favorite cheese for a few bucks— mozzarella and monterey jack work well — and cut the block into long wedges for a grab-and-go snack.
Nut butter: Nut butters are great on toast, crackers, or sliced fruit, but if you buy organic jars, you can spend almost $8. Try this instead: buy huge bags of unsalted raw nuts, pour a cup in the food processor, and make your own. You can even make mixed nut butter with a few of your fave nuts and seeds. Spoon the creamy mixture into a glass container to store in the fridge.
Keep reading for more money-saving snack tips.
Store-bought snack packs: The 100-calorie packs many companies make are super convenient, especially if you're short on time and trying to watch your portion sizes, but you can easily make your own. Buy trail mix, cereal, and other snacks in bulk to measure out 100- to 150-calorie portions and store them in reusable containers or snack bags.
Yogurt: If you're into Greek yogurt, your addiction probably runs you almost $2 per six-ounce container. That may not seem like much, but if you snack on yogurt a few times a week, it really adds up. You can save money and avoid wasting tons of plastic containers by buying yogurt in large 32-ounce tubs. Divvy it up into five or six servings using small glass containers, and you can even add freshly diced fruit so your snack is set to go. Or save on packaging altogether by making your own yogurt at home.
Granola bars: Quick and satisfying, a box of six can run you around $5. Save money and unnecessary packaging by making your own. Bake your own granola bars using this recipe for sweet and salty coco-nut bars. Or if you're into chewy bars, make these simple fruit and nut bars.