Healthy Items to Keep in a Purse
6 Essentials to Stash in a Fit and Fashionable Purse
Everyone knows that nothing should ever come between a lady and her purse. It's what's in our magic bag of tricks that gets us through the day, although we're often guilty of a heavy load. The next time you go to lighten up or toss those lingering receipts, consider adding a few healthy essentials to the mix. From snacks to sanitizer, it may be what's in the bag, and not the actual bag that makes you feel like a million bucks!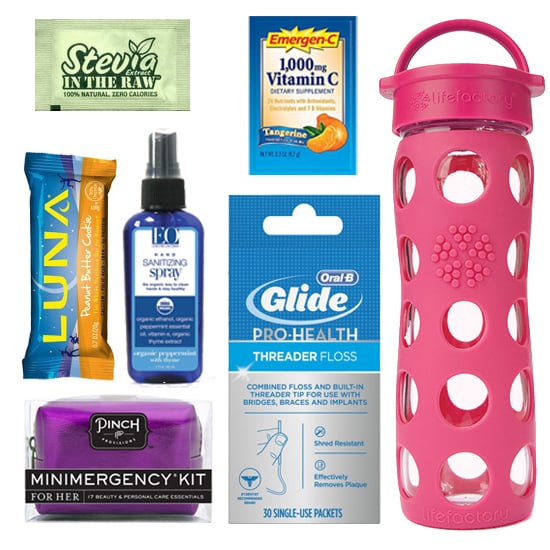 Floss: Aside from being an essential for oral hygiene, floss will help you avoid any possible (and awkward) post-salad moments. If you tend to have a sweet tooth, having dental floss handy in your purse is especially important since it wards off plaque.
Hand Sanitizer: Need we say more? With everything that you and your hands come in contact with, hand sanitizer is an important part of staying healthy. Although it may not be foolproof, it's better to be safe than sorry!
Stevia: Until all-natural sweeteners become more readily available at restaurants and cafes, consider making stevia a purse essential. Because it is a natural herb, it is a healthy, no-calorie option when compared to Splenda, making your daily cup of coffee all the merrier.
Water bottle: Staying hydrated is important, but sometimes it can be hard to do on the go. Rather than assuming water will be available or having to purchase a bottle wherever you go, keep a glass bottle ($20) on hand. You'll be surprised at how many times you'll reach for it and staying hydrated won't seem like a chore. For an extra bonus, keep a pack of Emergen-C with you during cold and flu season.
Healthy snacks: Healthy snacks are key for staying on track and avoiding unhealthy temptations. Small snacks like Luna Minis or your own homemade energy bars will keep hunger at bay between meals and workouts.
First aid kit: In case of an emergency (or a blister from your run) it's always good to have a bandage or two. A small first aid kit like the Minimergency Kit ($13) has everything from a bandage to some pain-reliever — just in case the unexpected occurs.