Healthy Lunch Swap Ideas From Top Chef "Out of the Lunchbox" episode
Healthy Food Swap Ideas From Top Chef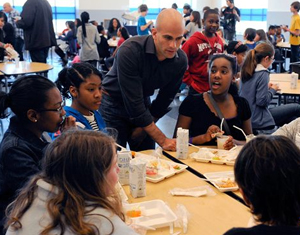 Besides getting a good dose of White House chef Sam Kass, last night's episode of Top Chef highlighted Let's Move! — Michelle Obama's campaign to end childhood obesity. For the elimination challenge, each team of four was given the task of making a healthy school lunch for 50 kids with a small budget of $2.60 per child. Sounds impossible, but it's exactly the same budget restraints that public lunch programs around the country work within.
While some of the dishes —like the sherry jus chicken and the banana pudding — were big time fails, others were big hits. Not only were they made with healthy, natural ingredients, they also went over well with the kids. Here are some of the standouts to inspire your own healthy swaps:

Whole grain tacos with roasted pork. Knowing that kids love tacos, contestant Kelly Liken gave the dish a healthy twist by making tortillas from scratch with oats, then using a lean roasted pork for the protein. She topped that off with a bevy of fresh veggies. In fact, all of the side dishes that her team came up with were great: roasted corn salad, black bean cake with whole grain and sweet crispy potatoes, and caramelized sweet potatoes with sherbet.
Melon kebabs with yogurt foam. Cut up fruit in fun shapes and stick them on a wooden stick, and suddenly they look appealing to everyone. What really got the kids excited was the addition of whipped yogurt. Contestant Kevin Sbraga turned a healthy serving of yogurt into whipping cream using a whipped cream siphon.
Chicken burger with fiesta rice. Instead of using beef, contestant Tracey Bloom kept it lean by making a chicken burger instead.
Barbecue chicken and coleslaw. A good barbecue sauce and coleslaw can be filled with tons of sugar and mayo. The chef-contestants on last night's challenge made their versions healthier by swapping out the majority of mayo and sugar and replacing it with yogurt and tangy apple cider vinegar.
What are your healthy swaps?