If you're trying to take off weight, salads are bound to be part of your life, but they don't have to be an everyday occurrence. Sometimes you're craving something that's a little more substantial that's just as easy to pack up for work — that's where these 16 recipes come in handy! All of these dishes will help support your goals and keep you satisfied until dinner rolls around. Many can be made in advance and packaged up in appropriate portions to enjoy all week.
Burrito Bowl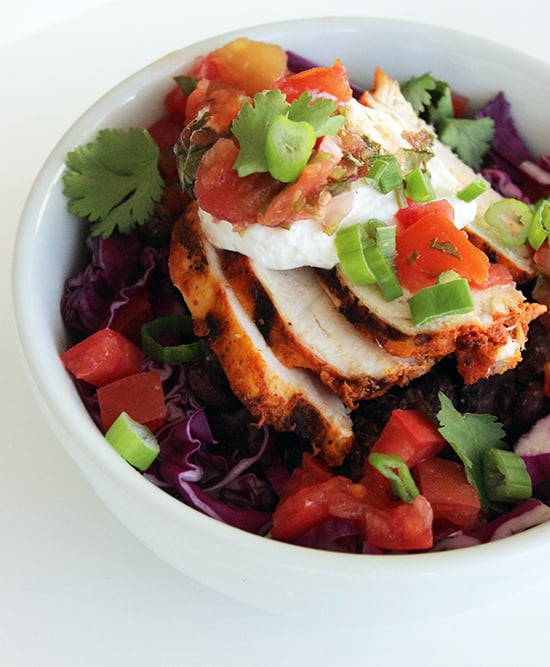 Move over, Chipotle. This healthy burrito bowl recipe [1] is half the calories, easy to make, and comes together in less than 10 minutes. A precooked chicken breast, fresh produce, and a few healthy staples are all you need for this nutrient-dense, low-calorie meal that will satisfy your Mexican fast-food cravings.
Calories: 350
Spicy Chicken Chili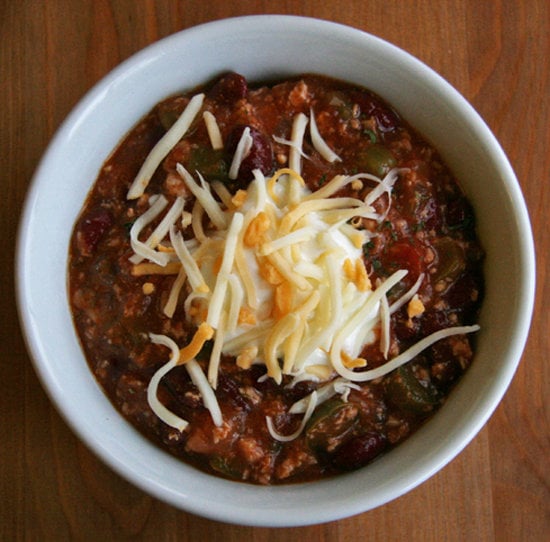 Substituting ground chicken for beef in this spicy chili recipe [2] brings the same traditional flavors and textures of the classic you crave — just lightened up for your healthy diet. Make a pot on Sunday night, and pack up a hearty serving for lunch.
Calories: 324
Veggie and Hummus Sandwich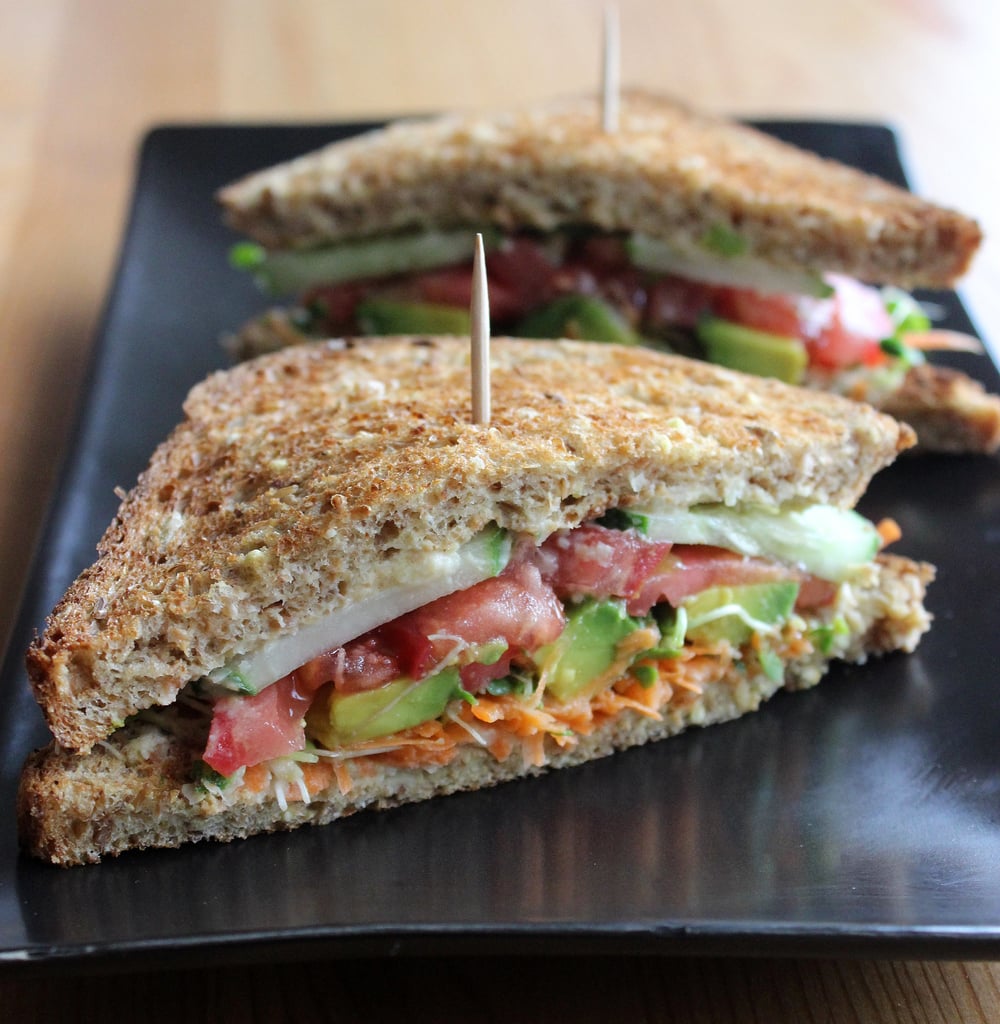 Prepare to build the best veggie sandwich [3] ever. Hummus and avocado provide the fiber and protein you need to stay fueled, and layers of tasty veggies offer crunch, flavor, and important nutrients your body needs.
Calories: 336
Thai Peanut Soba Noodles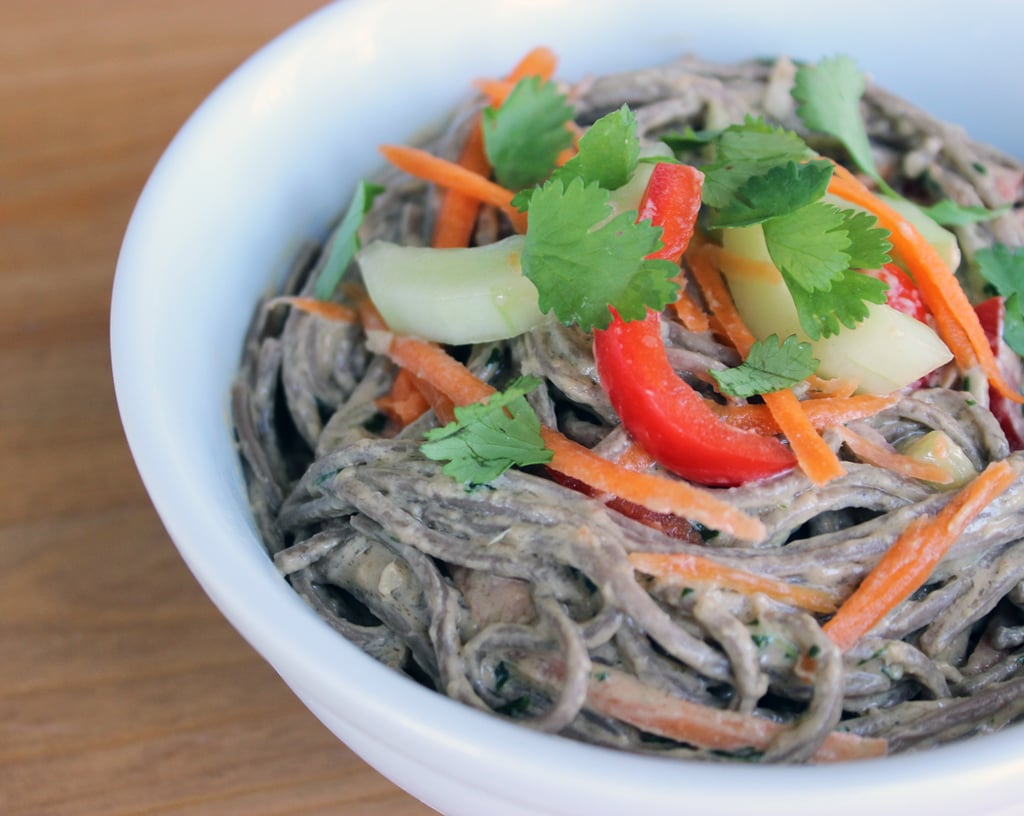 Make Thai-inspired soba noodles [4] for dinner, and enjoy it for lunch the next day. The flavors develop with time, making this protein-rich and fiber-full cold dish perfect as leftovers.
Calories: 424
Sweet Potato, Chickpea, and Quinoa Burger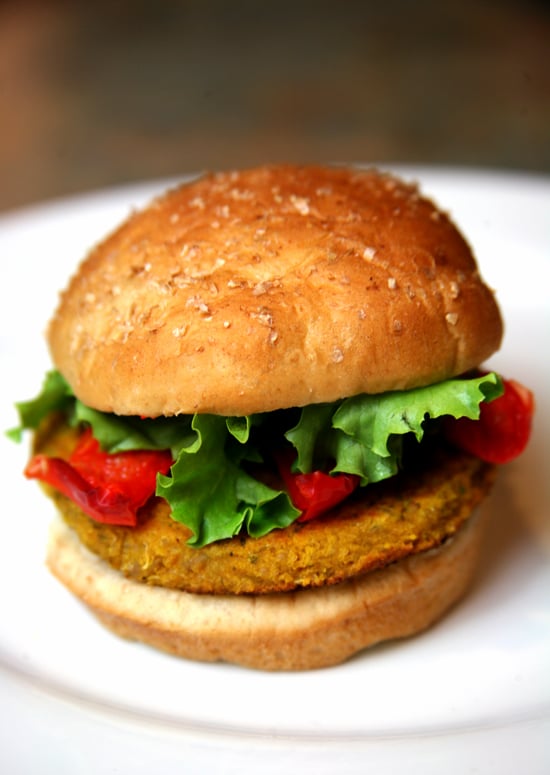 This sweet potato, chickpea, and quinoa veggie burger [5] is perfectly spiced and completely satisfying. At 202 calories per patty, you can add a 120-calorie whole-wheat bun and lettuce, tomato, and ketchup (34 calories [6]) and still come in at well under 500 calories. Make multiple patties in advance to enjoy as a sandwich for the week.
Calories (with bun and fixings): 356
Cauliflower Crust Pizza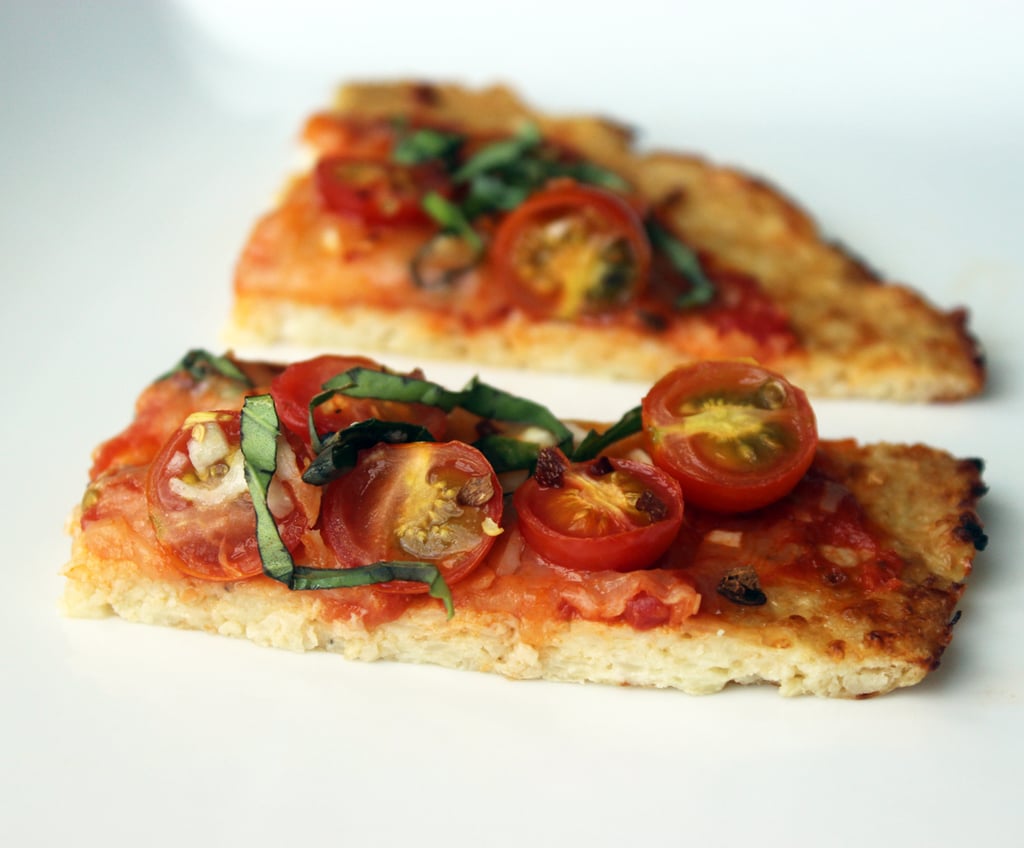 This veggie-powered cauliflower pizza crust [7] proves that you don't need flour to make an amazing pizza. Freshly grated cauliflower serves as the base for the creative and delicious crust that you can fold up just like traditional pizza. Cook it up the night before, and enjoy leftovers reheated.
Calories: 272
Chirashi Bowl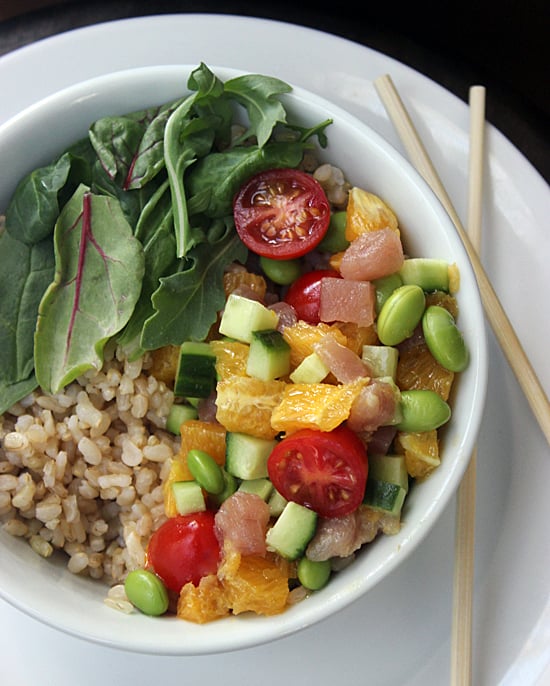 This light, refreshing meal is perfect for lunch. Try this chirashi bowl [8] made with fresh vegetables, brown rice, and sushi-grade tuna the next time you're hankering for takeout sushi.
Calories: 403
Roasted Sweet Potato and Black Bean Burrito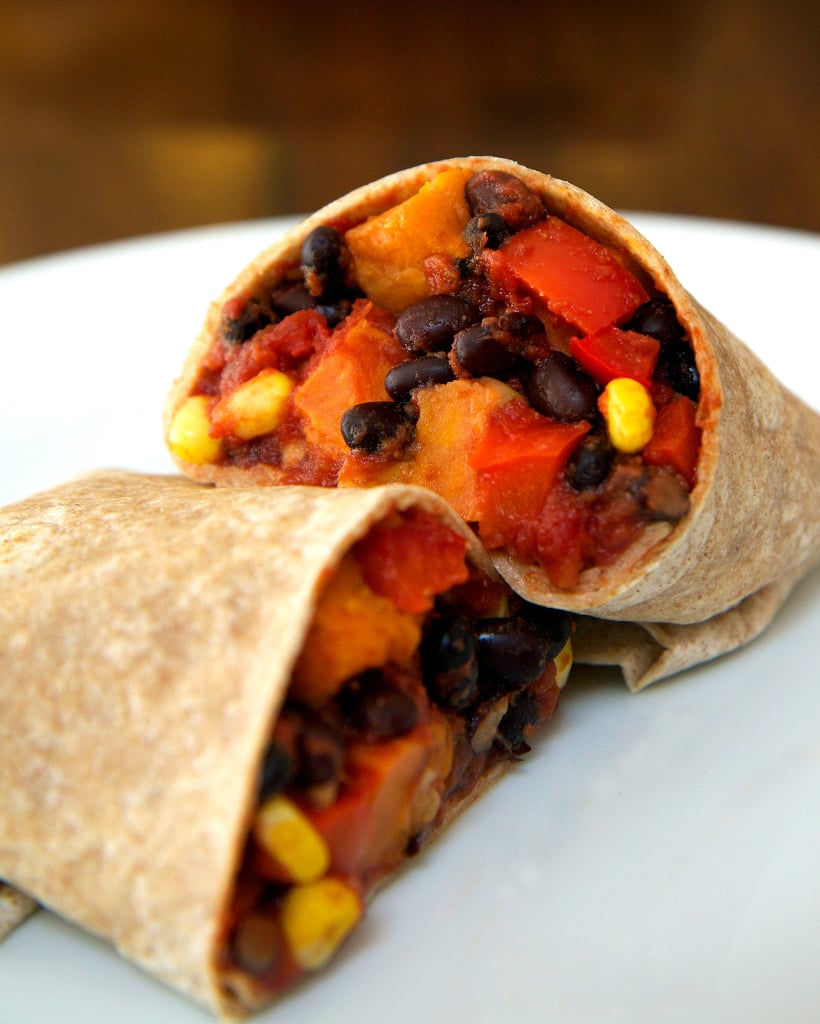 Roasted sweet potatoes swirling with tender black beans and corn, succulent red peppers, and juicy tomatoes wrapped in a warm whole-wheat tortilla make this one delicious and gratifying meal [9]. It is under 500 calories and offers almost 15 grams each of fiber and protein.
Calories: 471
Chickpea and Kale Stew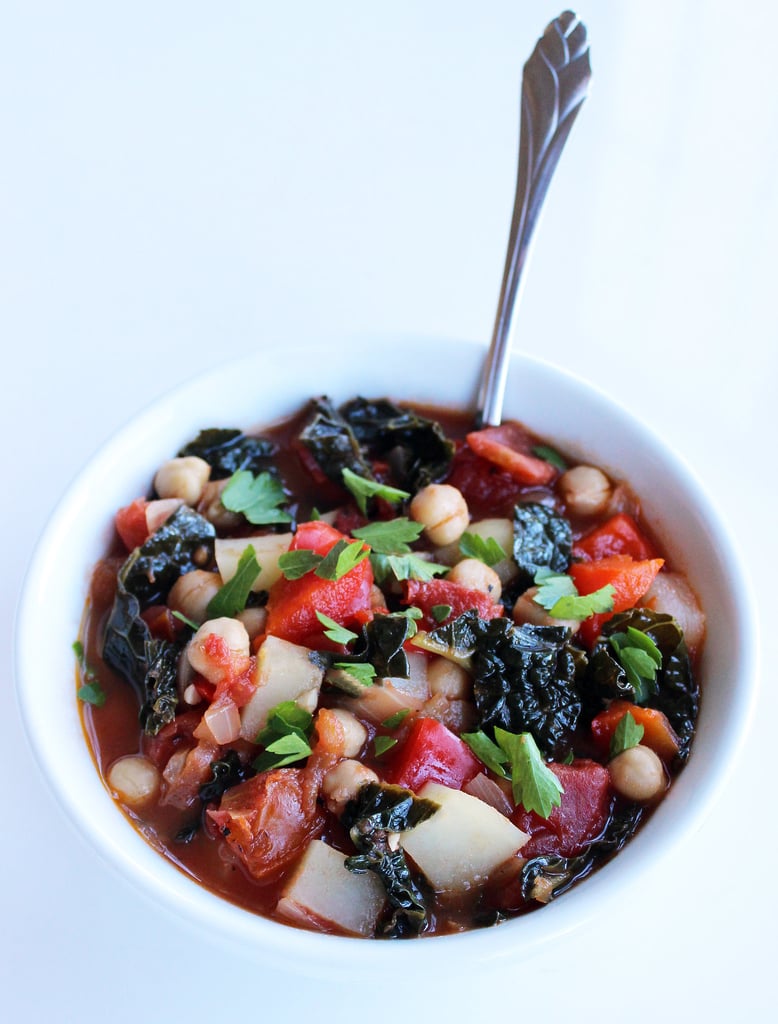 If you tend to steer away from hot and spicy dishes, this vegan chickpea and kale stew [10] will change your mind. Delicious straight from the pot, it's even better as leftovers for lunch.
Calories: 502
Lemon Tuna Pocket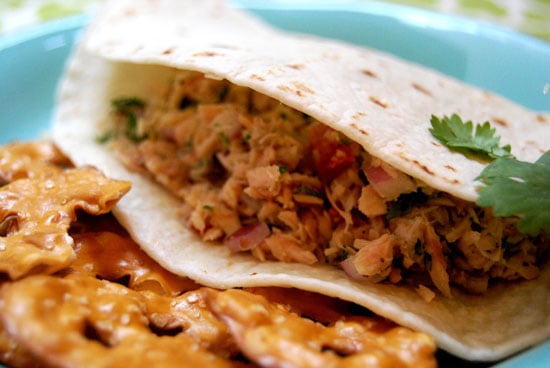 Substituting lemon and olive oil for mayonnaise makes for a lighter, brighter tuna combination [11] that's perfectly in line with the Mediterranean diet. Tuck yours into a pita for a protein-packed meal.
Calories: 323
Red, White, Bean, and Basil Frittata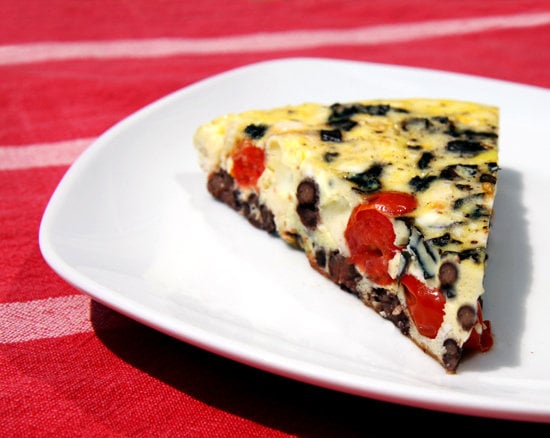 Perfect for breakfast, lunch, or even dinner, this high-protein frittata [12] is bursting with flavor. Use whatever veggies you have in your crisper to give this recipe even more nutritional power.
Calories (for two slices): 378
Chickpea Curry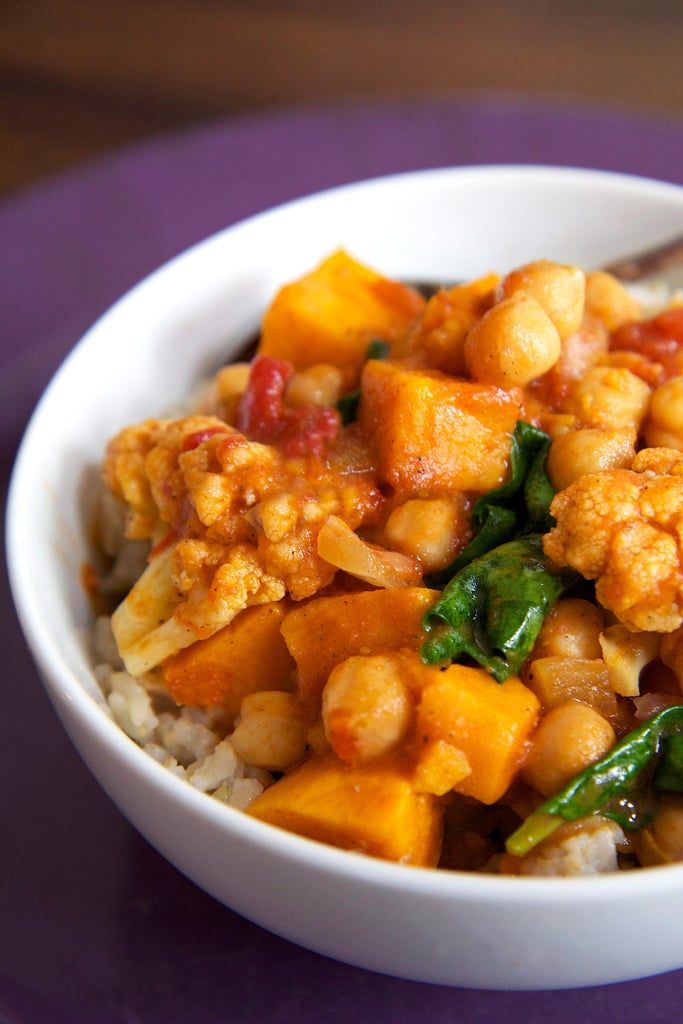 When you're craving Indian takeout, cook up this nutrient-dense chickpea and sweet potato curry [13] instead. This vegan recipe is rich in protein, fiber, and flavor.
Calories: 397
Raw Gorilla Wraps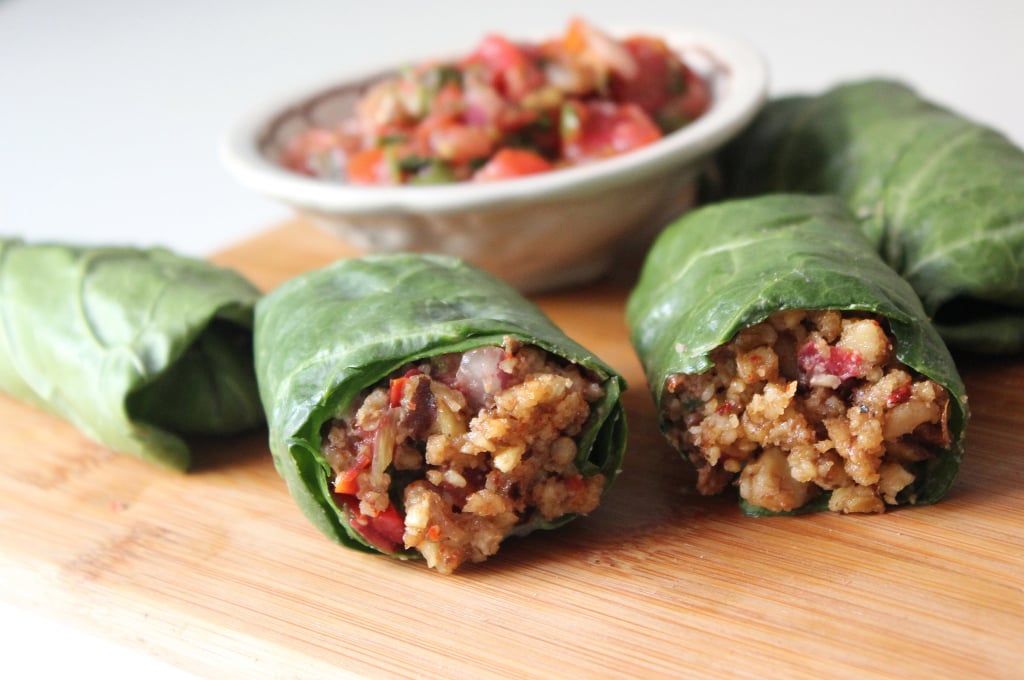 When you need something quick, light, and satisfying, these fresh, raw, and fast wraps [14] with a spiced walnut filling come together quick.
Calories (per wrap): 275
Red Pepper and Lentil Bake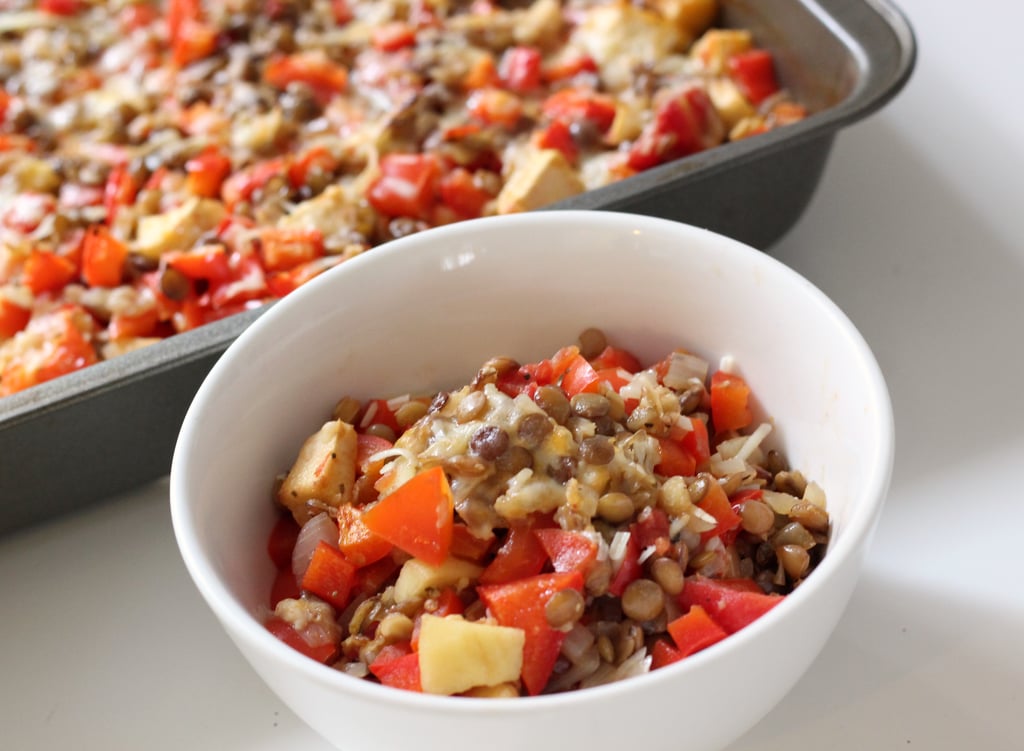 High in vitamin A, vitamin C, and fiber, red bell peppers make a perfect accompaniment to protein-rich lentils in this low-calorie recipe. Even better news? You'll be surprised at how large an under-250-calorie portion of this cheesy red pepper and lentil bake [15] really is.
Calories: 233
Indian-Spiced Curry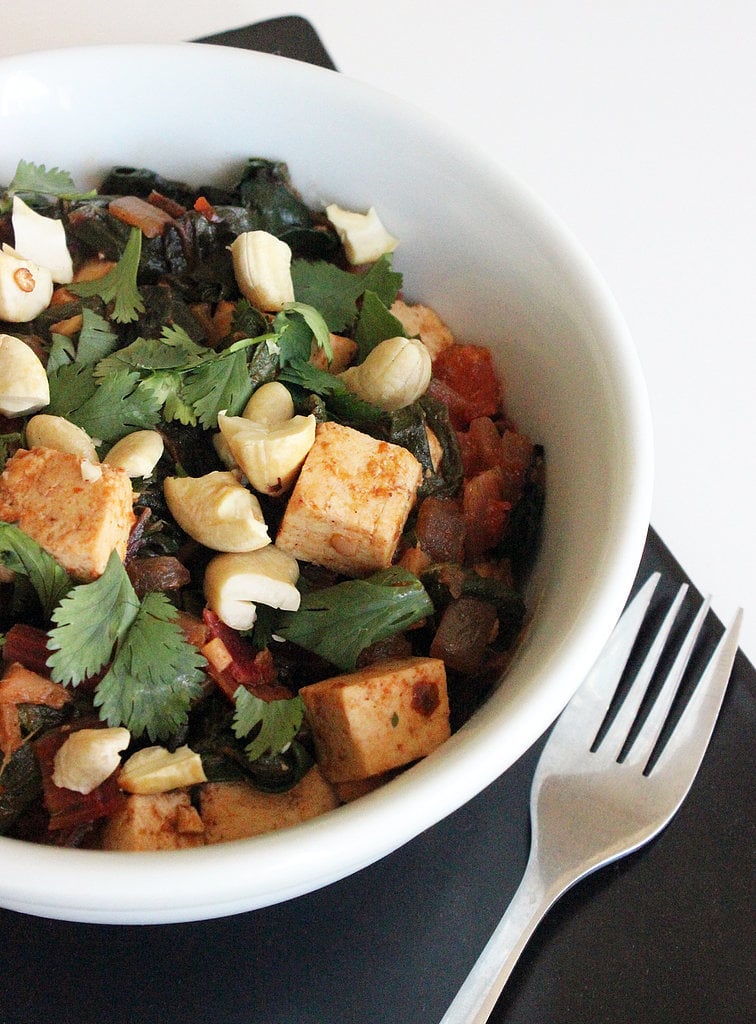 A bowl of this Indian-spiced tofu and chard [16] has the protein and fiber to keep you satisfied. Even better, the combination of turmeric and ginger gives this recipe both metabolism-boosting and anti-inflammatory properties. Refuel your body after a challenging midday yoga class with this meal.
Calories: 222
Raw Walnut Tacos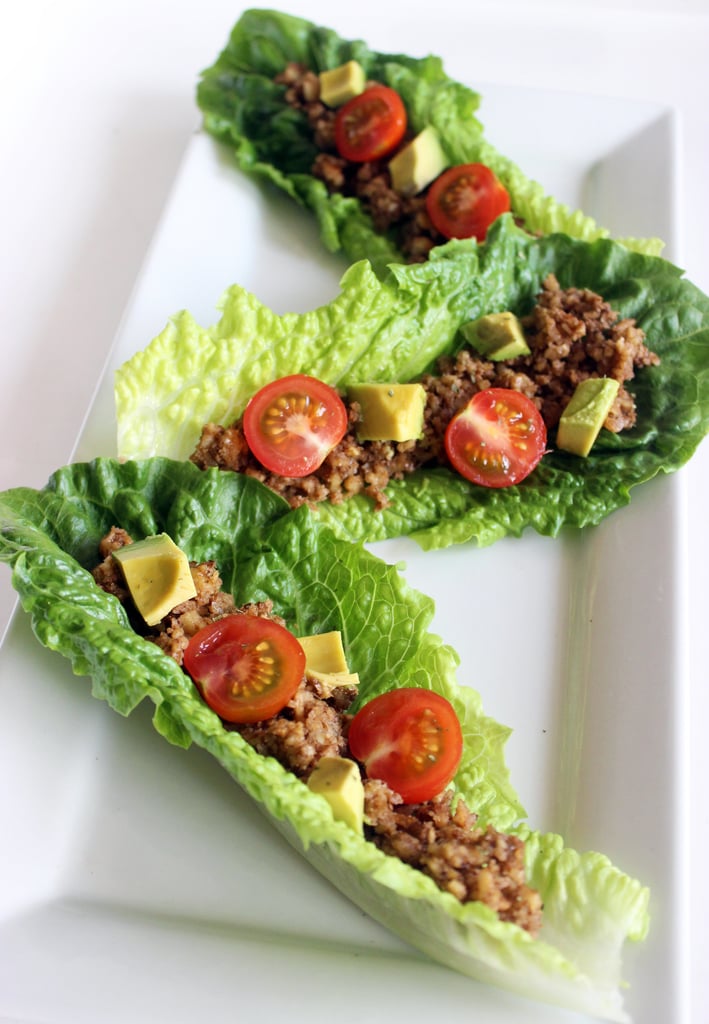 Wrap up this spiced and smoky walnut meat into raw vegan tacos [17]. They're so refreshing and surprisingly filling. Plus, it's a favorite recipe of Beyoncé!
Calories (per taco): 310