Healthy Noodle Kugel Recipe
Happy (Healthy) Hanukkah: Simple Noodle Kugel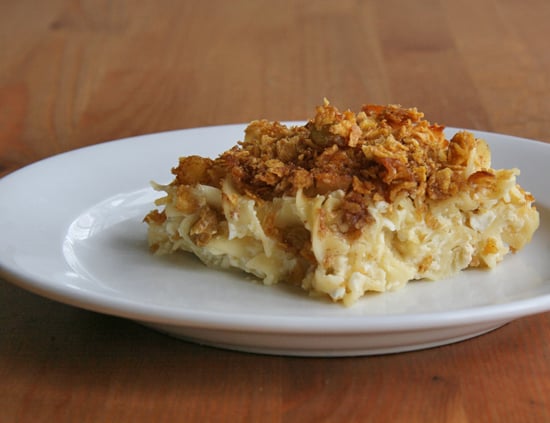 Latkes are the most well-known treat during Hanukkah, but noodle kugel also deserves a home on the festive table. Traditional recipes for this decadent, sweet dish pile the cream, butter, and sugar on heavy — but this lightened-up version is an ideal alternative that brings the same nostalgic flavors. There's still plenty of sugar in this recipe, but more traditional recipes call for more than double this amount! Ready to cook up some healthier Jewish comfort food in your kitchen? Keep reading for this simple noodle kugel recipe.
Ingredients
10 ounces wide egg noodles (8 cups)
2 tablespoons butter
2 large eggs
2 large egg whites
1/4 cup potato starch or cornstarch
2 cups nonfat cottage cheese
2 cups nonfat plain yogurt
1/2 cup skim milk
1/2 cup fresh orange juice
2/3 cup sugar
1 tablespoon vanilla extract
1 teaspoon salt
1/2 cup golden raisins
1-1/2 cups crushed cornflakes
1/2 cup packed brown sugar
1 teaspoon ground cinnamon
Directions
Preheat oven to 350° F. Coat a 9-by-13-inch glass baking dish with cooking spray.
Cook noodles in a large pot of boiling water until tender but firm, 5 to 7 minutes. Drain and refresh with cold water. Set aside.
Melt butter in a small skillet over low heat. Skim off froth, and cook until it begins to turn light, nutty brown, 1-1/2 to 2 minutes. (Be careful not to burn the butter.) Pour into a small bowl and let cool.
Whisk together eggs, egg whites, and cornstarch in a large bowl. Mix in cottage cheese, yogurt, milk, orange juice, sugar, raisins, vanilla, salt, and the browned butter. Stir in the cooked noodles, and turn into the prepared baking dish.
In a small bowl, stir together cornflakes, brown sugar, and cinnamon. Sprinkle evenly over the noodle mixture. Bake until browned and set, about 1 hour. (If topping starts to burn, then cover with aluminum foil.)
Let cool for at least 30 minutes. Cut into squares and serve warm or cold.
Serves 12.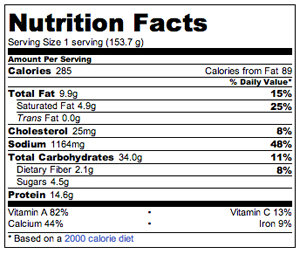 Information
Category

Breakfast/Brunch

Cuisine

Jewish