Healthy Oatmeal Cookie Recipe Using Beans
Healthy Dessert: Peanut Butter Oatmeal Raisin (and Bean!) Cookies
I hit the first barbecue of the season over the weekend and wanted to bring a healthy dessert that was low in sugar and easy to grab (without making much of a mess), since there were going to be tons of kids there.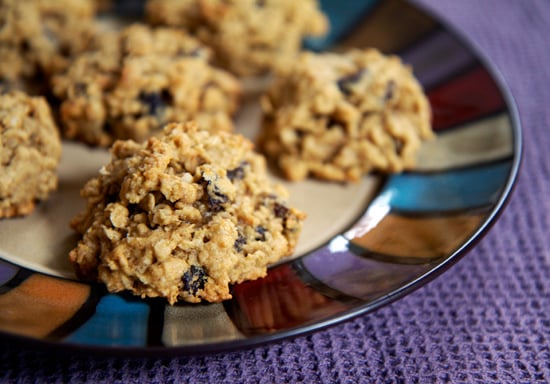 This is a twist on the classic oatmeal raisin cookie recipe — it has cannellini (white kidney) beans and peanut butter added for protein. This subtly sweet cookie with a soft and chewy texture was a hit with both the parents and kiddos.
Continue reading to see the recipe and find out how many grams of protein are in one delicious cookie.
Healthy Dessert: Peanut Butter Oatmeal Raisin (and Bean!) Cookies
Original recipe
Ingredients
3 cups old-fashioned oats
1 1/4 cups whole-wheat flour
1 teaspoon baking powder
1/2 teaspoon baking soda
1 cup drained cannellini or other white beans
1/2 cup all-natural peanut butter
2/3 cup canola oil
1 cup firmly packed light brown sugar
2 large eggs
1 teaspoon pure vanilla extract
1 cup raisins
Directions
Preheat oven to 375°F.
Combine oats, flour, baking powder, and baking soda in a small bowl. Set aside.
In a food processor, purée beans and peanut butter until smooth. Combine bean and peanut butter mixture, oil, brown sugar, eggs, and vanilla in a separate large bowl and beat well.

Add the dry mixture to the wet mixture. Add the raisins and stir by hand.

Drop batter (by the tablespoon) onto lightly greased baking sheets. Bake 10 minutes or until centers are firm and edges are lightly browned. Transfer to wire rack to cool.
Makes 48 cookies.
Information
Category

Desserts, Cookies

Cuisine

North American
Here's the nutritional info for one cookie.
Source: Calorie Count