Healthy Office Snack Ideas
Stock Your Desk Drawer With These Healthy Snacks
That desk drawer isn't just for office supplies. Keeping it stocked with healthy snack options can prevent you from seeking out less-smart alternatives. Here are some ideas to keep your desk stocked with healthy snacks for every mood you're in.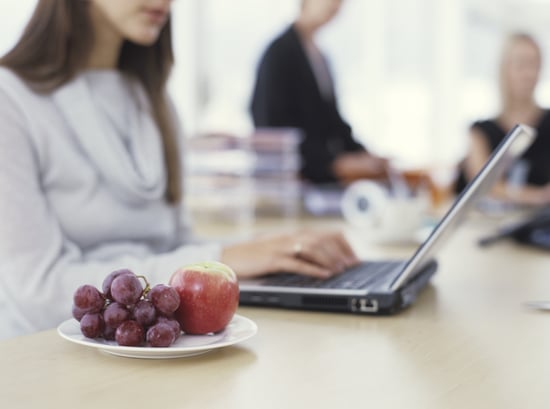 Salty cravings: If you can't stop thinking about the potato chips in the vending machine, then having the right alternatives close by is a wise move. At your desk, keep a few bags of popcorn that you can microwave in no time, or if you just have to have your fatty, salty fix, then spend a few moments at home preportioning your favorite salty snacks into baggies to keep the calorie count low. To guide you, find out just what 100 calories of salty snacks looks like here.
Hunger pangs: Sometimes, lunch just doesn't cut it. If you find yourself trying to stop your stomach from grumbling, then go for something full of protein to help tide you over until your next meal. Trail mix, nuts, and beef jerky are perfect, healthier options to help keep you full for hours.
Keep reading for more healthy snack options after the break.
Something sweet: Between afternoon cravings and that candy jar that's calling your name, staying healthy while surrounded by office temptations can be tough. So when sweet cravings hit, it can be more helpful if you have a less calorific alternative at the ready. Keep a dark chocolate bar in your drawer that you can break into small pieces and enjoy every day, grab an apple to keep on your desk, or stock your drawer with your favorite dried fruit.
Pick me up: Green tea is a great afternoon option if you want to energize without having too much caffeine. And since drinking green tea daily can help you detox, boost your metabolism, and fight disease, keeping a supply of green teabags at your desk is smart for many reasons.
What do you keep in your office snack drawer?