Healthy Pancakes Recipes
Supercharge Your Plate of Pancakes! 4 Recipes to Help
Craving a stack of hot and fluffy pancakes? There's no reason you can't enjoy the breakfast classic. To make everyone's favorite treat a little lighter, try these four charged-up recipes that skip the mix and make use of healthy superfoods instead.
Single-Serve Protein Pancake
Take temptation out of the equation, and cook up a satisfying single-serving protein pancake. It's a 350-calorie breakfast with more than 37 grams of protein that comes from cottage cheese and vanilla protein powder. Sweet blueberries on top add extra antioxidant benefits.
Whole-Wheat Pancakes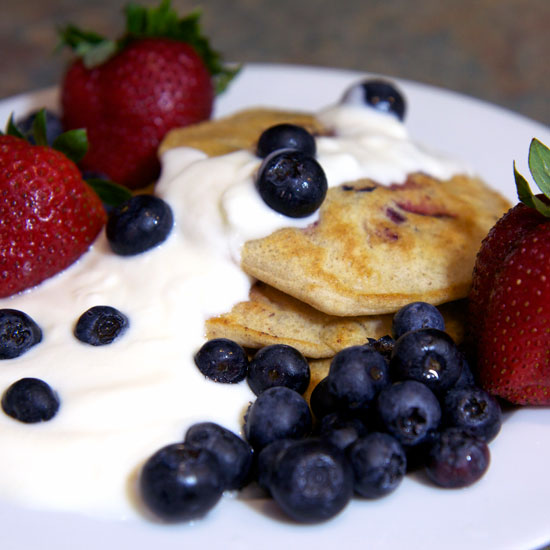 Forget prepackaged mixes, and try these simple whole-wheat pancakes instead. The maple yogurt topping will be a huge hit in your kitchen, but make the most of naturally sweet Summer berries while they're still around. Be sure to top off your pancakes with your favorite varieties.
Quinoa Pancakes
If you're not sure what to do with leftover quinoa, then whip up a batch of fluffy quinoa pancakes for breakfast. This creative twist on the classic offers more folate, protein, and fiber than traditional recipes.
Low-Carb Pancakes
Cutting back on carbs? You can still enjoy these wheat-free pancakes that use almond meal and flaxseed instead. They're high in fiber with nearly no sugar whatsoever.