Healthy Recipe: Apple, Leek, and Butternut Squash Gratin
Nothing says Autumn like butternut squash, so I had to incorporate the vegetable into one of my healthy pre-Thanksgiving experimental side dishes. This time I whipped up a vegetarian gratin that is unexpected in its lack of potatoes — layered squash and apple slices take the place of potatoes in this Parmesan cheese-topped side dish. The leeks are simmered in sherry to create a rich flavor, and while the recipe calls for sage I used thyme because that's what I had on-hand. My dinner guests admitted they had been skeptical about the success of the dish, but everybody cleaned their plates and expressed how much they thoroughly enjoyed the healthy meal. I served it with slices of artisan wheat bread and it's a good thing that I picked some up at the farmers market, because while this dish is delicious, it probably isn't filling enough to stand alone. The colorful gratin now has some followers, including me. To get the recipe,
.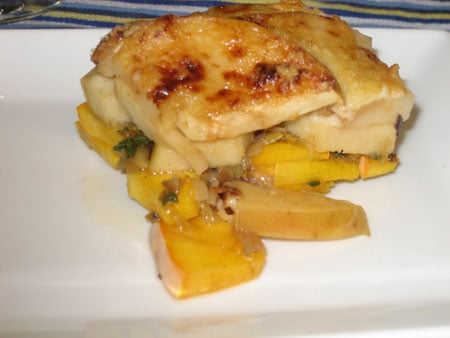 Apple, Leek, and Butternut Squash Gratin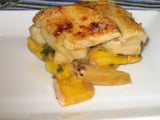 Ingredients
3 tablespoons extra-virgin olive oil
2 medium leeks, white part only, trimmed of roots and tough outer leaves, thinly sliced crosswise, well washed and dried
Coarse salt and ground pepper
1/2 cup dry sherry
1 tablespoon chopped fresh sage, plus leaves for garnish
1 pound butternut squash, peeled, seeded, and sliced 1/8-inch thick
1 pound apples, such as Gala, Cortland, Baldwin, or Macoun, peeled, halved, cored, and cut into 1/8-inch thick slices
1/2 cup freshly grated Parmesan cheese
Directions
1. Preheat the oven to 350 degrees. In a 10-inch skillet, heat 2 tablespoons of oil over medium heat. Add leeks and 2 tablespoons water; season with salt and pepper. Cook, stirring occasionally, until they begin to brown, about 10 minutes. Add sherry and sage and cook until liquid is reduced to a glaze, about 3 minutes; set aside.


2. In a 2-quart shallow baking dish, arrange squash in overlapping layers; season with salt and pepper. Spread leeks evenly over the squash.
3. Arrange apples in an overlapping layer over the leeks. Brush apples with remaining tablespoon oil. Cover tightly with aluminum foil. Bake 45 minutes.
4. Uncover and sprinkle cheese over the top. Raise the oven temperature to 450 degrees and bake 10 minutes, or until the cheese has melted and is golden brown. The tip of a paring knife should easily pierce the gratin. Let cool 10 minutes before serving. Garnish with sage leaves.

Serves 8 as a side dish.
Information
Category

Side Dishes