Healthy Recipe: Apple-Walnut Bread Pudding
When the weather turns cold, I love to bake. I don't necessarily think of dessert when I think of Runner's World, but this recipe I found in the running mag piqued my interest and I had to try it. I did substitute agave nectar for the sugar in the pudding, but I couldn't imagine a streusel topping without brown sugar. I also left out the optional booze and raisins (in my opinion raisins belong in trail mix, not baked goods). My entire family liked this dessert, but I will tell you, it tasted healthy. It is not an indulgent dessert, but I ate a huge satisfying piece and still felt great afterward. Since the amount of sugar is low and the fiber is high, it is truly a remorseless dessert. I will be making it again, but not for a fancy dinner party.
To see the recipe, just
.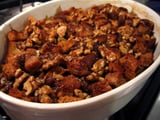 Ingredients
4 cups whole-wheat bread, cut in 1/2 inch cubes
4 tablespoons agave nectar
2 teaspoon ground cinnamon
1/4 teaspoon ground nutmeg
1/2 cup raisins (optional)
2 Granny Smith apples, thinly sliced
1 cup Egg Beaters (or 1 egg and 3 egg whites)
1 can evaporated skim milk
1/2 cup water
1 1/2 teaspoon vanilla
1/4 cup bourbon or brandy (optional)
2 1/2 tablespoon light margarine, melted
1/2 cup brown sugar
1/2 cup coarsely chopped walnuts
plain nonfat yogurt for topping
Directions
Preheat oven to 350 degrees.
Spray a 2-quart Pyrex casserole dish with nonstick spray and spread half of the bread cubes over the bottom.
Mix 3 tablespoons agave nectar with cinnamon and nutmeg. Sprinkle two teaspoons of agave-spice mixture over bread in dish. Alternate layers of apple slices and raisins (if you're using them) with sprinklings of agave-spice mixture until all are used up. Arrange remaining bread cubes over apples.
Combine Egg Beaters, milk, water, remaining tablespoon agave nectar, and vanilla as well as bourbon (if you're using booze). Mix well, then pour over bread, moistening all the bread on top.
Cover dish with lid and cook in oven for 5 minutes. Then lower heat to 250 degrees and bake for 1 hour and 45 minutes.
While pudding is baking, mix margarine, brown sugar and walnuts.
At end of baking time, remove pudding from oven and set oven to 400 degrees. Sprinkle walnut and sugar mixture evenly over top of pudding and return it to the middle rack of the oven for 5 minutes or until sugar/walnut glaze is browned and crusted — be careful not to burn it!
Serve with a dollop of yogurt and enjoy.
Serves 6 with generous portions.
Information
Category

Desserts
Do you have a healthy snack or recipe to share? Then share it in the Lite'n It Up — Healthy Recipe Group and I might just post it on FitSugar.