Healthy Recipe: Barley and Greens Salad With Citrus Parmesan Dressing
This hearty, colorful salad would be perfect for a holiday table or any time of year. Served warm or cold, the layers of flavors in this dynamic dish mean you don't get sick of eating it. The citrus parmesan vinaigrette is subtle yet delicious, and it could be made without the cheese to lighten it up. I also used less olive oil for the dressing than the recipe called for but a little more citrus juice. In my opinion, this recipe is a can't miss. One of the things I love about this salad is its flexibility. The original recipe calls for farro, but I used pearled barley as my grain, and though the recipe includes yellow split peas, I left those out and added cherry tomatoes for a more holiday-looking plate. My tip: Serve the crumbled goat cheese in a separate passing bowl, so you can monitor how much you're putting on your salad. This is salad is a great option if you're traveling with your dish; just wait to add the mixed greens until you reach your location.
To see the recipe,
.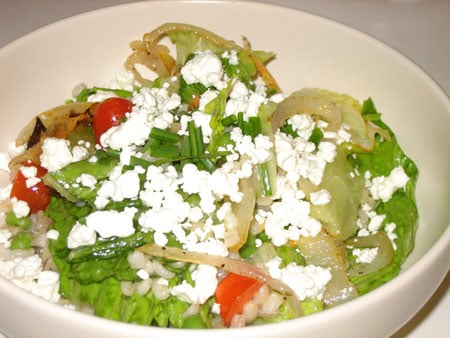 Barley and Greens Salad With Citrus Parmesan Vinaigrette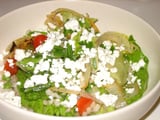 Ingredients
For Salad
6 cups cooked pearled barley
1 to 2 cups halved cherry tomatoes
1 1/2 cups peas, fresh if possible, boiled for 30 seconds in salted water and drained
4 handfuls of mixed salad greens
1 white onion, cut into 1/2-inch wide slices, tossed in a bit of olive, sprinkled with a bit of salt and pepper
1/4 cup goat cheese, crumbled
1/4 cup chopped chives
For Citrus Parmesan Vinaigrette
1 large orange (zest and juice)
1 chopped shallot
1/3 cup Parmesan cheese
1 tablespoon white wine vinegar
1/3 cup olive oil
Salt to taste
Directions
Combine barley, salt, and water in a large, heavy saucepan over medium heat (cover the barley with water by a couple inches). Cover and simmer, stirring occasionally, until the barley is tender, about 45 minutes. Remove from heat, drain any excess water, and set aside until ready to use.
As the barley is cooking, preheat oven to 350 degrees. Slice onion and toss with olive oil, salt, and pepper on a baking sheet. Roast onions for about 35 minutes or until browned (toss once midway).
Boil water for peas. If using frozen peas, follow directions on bag, drain water and set aside until ready to use.
Chop all other vegetables and herbs, and make your dressing by whisking together all ingredients for the vinaigrette.
In a large bowl toss the barley and peas with the Citrus Parmesan Vinaigrette. Toss until well coated.

Add the roasted white onions, halved cherry tomatoes, and salad greens and give the salad another (more gentle) toss, so as not to bruise the greens.
Serve in the big bowl or on a large platter topped with the spring onions, goat cheese, and chives.
Serves 8-10.
Information
Category

Salads