Healthy Recipe: Broccoli Mushroom Leek Quiche
Quiche is one of the easiest dishes to make. Made with eggs, it's a great source of protein and vitamins. You can also pack it with a variety of veggies making it a healthy dinner, hopefully with leftovers for lunch. Quiche is normally made with cream, which is high in saturated fat, so I've used skim milk instead. To make my life easier, instead of making my own pie shell, I used a Wholly Wholesome Frozen Pie Shell. You can find it in the freezer section in packs of two. Not only does it help make your quiche recipe a cinch, but it's also cholesterol free. To see the recipe just
.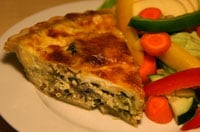 Lowfat Broccoli Mushroom Leek Quiche
Mom's famous recipe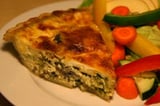 Ingredients
1 pie shell (store-bought or homemade)
1 tbsp olive oil
1 leek
8 mushrooms
2 cloves of garlic, minced
1 broccoli crown
2 stems of fresh rosemary
3 eggs
1 1/4 cups skim milk
1/2 tsp salt
1/2 tsp pepper
Shredded Swiss, cheddar, and Monterrey Jack cheese (optional)
Directions
If you're using a frozen pie shell, remove it from the freezer. I used one made by Wholly Wholesome. Preheat the oven to 350° F.

Place a pan on medium heat and add the olive oil. While that's heating up, slice the leeks and add them to the pan.

Slice the mushrooms and mix them in with the leeks. Add the garlic and stir often. Don't cover the pan because you want the water to evaporate. Allow to cook for five minutes.

Cut up the broccoli crown in small pieces and add that to the pan. Cook for another five minutes, then add the fresh rosemary. Mix well and cook for one more minute and then remove from the heat.

In a separate bowl, crack the three eggs and scramble them slightly. Add the milk, salt, and pepper and stir well.

Pour the vegetable mixture into the pie shell.

Place the pie shell on a foil covered cookie sheet. Then carefully pour in the egg mixture. If you want to, sprinkle some cheese on the top. Since this quiche contains no cream, it takes longer to cook, so bake for 40 minutes. You'll know it's ready when you poke a knife in the quiche and it comes out clean.

Allow to cool for at least 10 minutes before cutting. It tastes great out of the oven, but even better the next day, just warm it up in the microwave.
Information
Category

Breakfast/Brunch, Quiches

Cuisine

North American
Do you have a healthy snack or recipe to share? Then share it in the Lite'n it Up - Healthy Recipe Group and I might just post it on FitSugar.