Healthy Recipe: Cappuccino Dessert Sometimes a fruit mix will do just fine for dessert, and sometimes you need something that feels and taste a little more like dessert. This tasty little Cappuccino Dessert posted by user ces016 looks like it would do the trick. It's probably not for those of you who eat all natural and organic, but for everyone else it's worth a try.
For the easy recipe just
.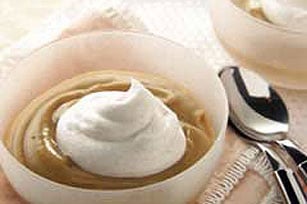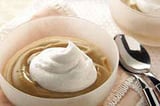 Ingredients
2 cups cold fat-free milk
2 tsp. Maxwell House Instant Coffee
1 pkg. (4-serving size) Jell-O Vanilla Flavor Fat-Free Sugar-Free Instant Reduced Calorie Pudding and Pie Filling
1/8 tsp. ground cinnamon
1 cup thawed Cool Whip Light Whipped Topping
Directions
Pour milk and instant coffee into medium bowl. Add dry pudding mix. Beat with wire whisk 2 min. or until well blended. Pour into five dessert dishes.
Refrigerate at least 1 hour before serving.
Add cinnamon to whipped topping; stir with wire whisk until well blended. Spread over pudding. Store leftovers in refrigerator.
Information
Category

Desserts, Puddings/Mousse
Nutrition Information (per serving):
Calories 90
Total fat 2 g
Saturated fat 2 g
Cholesterol 0 mg
Sodium 320 mg
Carbohydrate 14 g
Dietary fiber 0 g
Sugars 7 g
Protein 4 g