Healthy Recipe: Coconut Macaroons for Passover or Anytime
Passover begins this weekend and that means macaroon time. If you're looking for a more traditional recipe than the recipe I posted last year for Almond Macaroons, then check out this recipe. This recipe is a bit more traditional since these macaroons are made with shredded coconut, sliced almonds, and egg whites. Plus they're cholesterol free (yes, coconut is cholesterol free). Shredded coconut and sliced almonds add a little fiber to these cookies, which we all could use. To check out the recipe, just
.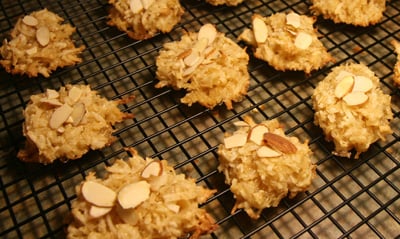 Coconut Almond Macaroons for Passover or Anytime
From my Gram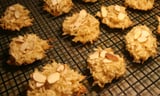 Ingredients
2 egg whites
2 1/2 cups unsweetened shredded coconut
3/4 cup Sucanat (or turbinado sugar)
Pinch of salt
1 tsp almond extract (omit if observing Passover)
Sliced almonds (optional)
Directions
Preheat oven to 350° F.

Separate the egg whites and place them in a bowl.
Pour in all the other ingredients into bowl with egg whites and mix them well. They should look like this.

Lightly grease two cookie sheets with a little Canola oil.
Drop spoonfuls onto the cookie sheet, about an inch or two apart. If you want to add some almonds, sprinkle them in the middle of each cookie and gently press them in.

Bake until light brown, about 12 to 15 minutes.

Allow them to cool on the pan for at least five minutes before removing with a spatula (if you try to remove them right out of the oven, they'll break apart).

Store uneaten cookies in a sealed container and they'll stay fresh for up to three days. This recipe makes about 24 cookies.
Information
Category

Desserts

Cuisine

Jewish