Healthy Recipe: Corn and Black Bean Salad
Since fresh corn is still in season but won't be for much longer, why not use it to make this quick and simple dish. Honestly, it'll only take you about 15 minutes to make it. It makes a great side dish, a topping on burgers, or I like to scoop it onto my garden salad. To see the recipe, just
.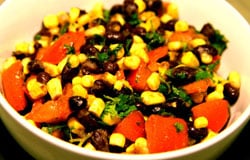 Corn and Black Bean Salad
A mom from my mother's group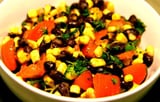 Ingredients
1 can black beans, rinsed well with cold water
1 cup fresh corn (or corn from 2 ears)
1/4 cup chopped fresh cilantro
1 tomato
1 tbsp extra virgin olive oil
1 tsp cumin
1 clove minced garlic
salt and pepper to taste
Directions
Pour the black beans, corn, and tomato in a bowl.

Now add the chopped cilantro.

Now add the chopped tomatoes and the olive oil.

Now add the garlic and cumin and stir it until well mixed. You can enjoy it immediately or put it in the fridge for later.
Information
Category

Vegetables, Salads
Do you have a healthy snack or recipe to share? Then share it in the Lite'n it Up - Healthy Recipe Group and I might just post it on FitSugar.