Healthy Recipe: Easy Whole Grain, Fruit, and Nut Energy Bars
The ongoing peanut butter recall has claimed some of my go-to snack bars, but the good news is I've been inspired to get more creative in my kitchen. This recipe for homemade energy bars is truly a cinch and allows you to be as flexible as possible with whatever you have in your cabinets. I used almond butter, chopped dried apricots, and cashews in my batch, but the possibilities are endless. Next time, I will use a little more nut butter because the honey seemed to overpower its taste, and the bars didn't hold together as well as I would have liked. Other than that, they were delicious and a great pre-workout snack. Eat them straight from the fridge or warm them up before eating for a gooier treat.
To see the recipe, read more.
Easy Whole Grain, Fruit, and Nut Energy Bars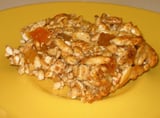 Ingredients
3 cups puffed whole-grain cereal (e.g., puffed wheat or Kashi)
1/2 cup chopped nuts or seeds (or a combination)
1/2 (or up to 3/4) cup chopped dried fruit (one fruit, or a combination)
3 tablespoons ground flaxseed
1/3 cup creamy nut or seed butter (e.g. peanut, cashew, almond, soy; natural style is fine)
1/2 cup honey (or brown rice syrup, light molasses, sorghum, or maple syrup)
Directions
Preheat oven to 350°F. Line a 9x9-inch square metal baking pan foil; spray with nonstick cooking spray.
In a large bowl mix the cereal, nuts, dried fruit and (optional) flaxseed; set aside.
Place the nut butter and honey in small heavy saucepan. Bring to boil over medium-high heat, whisking constantly for about 1 minute until bubbly and smooth.
Pour hot mixture over cereal mixture in bowl, stirring to blend (mix well to coat all of the cereal).
Transfer mixture to prepared pan. Using a large square of wax paper or foil, firmly press mixture down into pan to firmly compact.
Bake until just golden around edges, about 10 minutes.

Cool completely. Remove bars using foil liner and cut into 16 bars or squares.
Makes 16 servings.
Information
Category

Other, Snacks