Healthy Recipe: Eggplant Stacks
I love finding new ways to use seasonal produce, and lately, the tomatoes here — especially the multicolored heirloom varieties — have been irresistible. One of the best ways to feature fabulous tomatoes is in a classic caprese salad made with mozzarella cheese and basil. Since I found some good-looking basil and eggplant at the farmers market, I decided to try this variation. To make the dish healthier, I used part-skim mozzarella, and instead of beefsteak tomatoes, I used heirlooms. Though this recipe is designed to yield two appetizer servings, I just ate the two eggplant stacks for dinner with nothing else. It was plenty filling and a great way to work fresh veggies into mealtime. To get the recipe,
.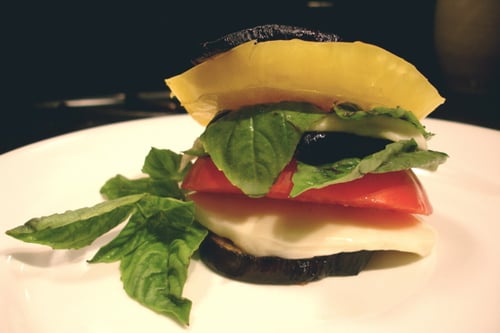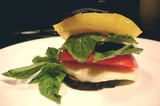 Ingredients
3 tablespoons extra-virgin olive oil
1 tablespoon minced fresh rosemary
1 garlic clove, minced
1/2 teaspoon salt
1/4 teaspoon freshly ground black pepper
1 1 1/2- to 2-pound eggplant, trimmed and cut into six 1/2-inch slices
4 1/4-inch thick slices fresh mozzarella (about 4 ounces)
1 large beefsteak tomato, cut into four thick slices
4 large basil leaves, plus more for garnish
Directions
Makes two appetizer servings.
Heat the grill to medium (or the oven to 400 degrees Fahrenheit).
In a blender or food processor, combine the olive oil, rosemary, garlic, salt, pepper, and 2 tablespoons of water. Puree.
Brush the eggplant slices with the olive oil mixture and let stand for 5 minutes.
Grill, turning occasionally, until they just begin to soften (or bake on a greased baking sheet for 12 to 15 minutes).
Place the cheese on 4 slices. Put the tomato slices on a piece of aluminum foil on top of the grill to warm. When the cheese begins to melt, transfer the eggplant slices to a platter. Top the cheese slices with a basil leaf and a warm tomato slice. Top each with another cheese-topped eggplant slice and tomato. Top both with a basil leaf and a plain eggplant slice. Serve hot.
Information
Category

Vegetables, Appetizers

Cuisine

Italian