Healthy Recipe For Fish Stir Fry
Healthy Recipe: Halibut Stir Fry After buying some fine-looking frozen halibut at Trader Joe's last week, I went in search of an unexpected but healthy way to prepare it. I turned to the spiral-bound basic wok cookbook I recently purchased along with my new wok. Since it imparts a lot of flavor with not a lot of oil, a wok is a great piece of equipment to have in your healthy kitchen.
The black bean paste adds a salty flavor to the sweet marinade; if you can't find it at your local Asian food market, try using soybean paste instead for a similar effect. To up the nutrition factor, toss in even more types of veggies. To get the recipe,
.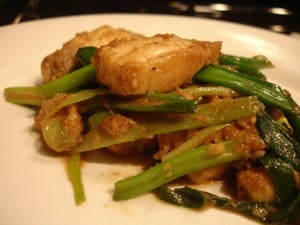 Delicious Sliced Fish With Black Bean Sauce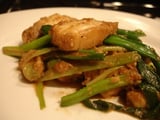 Ingredients
1 1/2 pounds fish steaks of fillets (such as tuna, halibut, snapper, sea bass, or swordfish)
2 tablespoons oil
3 to 4 cloves garlic, minced
1 1/2 to 2 tablespoons black bean paste (tau cheo)
6 green onions, cut into sections
1 teaspoon sugar
1 teaspoon coarsely ground black pepper
2 sprigs fresh cilantro, minced, as garnish (optional)
Marinade
2 tablespoons rice wine
1 teaspoon sesame oil
3 tablespoons fresh ginger, minced
Directions
Serves 4.
Cut the fish into bite-sized chunks. If using steaks, remove the bones. Place the fish in a mixing bowl.

Mix the marinade ingredients, pour over the fish, and turn to coat fish evenly. Cover and set aside to marinate for about 30 minutes.

Heat the oil in a wok over high heat, and add the marinated fish and garlic. Stir-fry for 1 to 2 minutes, until the fish changes color. Add the black bean paste and continue to cook for another 1 to 2 minutes.

Add the green onions, sugar, and coarsely ground black pepper, stirring for 1 more minute to blend the flavors. Transfer to a serving dish.
Information
Category

Main Dishes, Fish

Cuisine

Other Asian