Healthy Recipe: Low-Fat Raspberry Rhubarb Muffins From SparkPeople
Reader Recipe: Low-Fat Raspberry Rhubarb Muffins
Before you reach for a buttery, sugary pastry, check out this recipe for low-fat — but high-flavor — raspberry rhubarb muffins britestcrayon posted in our Healthy Recipe Group.
To find out how to make these tasty breakfast treats, keep reading.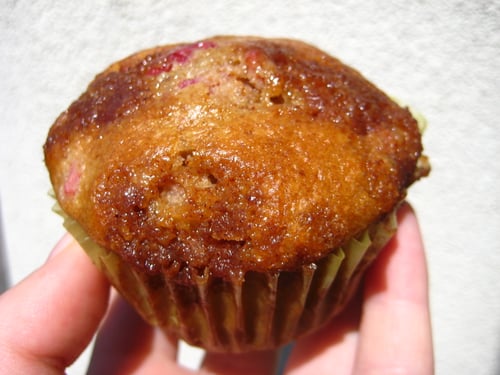 Low-fat Raspberry Rhubarb Muffins
Modified from Sparkpeople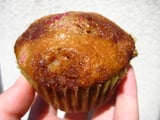 Ingredients
1 1/4 c. brown sugar
1/2 c. unsweetened applesauce
1 egg
2 tsp vanilla
1 c. lowfat buttermilk
1 1/2 c. rhubarb, diced
1 c. raspberries
1 1/2 c. whole-wheat flour
1 c. all-purpose flour
2 tbsp flax seed meal
1 tsp baking soda
1 tsp baking powder
1/2 tsp salt
Topping:
1 tbsp melted butter
1 tsp cinnamon
1/3 c. sugar
Directions
Preheat the oven to 375 degrees.
In a large bowl, mix together brown sugar, flour, baking soda, baking powder, and salt. In another bowl, mix together applesauce, egg, vanilla, and buttermilk. Gradually add the wet ingredients to the dry ingredients. Add the rhubarb to the batter. Fold in raspberries. Don't overmix! Pour the batter into muffin cups.
Stir together the butter, cinnamon and sugar. Sprinkle small chunks of this topping over the muffins. Bake for 20 minutes or until toothpick comes out clean. Makes about 20-24 muffins.
Information
Category

Breads, Breakfast/Brunch
If you have a tasty and healthy recipe to share, please share it in the Healthy Recipe Group. Include a photo and maybe we will post it on FitSugar!