Healthy Recipe: Poached Salmon with Curried Yogurt Sauce
In this crazy heat, no one wants to turn on the oven. This salmon dish is easy to make, requires only one pan, and is cooked completely on the stove top. In other words, it is a perfect recipe for a hot Summer's day. This recipe called for a pound and a half of salmon. The wild salmon at my local fish market was beautiful but came with a very high price tag. I found a piece that was half the size the recipe originally called for and the extra meat wasn't missed. Serve this dish over brown rice for a complete meal. A crisp arugula salad makes a nice side as well. To see the recipe just
.
Poached Salmon With Curried Yogurt Sauce
Adapted from Everyday Food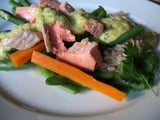 Ingredients
coarse salt and ground pepper
1 pound green beans, ends trimmed
4 medium carrots, cut into sticks similar size to the beans
3/4 pound wild salmon
1 cup plain low fat yogurt
2 tablespoons curry powder
1/4 cup chopped cilantro
Directions
In a skillet with a tight fitting lid, pour 1/2 inch water; bring to a boil, and season generously with salt. Add green beans and carrots. Return water to a simmer, cover skillet, and steam until veggies are crisp-tender, 4 to 6 minutes.

Transfer to a colander; rinse with cold water to stop the cooking process.

Rinse skillet with cold water to cool it down. Place salmon in skillet and add cold water to cover; season with salt. Bring water to a boil over high heat;

cover skillet, and remove from heat. Set aside until salmon is opaque throughout, about 20 minutes. Remove from skillet, and let cool.

In a small bowl, stir together yogurt, curry powder, and cilantro; season with salt and pepper.

Break salmon into large pieces over veggies. Top with yogurt cilantro sauce.

Serve on top of brown rice to add a whole grain carb to the meal.
Serves 4
You can make all the elements of this dish ahead of time and simply bring them all to room temperature before serving.
Also, play around with the sauce if you have a chance. I added extra coriander, cumin and turmeric.
Information
Category

Main Dishes, Fish