Healthy Recipe: Potato Salad With Cornichons and Capers
It is Labor Day weekend, and that means barbecues to celebrate the end of Summer. Potato salad is a barbecue staple, but this dish doesn't need to be laden with high-fat mayo. This potato salad features a red wine vinegar and mustard vinaigrette, with salty capers and cornichons (the French version of gherkins) for added flavor. Capers may be tiny, but nutritionally speaking, they pack quite a punch for their size. These little green olive-like nuggets of flavor are not only high in antioxidants, but they also inhibit the formation of by-products created in the digestion of meat that have been linked to an increased risk of cancer and heart disease. Remember, to reap all the nutritional benefit of your potatoes, don't peel your spuds, and boil them whole.
To see the recipe, just
.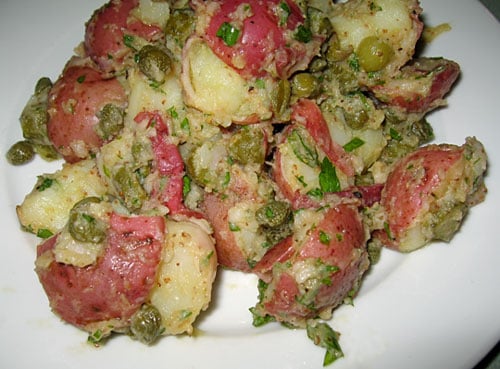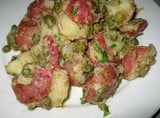 Ingredients
2 pounds small red potatoes, uniform size as much as possible
2 tablespoons plus 1 1/2 teaspoons coarse salt
2 tablespoons red wine vinegar
1 tablespoon Dijon mustard
1/3 cup extra-virgin olive oil
2 shallots chopped fine (about 1/3 cup)
10 cornichons (small French pickles like gherkins), rinsed and sliced into thin rounds (about 1/4 cup)
4 tablespoons capers, rinsed
2 tablespoons coarsely chopped fresh flat-leaf parsley
freshly ground pepper to taste
Directions
Cover potatoes with water in a medium saucepan. Add 2 tablespoons salt. Bring to a boil; reduce heat, and simmer until tender, 11 to 15 minutes. Drain potatoes, reserving 1 tablespoon cooking water. Halve the potatoes; quarter them if they're large.
Make the vinaigrette: Whisk together vinegar, mustard, and reserved cooking water in a small bowl. Gradually add oil, whisking until emulsified. Transfer potatoes to a medium bowl, and drizzle with vinaigrette. Add shallots, cornichons, capers, parsley, remaining 1 1/2 teaspoons salt, and the pepper. Using a large spatula, gently stir to combine.
Serves 6
Information
Category

Salads
Do you have a healthy snack or recipe to share? Then share it in the Lite'n it Up - Healthy Recipe Group and I might just post it on FitSugar.