Healthy Recipe: Roasted Beet, Goat Cheese, and Sweet Pecan Salad
I was surfing the FitSugar community page, checking out the recipes in the Healthy Recipes Group and I saw this amazing salad delorganic added to the page. It looks really tasty and is a great way to incorporate nutritious and colorful beets into your meal. Do you have a healthy recipe to share? Join the my recipe group, since healthy food is a cornerstone to living the fit life. To check out the recipe and possibly learn a new technique for roasting beets, just
.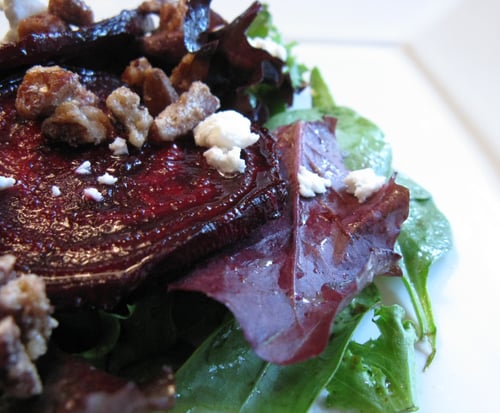 Roasted Beet, Goat Cheese, and Sweet Pecan Salad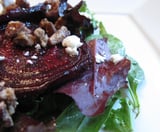 Ingredients
2 beets, green cuts off, and skins trimmed
1 tablespoon coconut oil
1/2 cup pecans, chopped
1 tablespoon maple syrup
1/4 cup goat cheese crumbled
3 cups mixed greens
2 tablespoons balsamic vinegar
6 tablespoons olive oil
Sea salt and black pepper
Directions
Preheat oven to 400 degrees. Thinly slice the beets (about 1/4-inch thick slices) and toss with coconut oil and season with sea salt. Place on baking sheet in single layer, roast for 15 minutes, Remove pan from oven and turn beets over using a spatula. Return beets to oven and roast for another 10 minutes. Set aside and cool completely.
After beets are out of the oven, lower temperature to 250 degrees. Toss pecans with the maple syrup and spread out on a cooking sheet. Bake for 15 minutes, stir and then bake another 15 minutes until pecans are dried and crispy. Set aside to cool.
In a small bowl whisk together balsamic vinegar and olive oil. In a large bowl toss mixed greens with 3/4 of the salad dressing. Season to taste with sea salt and pepper and add more dressing if needed. To assemble, divide salad greens on four plates. Divide the beets evenly and place on top of greens. Sprinkle with maple pecans and goat cheese. Serve immediately.
Information
Category

Salads
If you would like to read up about coconut oil, my pals at Nutrition Data have some great information on the subject.