Healthy Recipe: Sesame Maple Roasted Tofu
Spring weather not only encourages us to exercise outdoors, but it also brings new foods to our plates. One of my favorites is fresh maple syrup (a friend from Vermont sends me a bottle every year). Pouring it on pancakes and French toast is always a favorite weekend treat in my house, but I also like to cook with it. This vegetarian dish is flavored with mother nature's sweetener, so it tastes savory yet sweet, and because it's made with tofu and quinoa, it's full of protein and fiber. To see my recipe
.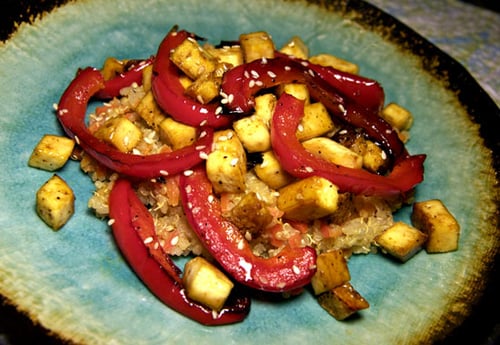 Healthy Recipe: Sesame Maple Roasted Tofu
Inspired by recipe from Eating Well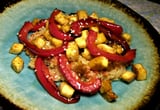 Ingredients
1 8-ounce block of tofu, cubed
1 red pepper, sliced
2 tsp canola oil
2 tsp toasted sesame oil
1/2 tsp salt
1/4 tsp freshly ground pepper
1 cup quinoa
2 cups water
1 cup shredded carrots
1 tbsp tahini (or use ginger salad dressing)
1 tbsp reduced-sodium soy sauce
2 tsp pure maple syrup
1 tsp cider vinegar
1 tbsp sesame seeds
1 tsp fresh ginger
1 clove fresh garlic, minced
Directions
Preheat oven to 450°F.
Toss tofu, red peppers, canola oil, sesame oil, salt, and pepper in a large bowl. Spread on a large baking sheet and roast until the tofu is lightly golden on top and the red peppers are browning in spots, 15 to 20 minutes.

While the tofu and peppers are roasting, make the quinoa. Put one cup of quinoa and two cups of water in a covered pot. Cook on high, and once it starts boiling, lower the heat to simmer. Cook for 10 minutes. Then stir in the carrots and cook for another five to 10 minutes, or until the water is absorbed and the quinoa is fluffy.

Whisk tahini, soy sauce, maple syrup, and vinegar in a small dish until combined.
Remove the tofu from the oven, drizzle with the maple sauce, and stir to combine. Sprinkle with sesame seeds. Return to the oven and continue roasting 8 to 12 minutes more.
Add the fresh ginger and garlic to the quinoa and stir completely.
Remove the tofu and peppers from the oven. Scoop out quinoa onto a plate and top with the maple sesame tofu and peppers. Enjoy!
Makes 3 servings.
Information
Category

Other, Main Dishes