Healthy Recipe: Sweet Mediterranean Couscous
Although some folks consider couscous a whole grain, I just think of it as very small pasta. But the whole wheat version of this very small pasta is very tasty and a serving has seven grams of fiber. Not too shabby for tiny pasta. Couscous is very versatile and I recently concocted a sweet side dish featuring dried fruit and the healthful sweet spices cardamom and cinnamon. The dish complements spicy main dishes and the leftovers are great for breakfast the next day. This couscous may be sweet, but there is no sugar added! The combination of dried fruit and nut increases the fiber content of this dish too, making it a truly healthful side dish.
To see the recipe, just
.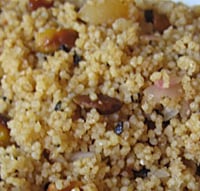 Sweet Couscous
Inspired by recipes from Epicurious, Cook.com, and All Recipes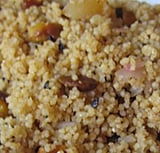 Ingredients
2 cups whole wheat couscous
1/2 cup dried apricots
1/4 cup extra-virgin olive oil
fresh lemon juice of two medium lemons (about 5 tablespoons)
fresh orange juice of one small orange (about 3 tablespoons)
1 generous tablespoon grated lemon peel
1 teaspoon ground cardamom
1 teaspoon ground cinnamon
8 dried dates, pitted and chopped
1 cup pistachios toasted
2 medium shallots chopped fine
1/4 cup chopped fresh mint
Directions
Bring 2 cups water to boil in medium saucepan. Stir in couscous and remove from heat. Cover and let stand 3 minutes. Stir in dried apricots. Let stand 2 minutes. Fluff with fork. Transfer to large bowl.
Whisk olive oil, lemon juice, orange juice, lemon peel, with cardamom and cinnamon to blend in small bowl. Drizzle over couscous while couscous is still warm.
Mix dates, pistachios, minced shallots, and mint. Season with salt and pepper.
Let stand at room temperature at least 1 hour and up to 2 hours. Garnish with mint sprigs.
Information
Category

Side Dishes

Cuisine

Mediterranean/Middle Eastern
Do you have a healthy snack or recipe to share? Then share it in the Lite'n it Up - Healthy Recipe Group and I might just post it on FitSugar.