Healthy Recipe: Vegetarian Black Bean Chili
This is one dish that has been made so many times in my kitchen, I've memorized the recipe that was passed down from my mom. It's a family favorite because it's delicious and nutritious, packing in protein, fiber, and flavor, and even meat eaters crave seconds. I like to serve it with quinoa, but I've also served it on top of a baked potato or brown rice. A big bonus to this recipe is that one large pot is good for about six meals, and leftovers taste even better as the seasonings have more time to meld together. To see the recipe, just
.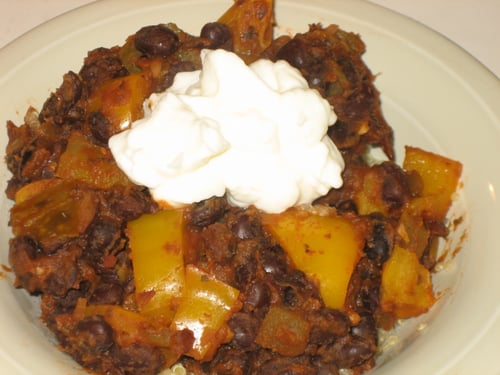 Vegetarian Black Bean Chili
original recipe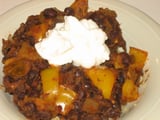 Ingredients
3 cans black beans
2 yellow or green bell peppers
1 to 2 tablespoons olive oil
5 to 6 medium-sized garlic cloves, minced
2 teaspoons ground cumin
2 1/4 teaspoons salt
1 tablespoon lime juice
2 4 oz. canned diced green chiles (or 1-2 medium-sized minced anaheim or poblano chiles)
2 teaspoons dried basil (or 1 tablespoon fresh basil)
1/2 teaspoon dried oregano
black pepper and cayenne pepper to taste
1/2 cup tomato puree
1 cup quinoa
Directions
1. Heat oil in skillet. Add garlic and all other seasonings, lime juice, bell peppers, and chiles. Saute over medium heat until peppers and chiles are tender (about 15 minutes).


2. Add saute to beans and tomato puree. Simmer covered over low heat for about 20 min., stirring occasionally.


3. While the chili is simmering, make your quinoa.
4. Serve with dollop of lite sour cream, sprinkle of cheese, or without any toppings.

Information
Category

Main Dishes, Beans