Healthy Recipe: Whole Wheat-Cinnamon Pancakes
In my house, the word "weekend" translates directly to "pancakes." My girls love them, and I must admit I do too. These whole wheat pancakes, my form of carbo-loading, have powered many long weekend bike rides. As far as pancakes go, these are healthy — made with whole wheat, little sugar, and canola oil. Pancakes are a great vehicle for fruit, yogurt, and nuts. With these topping you can create a well balanced breakfast with carbs, fiber, calcium, healthy fats, and protein. Ready to preheat your griddle? To see the recipe, just read more.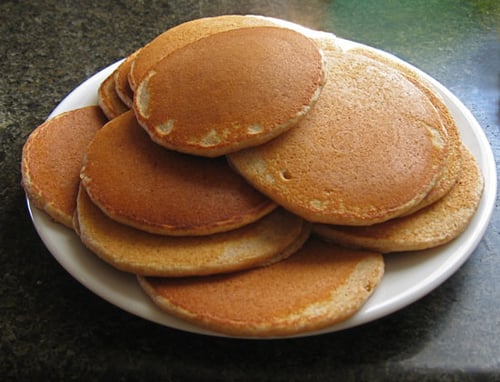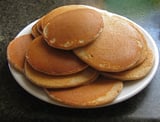 Ingredients
2 cups whole wheat flour
2 tablespoons sugar
1 tablespoon and 1 teaspoons baking powder
1 teaspoon baking soda
1 to 2 teaspoons cinnamon
1/2 teaspoon salt
1 cup lowfat yogurt
1 cup nonfat milk (more to thin as needed)
4 tablespoon canola oil (plus more for the griddle)
2 large eggs
Directions
In a small bowl, whisk together dry ingredients and set aside.
Whisk together milk, yogurt, oil and eggs. Add dry ingredients and mix until just moistened. Add more milk to make batter to your liking.
Brush oil onto preheated skillet or griddle. Use about 3 tablespoons batter per pancake.
Cook until pancake surface begins to bubble and a few have burst, about 1 - 2 minutes. Flip and cook 1 - 2 minutes more.
Serve with Greek yogurt, sliced fresh fruit, nuts, and a wee bit of maple syrup. Remember: syrup is essentially liquid sugar (not quite as bad, but still...) so don't go overboard.
Makes about 24 four inch pancakes/serves 8
This recipe makes enough for four of us to eat heartily with enough pancakes leftover for another breakfast, at least for the girls.
I analyzed the recipe at Nutrition Data. Check out the nutritional information below.

Information
Category

Breakfast/Brunch

Cuisine

North American