No matter when you eat your biggest meal [1] of the day, your calories should still work for you. These meals are jam-packed with nutrients — from energy-sustaining protein to disease-fighting antioxidants — while still ensuring you keep calorie counts low. Each of these comforting and filling meals is well under 500 calories, meaning you'll be full and satisfied afterward without sacrificing weight-loss goals. Check out the recipes below!
— Additional reporting by Michele Foley, Lizzie Fuhr, and Jenny Sugar
Chickpea Coconut Curry With Sweet Potatoes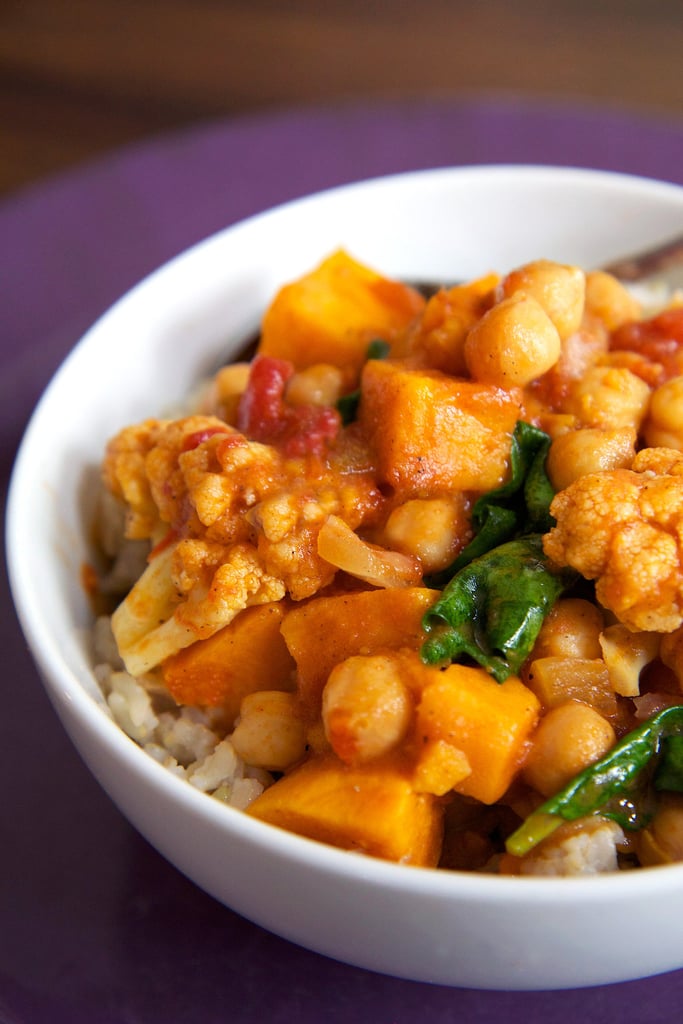 After one bite of this chickpea and sweet potato curry with coconut rice [3], you will be sold. Plus you make it ahead, so it takes minutes to prepare.
Calories: 397
Carrot Fettuccine With Mushrooms and Red Pepper
Here's an equally satisfying, soft, and tender low-carb alternative to pasta [4] that's as easy to whip up as a bowl of spaghetti.
Calories: 478
Mexican Tempeh Quinoa Salad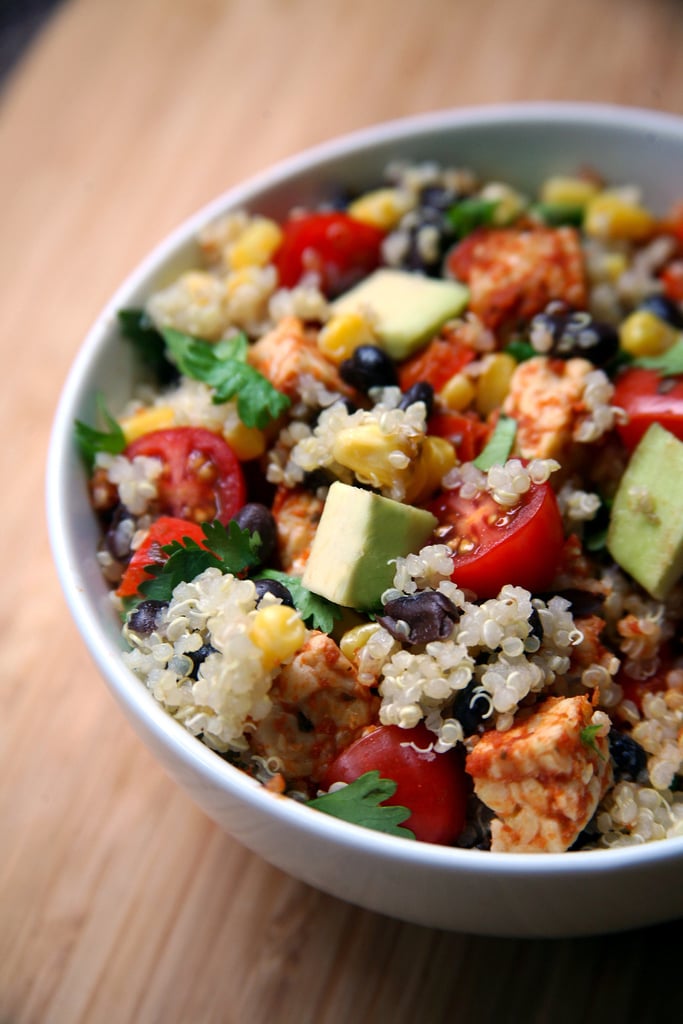 Made with cumin, cayenne, fresh lime juice, and cilantro, this filling dish [5] offers zesty, fresh flavor that screams to be enjoyed with a margarita!
Calories: 353
Smashed Avocado Chickpea Salad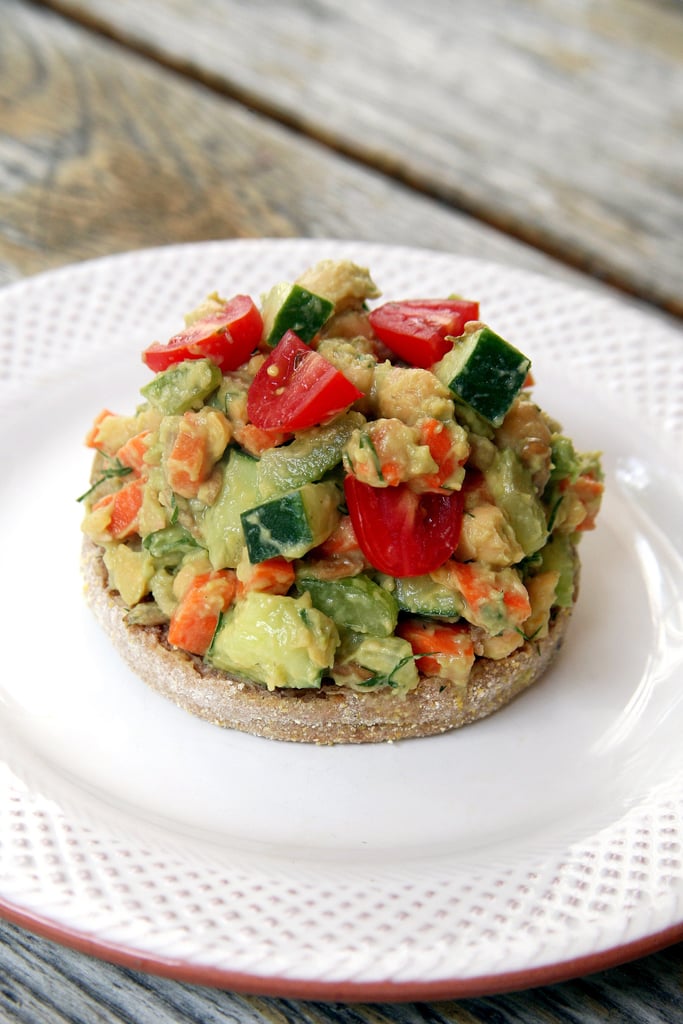 This creamy avocado chickpea salad [6] throws together in less than 10 minutes, and you can even make a batch ahead of time to have a few days' worth of meals all ready when hunger strikes.
Calories: 485
Paleo Shrimp and Grits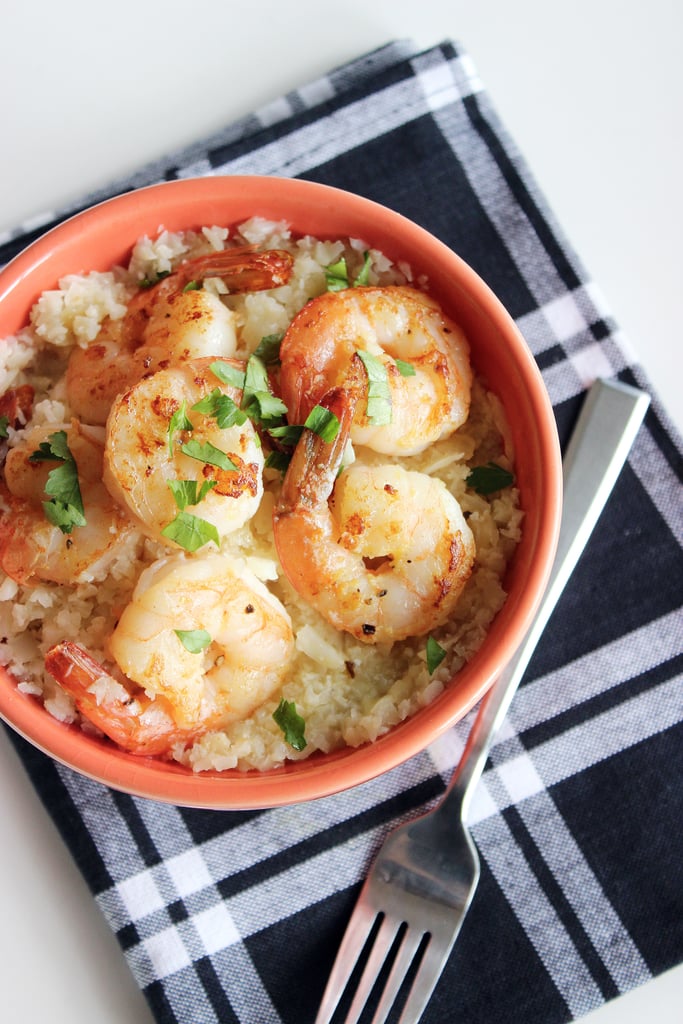 If your ultimate comfort food tends to be Southern-fried, this clean-eating shrimp and grits recipe [7] will curb (and satisfy) those greasy cravings. Riced cauliflower simmers on the stove in a coconut milk bath to stand in for traditional corn grits, while fresh lemon, a little spice, and a touch of ghee make the shrimp portion of this classic dish much lighter.
Calories: 269
Broccoli Slaw Stir-Fry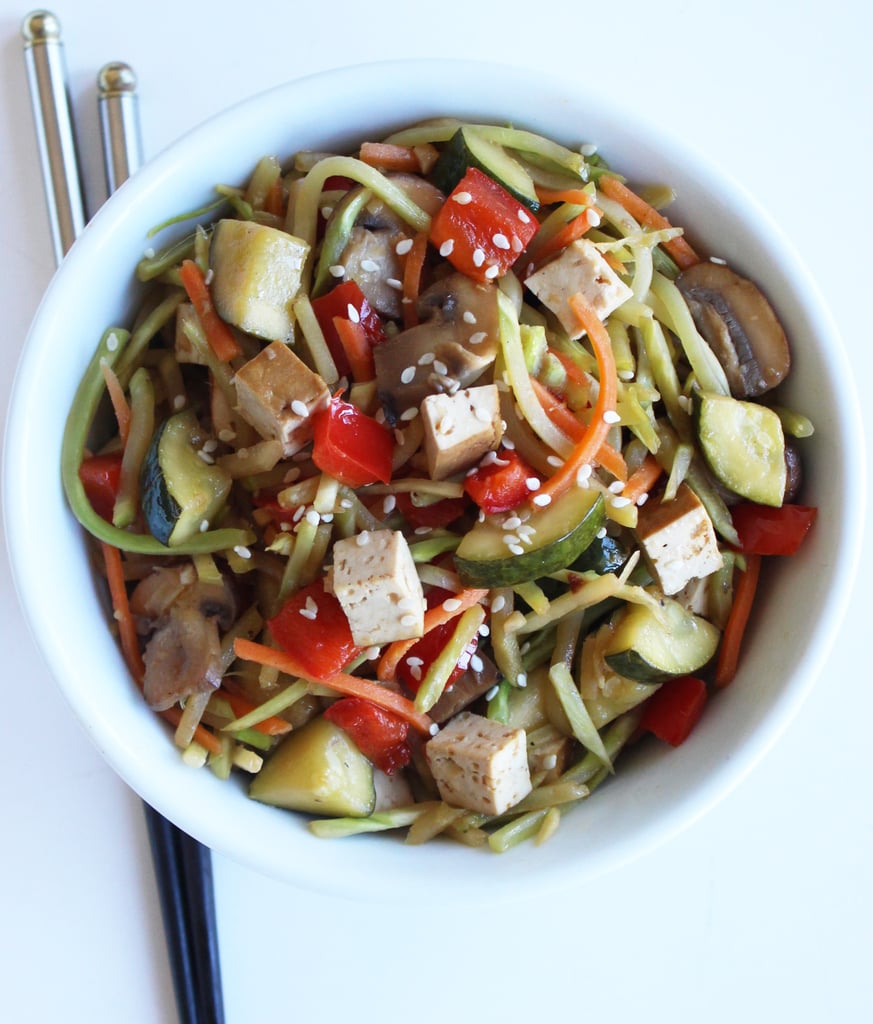 This veggie-packed stir-fry [8] has all the flavors you're craving — but since broccoli slaw stands in for noodles, you save big on carbs and calories.
Calories: 345
Maple-Cumin Tofu With Farro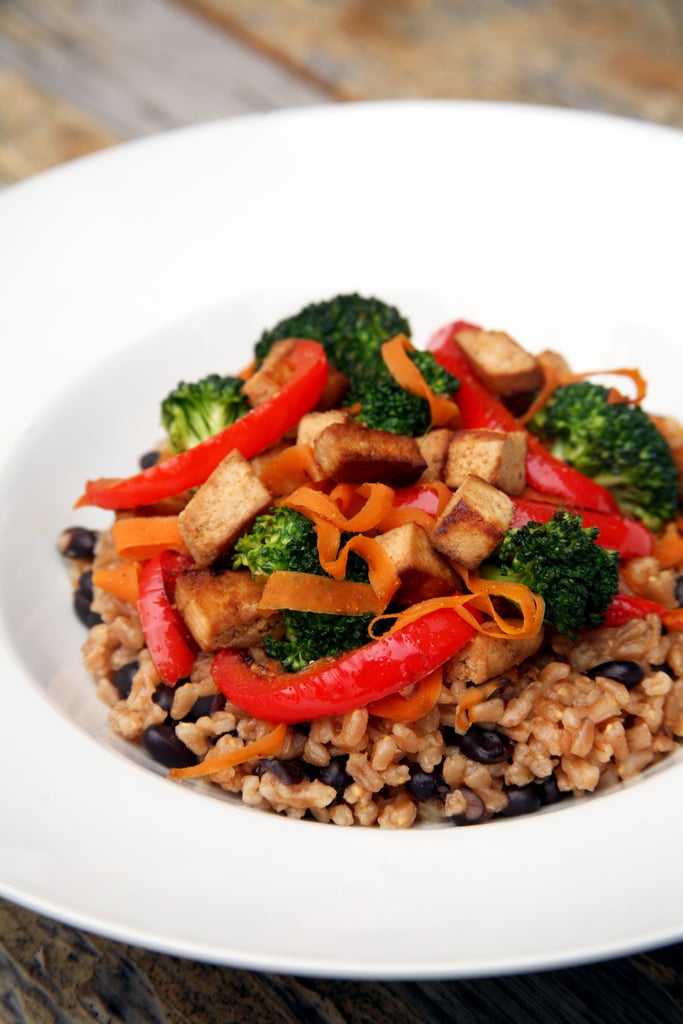 This tofu stir-fry [9] is so easy to whip up — it's fail-proof — and only takes about 40 minutes. Rich in savory flavor and comforting textures, it'll soon become a staple in your weekly meal plan too.
Thai Beef Salad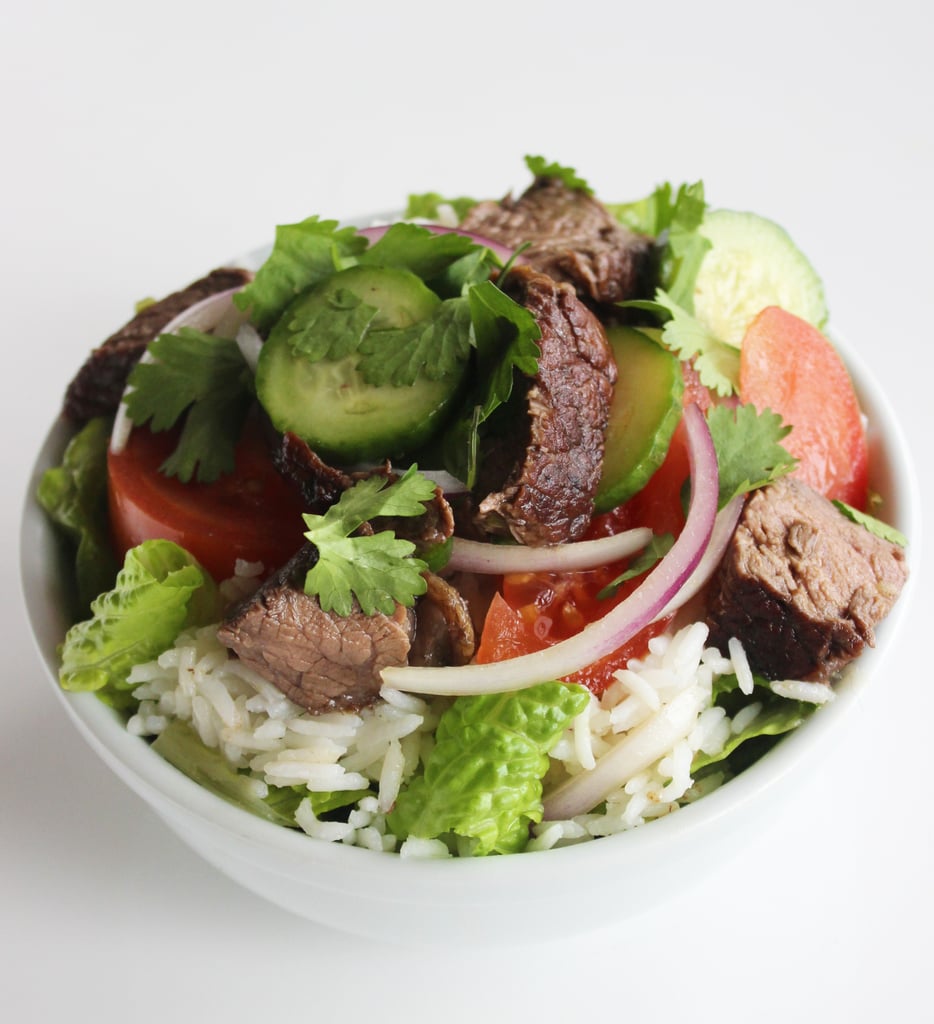 This hearty, flavorful Thai beef salad [10] is the perfect starter recipe if you've never cooked Thai food at home. Fresh, hydrating cucumber and romaine balance well with lean marinated beef for a filling post-workout dinner you'll crave.
Calories: 452
Veggie Mac and Cheese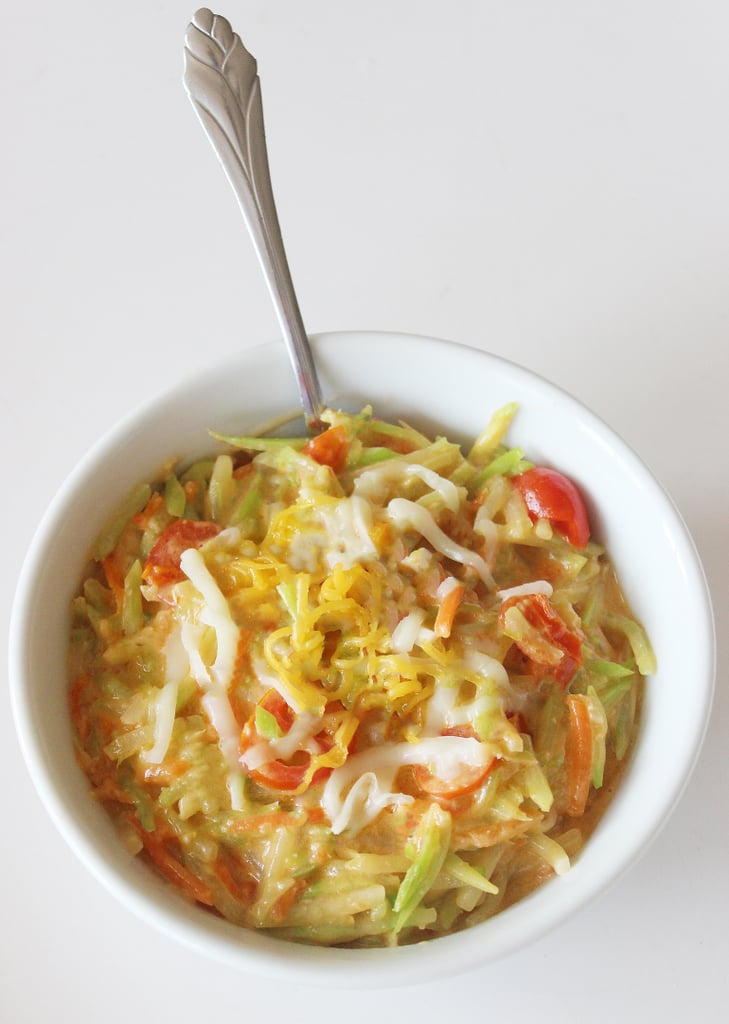 If you're craving mac and cheese but are trying to cut back on pasta, this low-carb mac and cheese recipe [11] is for you. Cheesy and creamy, this recipe lets Trader Joe's versatile organic broccoli slaw stand in for traditional noodles, so you won't leave the table feeling overstuffed and bloated.
Calories: 312
Slow-Cooked Mexican Casserole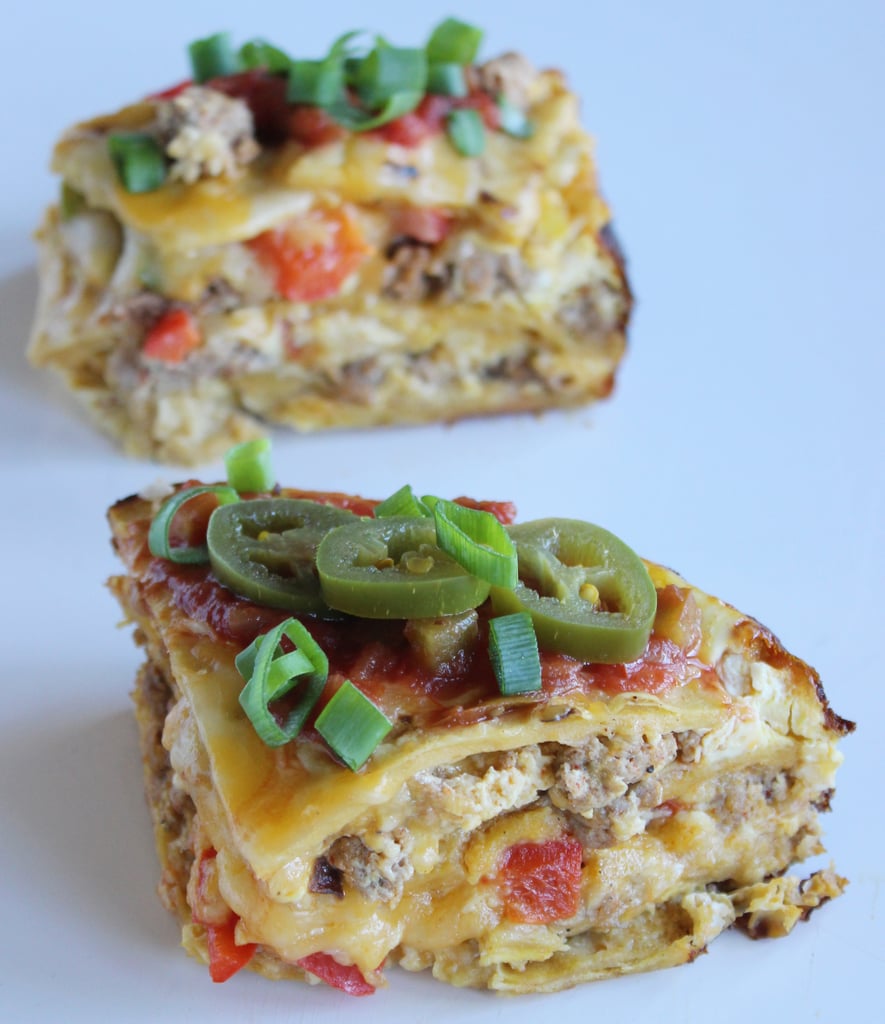 This Paleo slow-cooked Mexican casserole [12] is the perfect recipe to prep ahead on a Sunday afternoon for weekday breakfast-as-dinner days.
Calories: 386
Broccoli Slaw Salad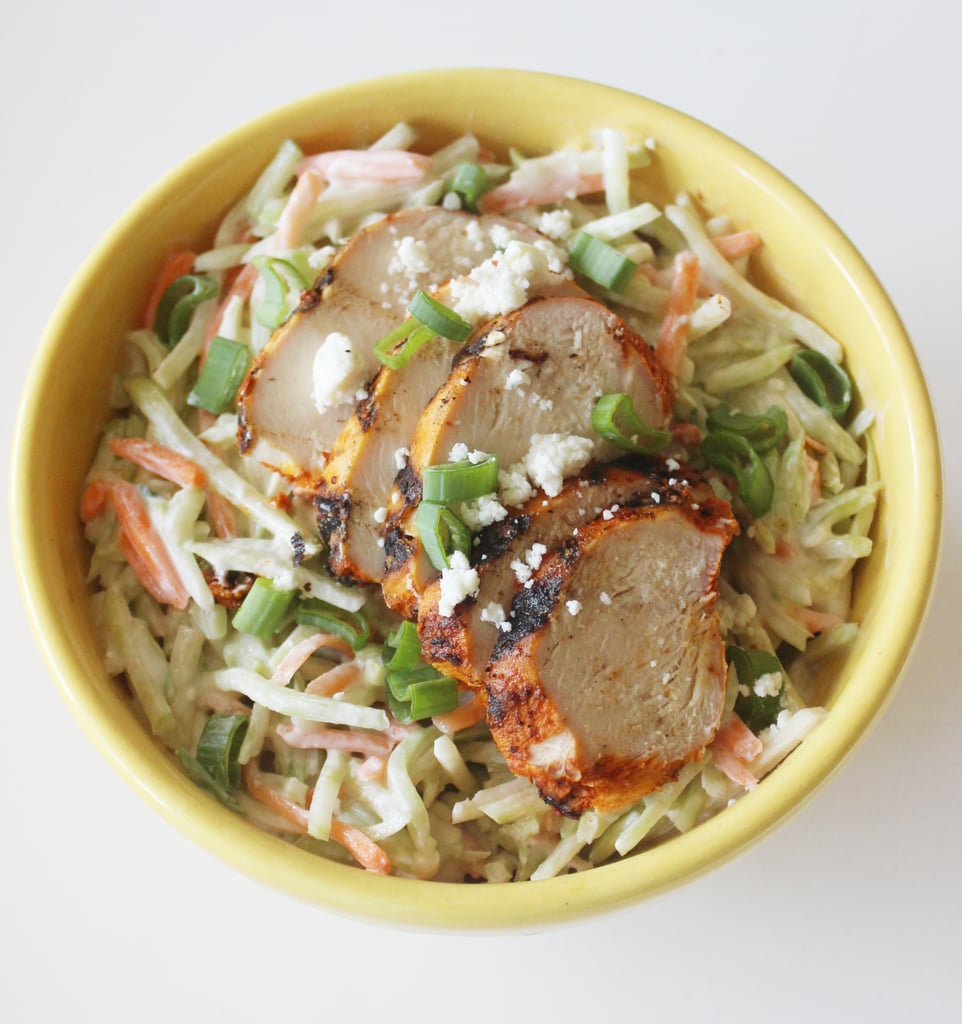 Instead of fatty coleslaw, mix up this lightened-up broccoli slaw salad [13] recipe instead. Served with lean protein like grilled chicken breast atop, it makes for a low-calorie, filling comfort meal.
Calories: 313
Cauliflower Fettuccine Alfredo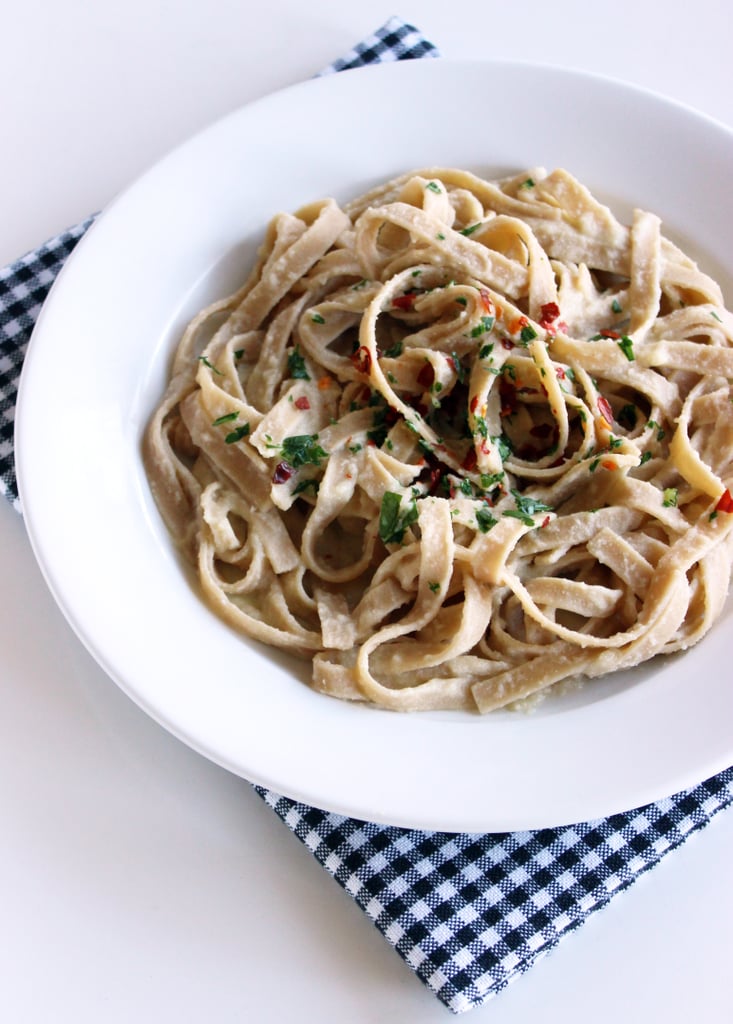 Your guests will never guess that cauliflower stands in for cream in this ingenious dairy-free fettuccine alfredo [14] recipe.
Calories: 300
Taco Salad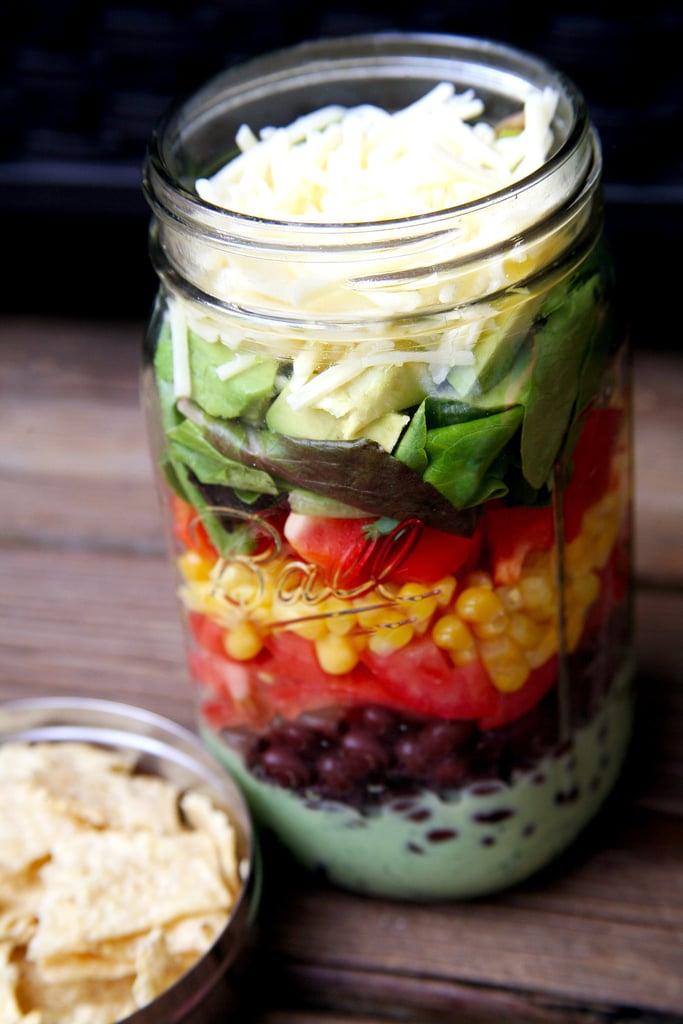 The homemade cilantro-lime dressing gives this taco salad [15] a fresh and zesty flavor perfect for the warmer weather. The layered ingredients also offer almost 25 grams of both protein and fiber. This is a great dinner when you need something fast after a hectic day: prep in advance and store in your fridge for a ready-to-go dinner.
Calories: 468
Sweet Potato Pizza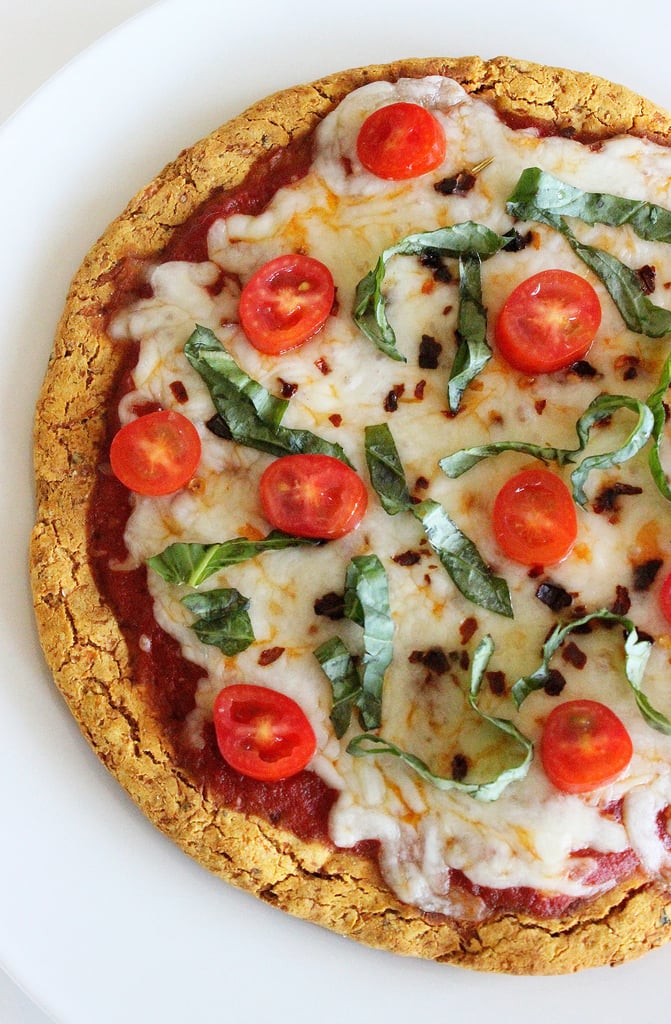 Cut the carbs but not the comfort with this high-protein, vitamin-A-rich sweet potato crust pizza [16].
Calories per serving (half a pizza): 351
Vegan Bean Salad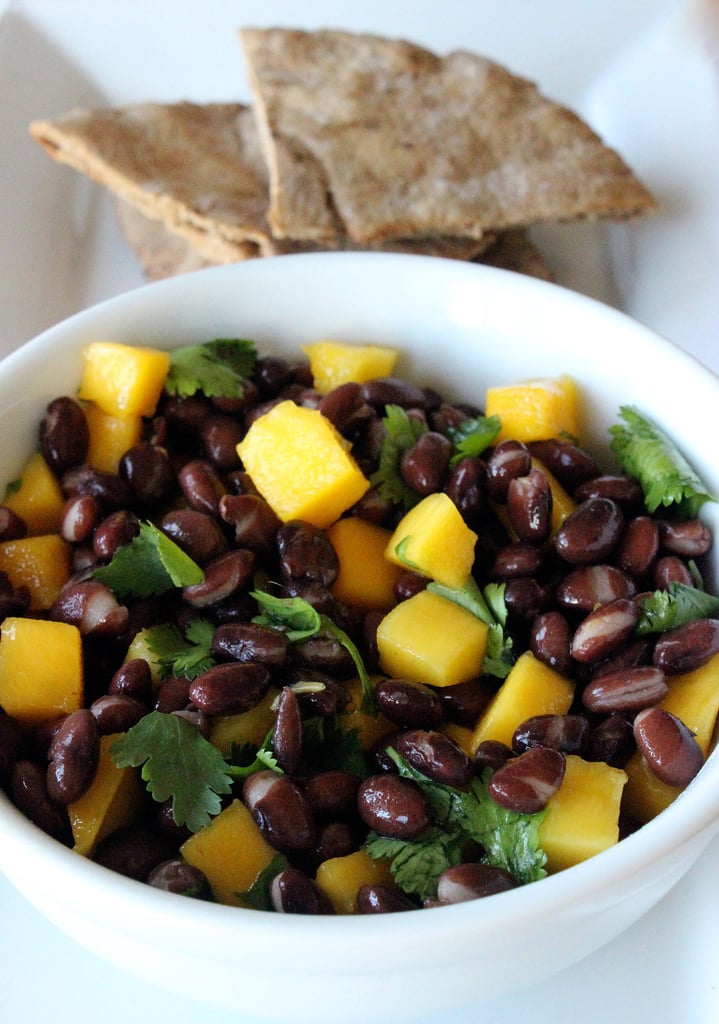 After a hard workout, this vegan bean salad [17] is the perfect, protein-packed refreshing meal. It has more than 13 grams of fiber and nearly 17 grams to fill you up and help your muscles recover.
Calories: 349
Avocado Shell Salad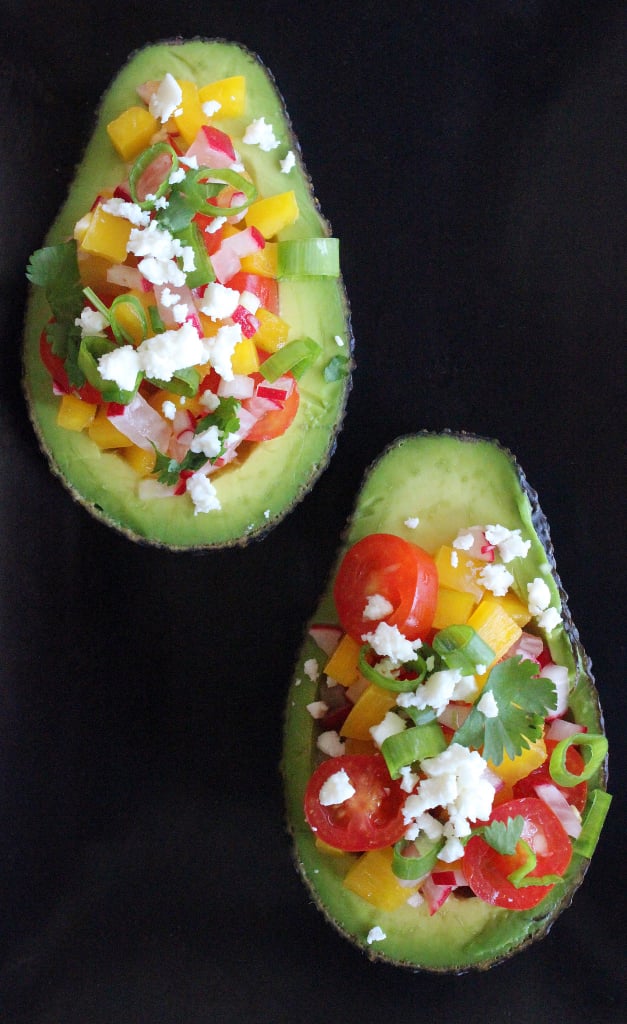 No need for the oven for this refreshing dinner — avocado shell salad [18]. It has 60 percent of your recommended fiber for the day, aids in digestion, and may even diminish belly fat [19].
Calories: 468
Baby Kale Sesame Salad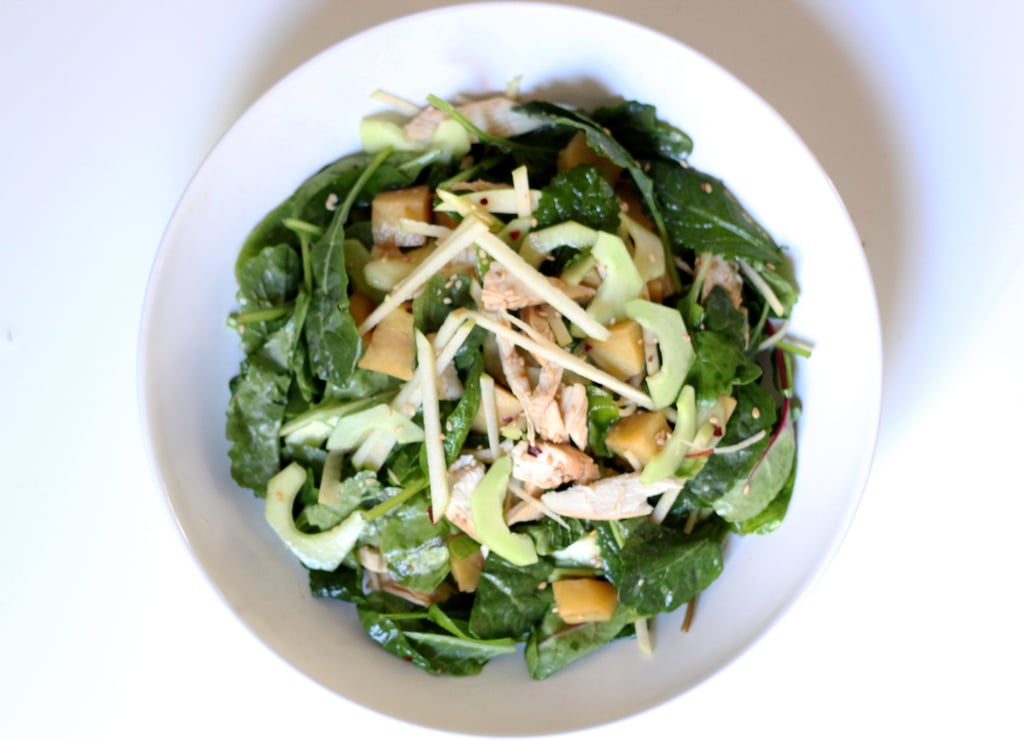 Kale may be a nutritious powerhouse, but its flavor is anything but timid. If you're tried of making soups, smoothies, and salads from the dark green roughage, baby kale makes an excellent alternative. The little leaves are tender, mild in flavor, and don't require the prep (chopping and massaging) required for their more mature counterparts, but it still contains the disease-fighting nutrients you need. Baby kale, baby spinach, and chard make a perfect delicate combo for this sesame chicken salad [20].
Calories: 414
Crockpot Mexican Chicken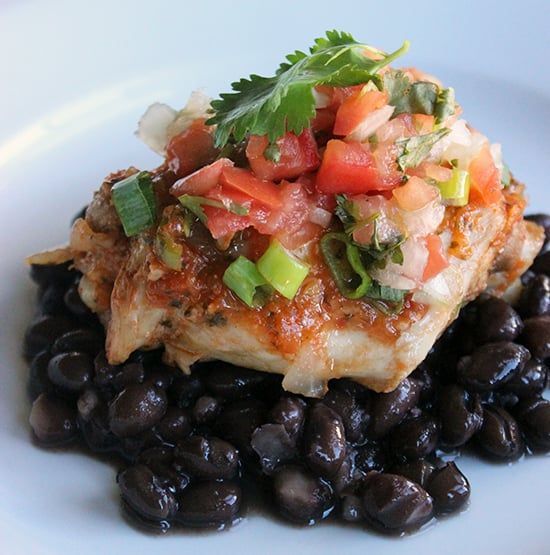 For a healthy, protein-rich meal that doesn't rely on dairy for flavor, try this delicious Mexican-style chicken crockpot recipe [21] full of fresh ingredients. This preparation results in an absolutely delicious, fall-off-the-bone piece of meat.
Calories: 381
Coconut Curry Butternut Squash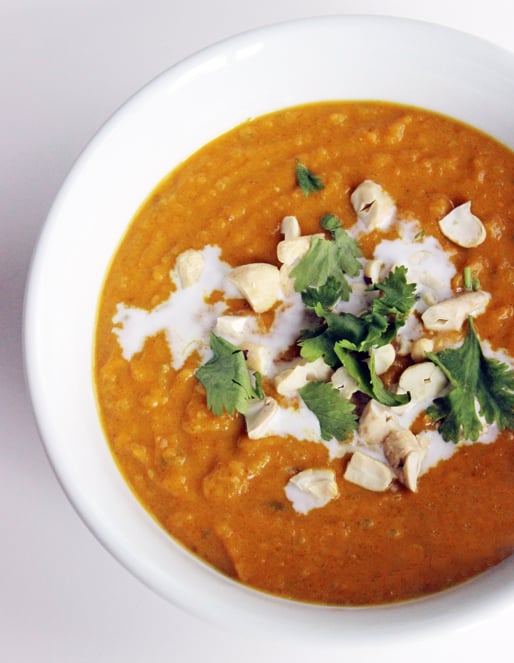 This comforting, creamy coconut curry butternut squash soup [22] is cream-free and the perfect way to add a few metabolism-boosting spices like cumin and turmeric to your diet.
Calories: 372
Sweet Potato Burger With Creamy Avocado Spread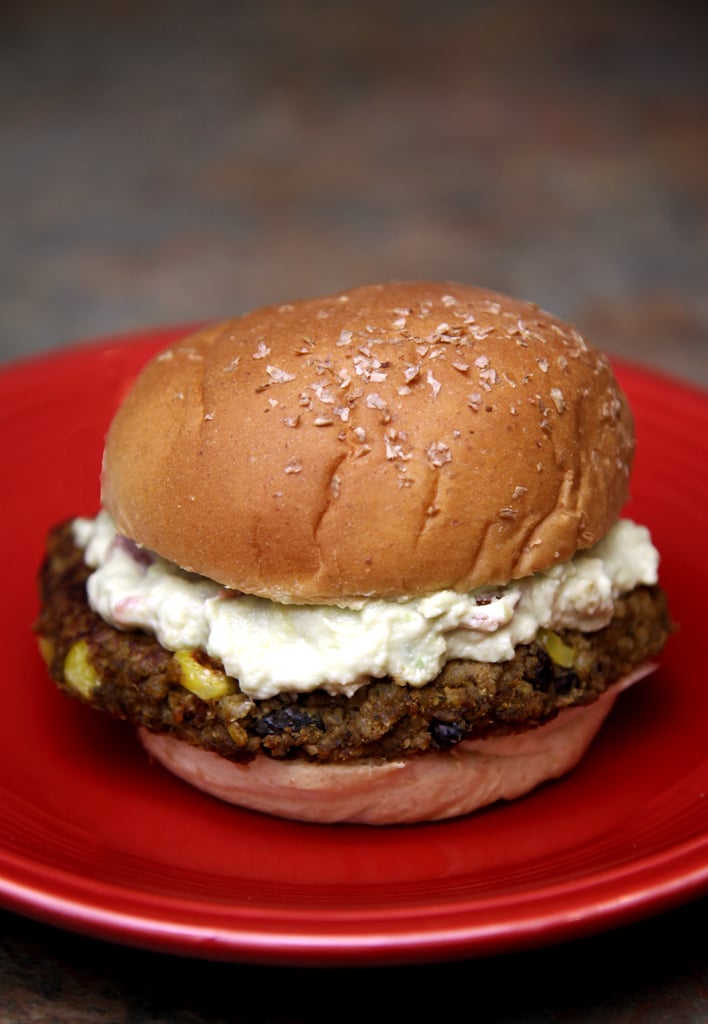 So robust in flavor, these hearty veggie burgers [23] are made with the goodness of sweet potatoes, black beans, millet, and corn. The creamy avocado sauce on top adds the perfect touch.
Calories: 367
Gluten-Free Veggie Pasta Bake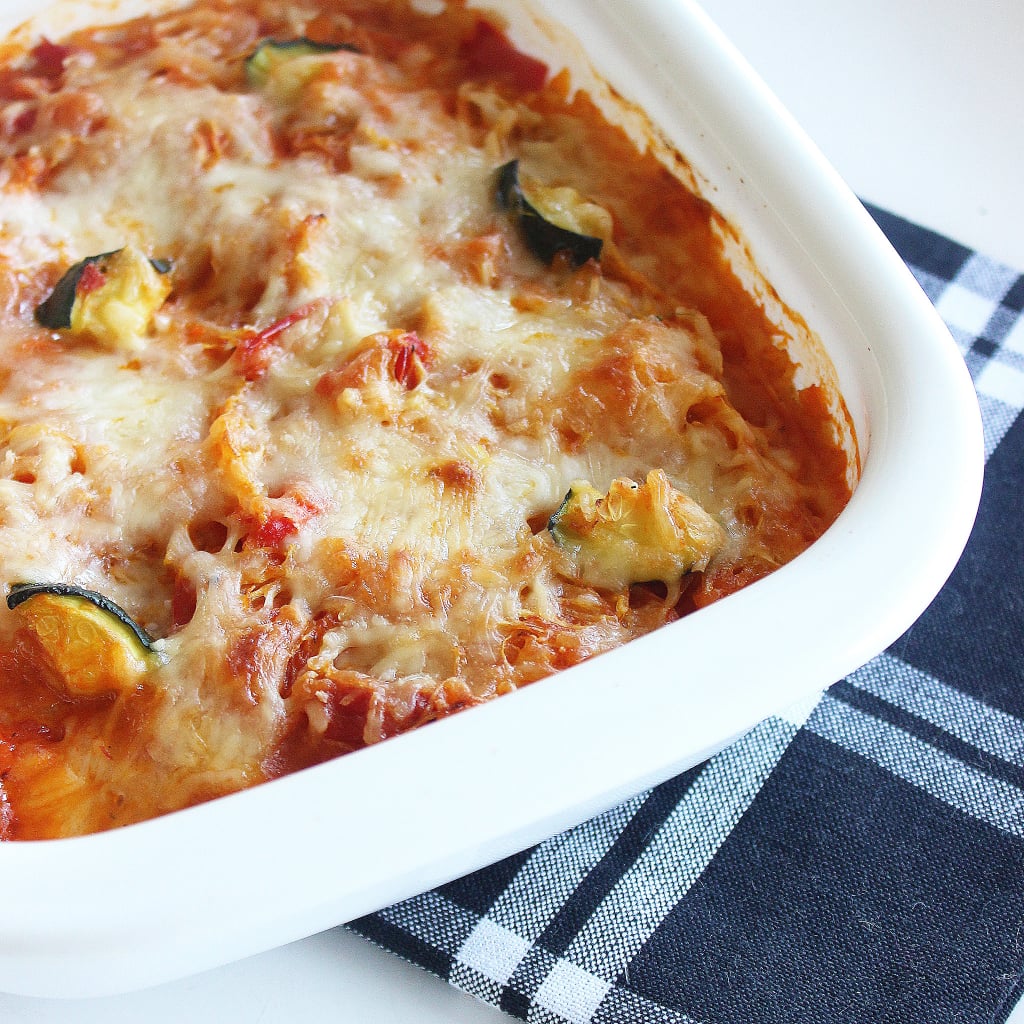 Using a mix of veggies like zucchini, spaghetti squash, and other veggies instead of penne means you can load on the cheese and still enjoy a low-calorie, ooey-gooey, cheesy bowl of steamy pasta. Even better? This veggie pasta bake [24] is gluten-free.
Calories: 208
Oven-Fried Chicken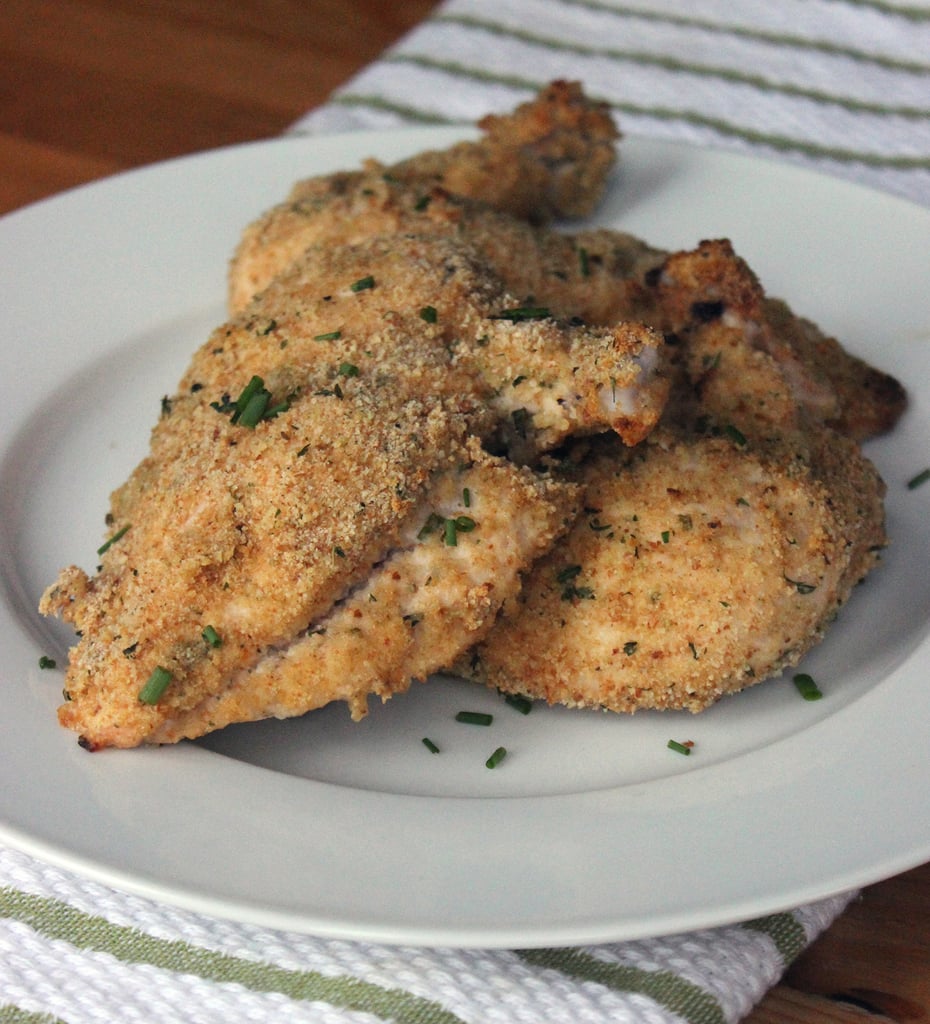 Fried chicken is the definition of Southern comfort, but just one piece can weigh in at over 700 calories. Skip the classic, and opt for this lower-calorie, just-as-delicious fried chicken alternative [25] that's baked in the oven.
Calories: 335
Creamy Flat-Belly Soup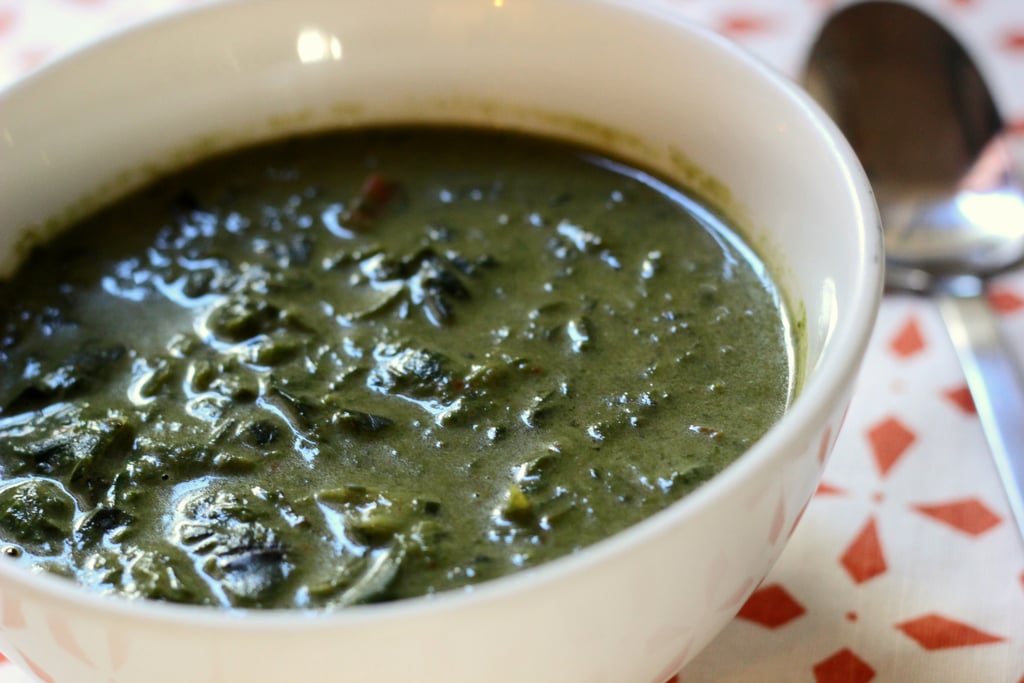 If your digestion needs a reset, opting for high-fiber, antioxidant-rich foods will help you feel better from the inside out. This creamy chard and spinach soup [26] is easy to make and full of belly-relieving nutrients. Leafy greens, almond butter, and bell pepper will help soothe your stomach and shrink your belly. Adding a touch of low-fat cream cheese turns this soup into a creamy concoction without adding a lot of calories.
Calories: 194
Citrus Chicken Salad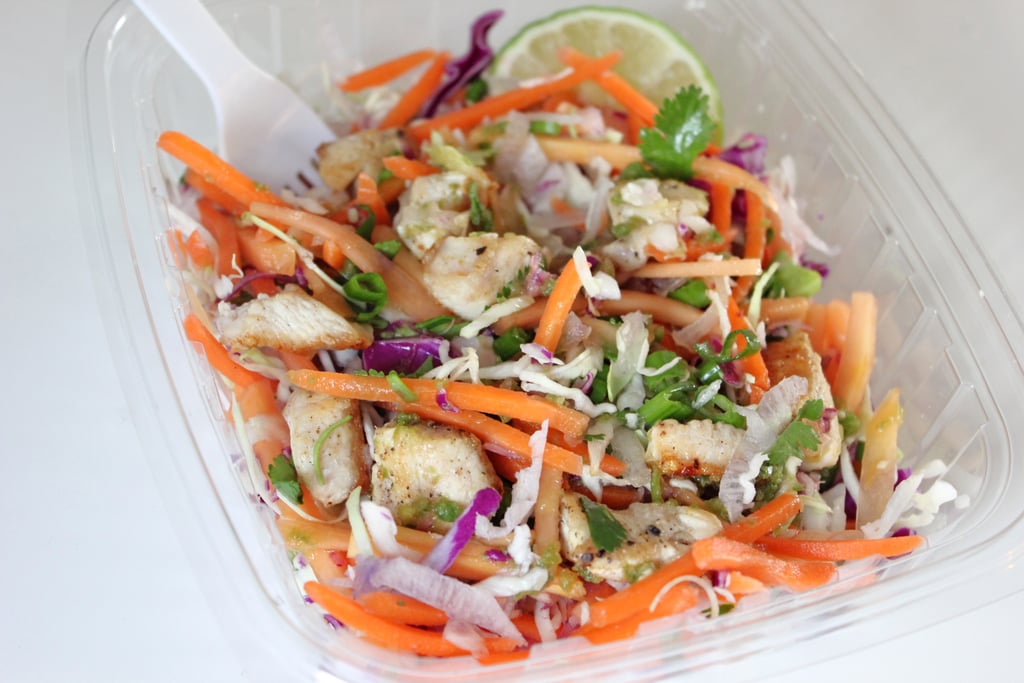 This version of Trader Joe's citrus chicken salad [27] tastes better than the original and is just as low in calories. A mix of digestion-relieving cabbage and papaya and hydrating, antioxidant-rich daikon — along with a tangy, Thai-inspired citrus dressing — makes for a flavorful, filling lunch that's high in protein and low in fat and calories.
Calories: 223
Spicy Sweet Potato Salad
High-fiber sweet potatoes in this spicy salad recipe [28] can regulate blood sugar and help you lose weight, while a spicy, antioxidant-rich red pepper and jalapeño dressing ties everything together.
Calories: 270
Vegan Bolognese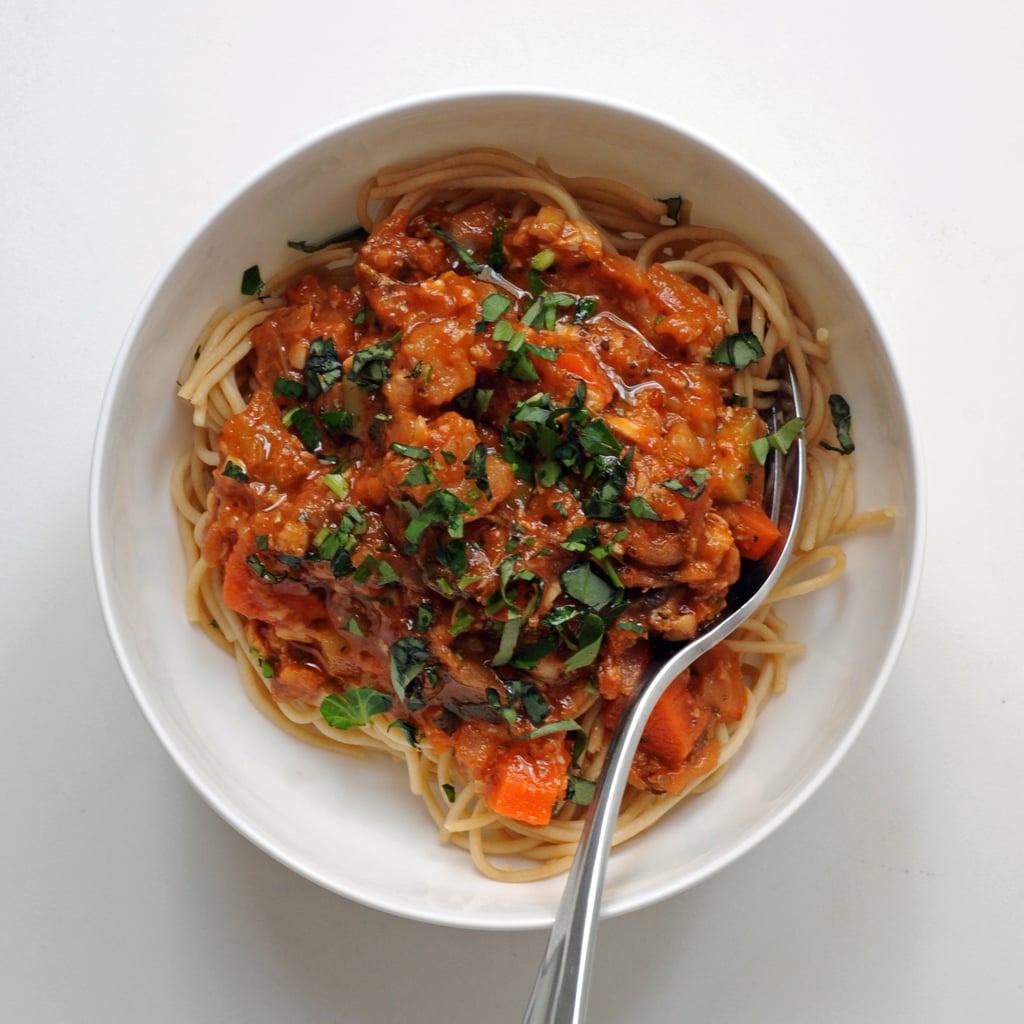 A comforting bowl of spaghetti bolognese is often what's needed after a long day (or any day, really). Loading down on beef, however, can leave you feeling heavy and tired. Solve this problem — and cut back on calories, fat, and cholesterol — with this recipe for vegan bolognese [29].
Calories: 257
Cream-Free Potato Leek Soup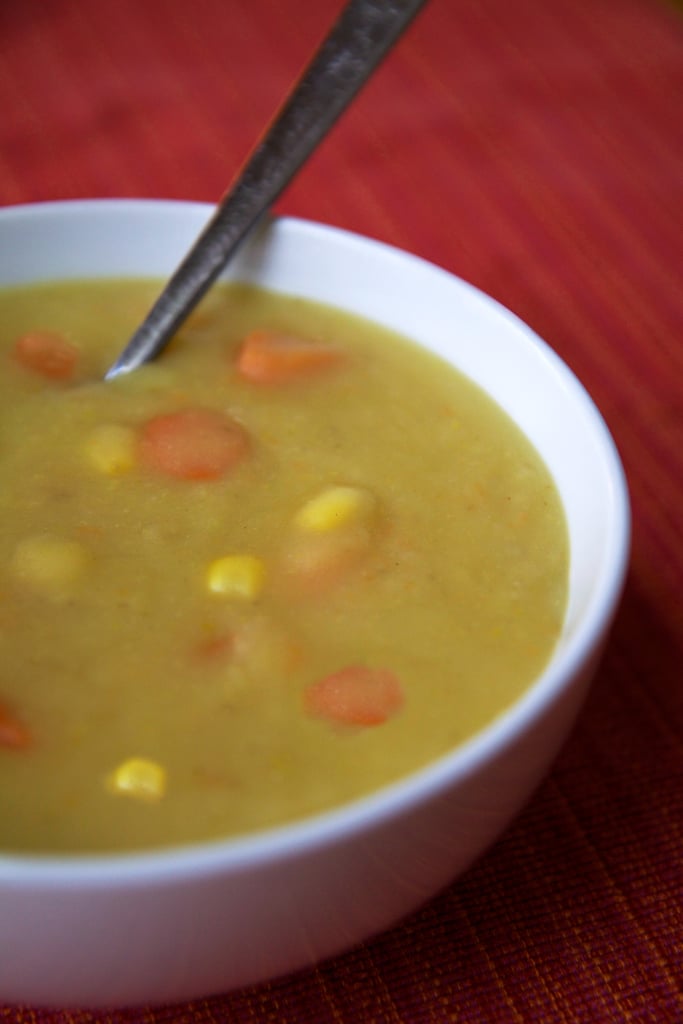 You can do without the butter and cream of the classic potato leek soup recipe and go for this dairy-free potato leek soup [30], made velvety smooth from pureed beans and potatoes instead.
Calories: 255
Apple Cabbage Detox Salad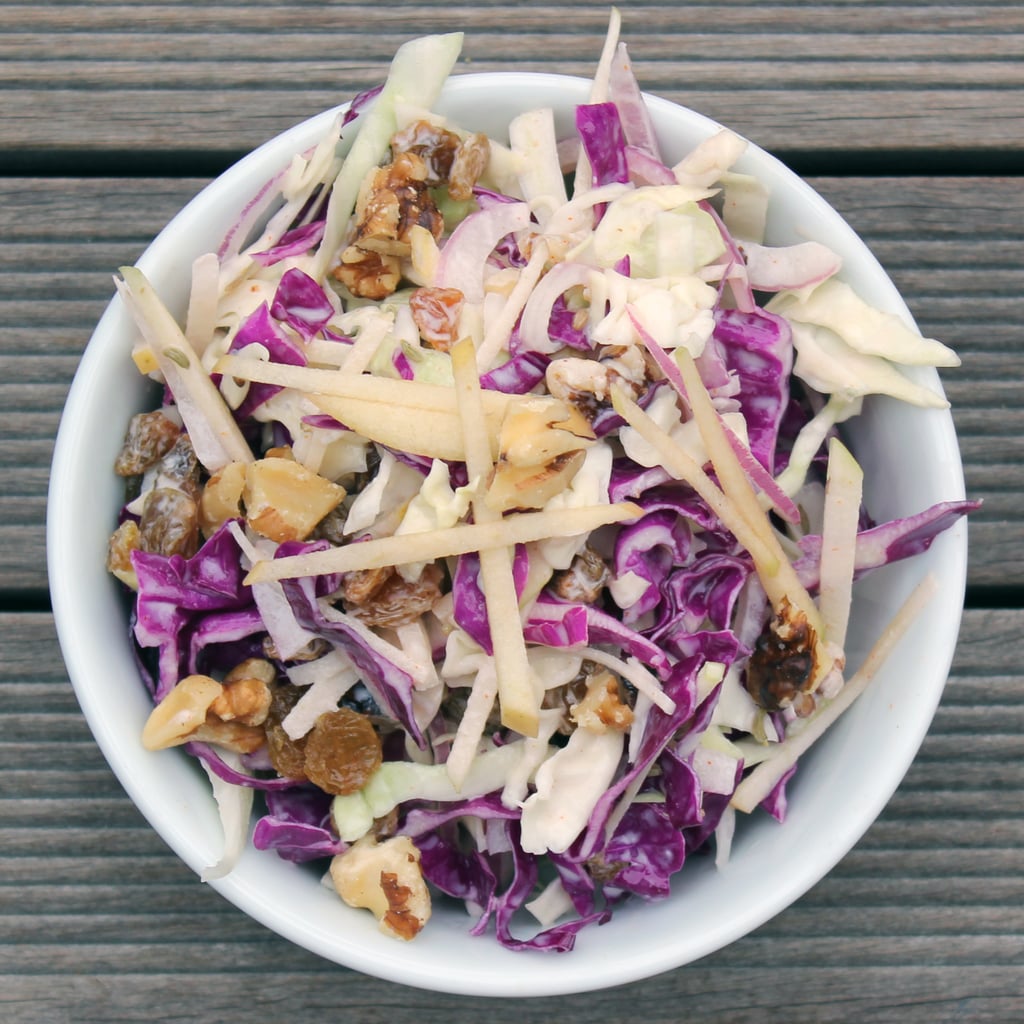 For a lightened-up take on classic coleslaw, whip up this detox salad [31] instead. Apples marry with the dynamic duo of red and Savoy cabbage, combining for a fiber-filled meal that aids in digestion. The addition of fennel seeds adds to the fiber factor, plus a kick of cayenne boosts your metabolism.
Calories: 289
Paleo Stuffed Peppers
For a warming, quick supper, look to these Italian-style Paleo stuffed peppers [32] for inspiration. With just a few ingredients and less than 30 minutes, you can create a fresh, clean meal with more than 30 grams of protein!
Calories: 285
Hemp and Cabbage Detox Salad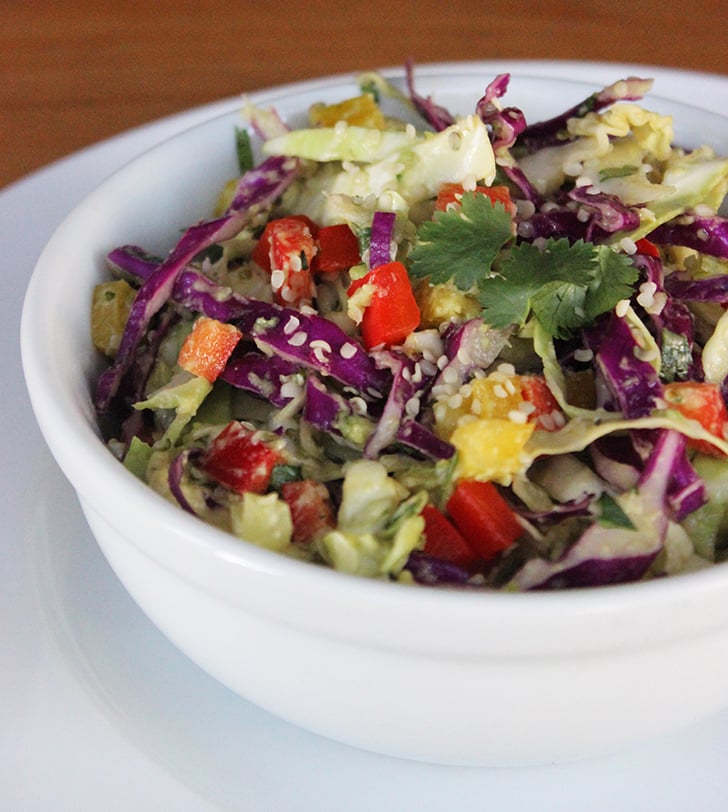 If you're on the hunt for a quick and tasty detoxifying recipe, this crunchy cabbage and hemp salad [33] is for you. If you haven't tried them yet, it's time to give hemp seeds a try. They're a great source of omega-3s and vitamin E for vegans and vegetarians, and the combination of the cold-pressed oil and seeds in this recipe gives this fresh salad a nutty flavor you'll love.
Calories: 381
Spaghetti Squash Mac and Cheese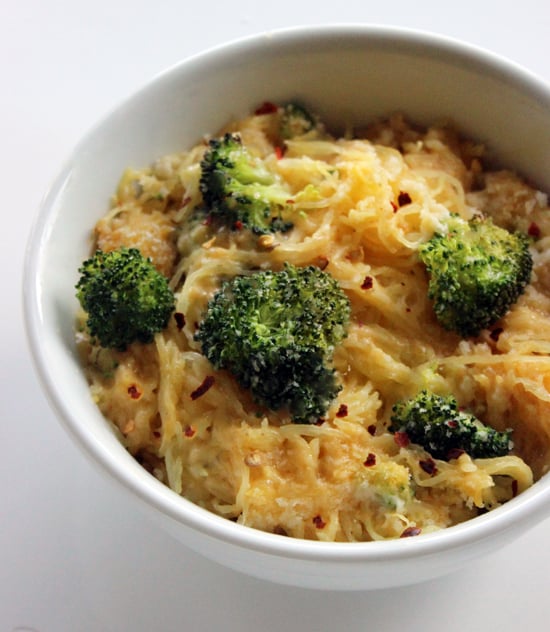 If you're looking to lighten things up the next time you dig into a comforting bowl of mac and cheese, opt for this twist on tradition that amps up the nutritional value as it cuts back on calories and carbs. Versatile and nutrient-rich spaghetti squash lays the base to this recipe [34], while broccoli adds more vitamin A.
Calories: 296
Eggless Kale Caesar Salad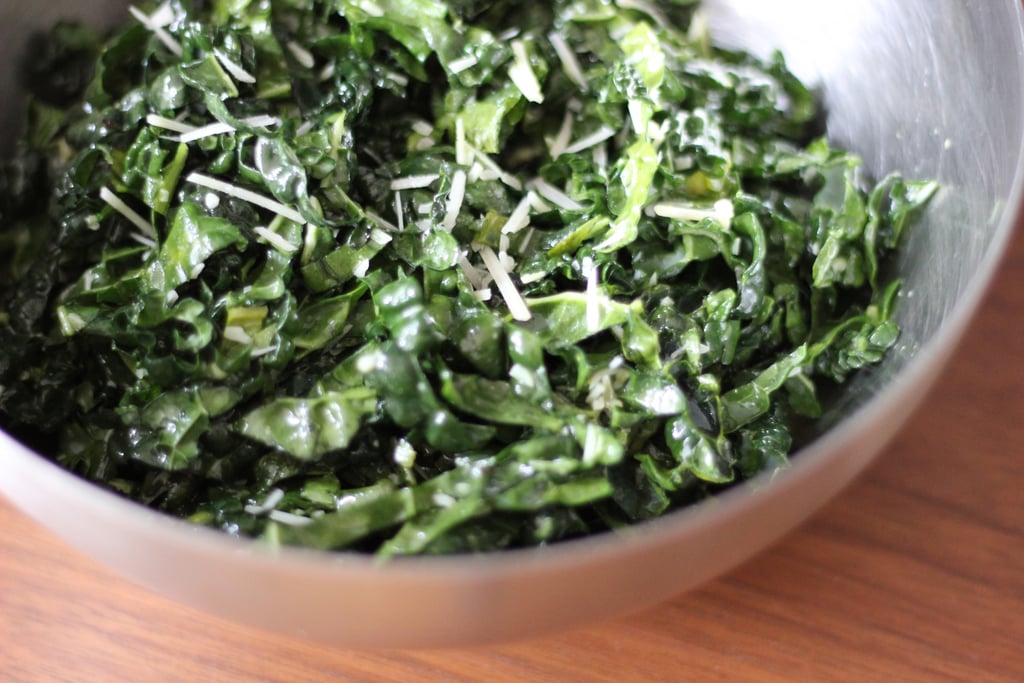 For just the same addictive taste as the original with an added bonus — vitamin A-rich superfood kale — opt for this lighter Caesar salad [35] dressing instead. This recipe omits the egg yolk and a lot of the cheese for a lower-calorie dressing that tastes exactly like the classic. Using kale instead of romaine lettuce increases the nutrients and adds texture and flavor and allows the salad to keep in your fridge without going limp.
Calories: 175
Broccoli Slaw Pasta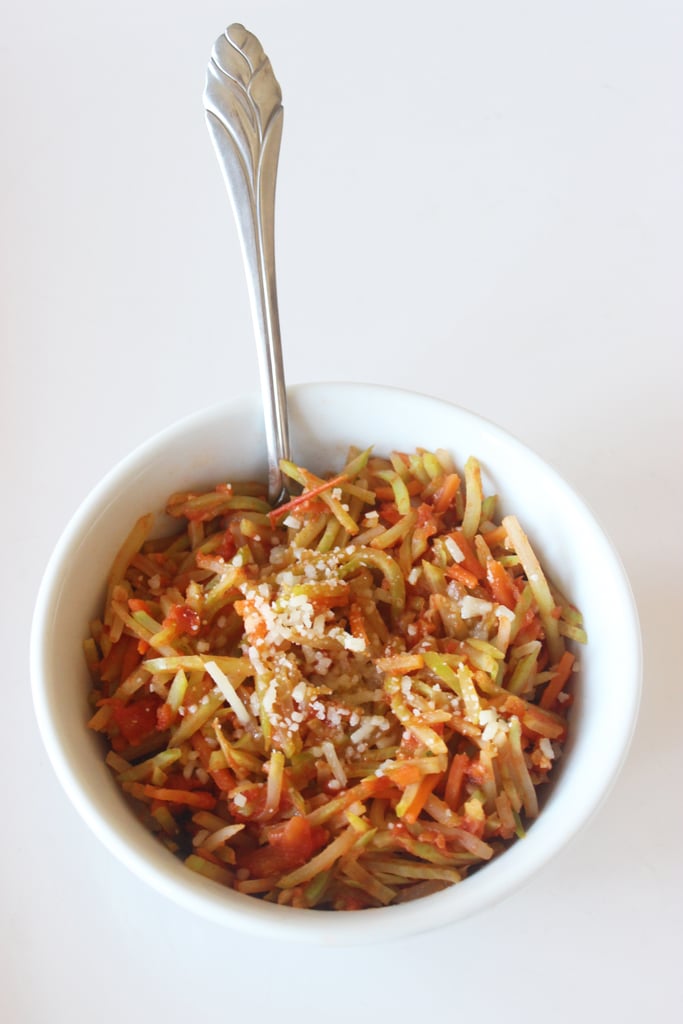 This cheesy, garlicky "pasta" [36] from healthy chef Hungry Girl is the best of both worlds — it's just as fast to make as any simple pasta dish and doesn't come overloaded with carbs. And since it's a similarly low-calorie and low-carb pasta alternative as spaghetti squash (one whole bag of broccoli slaw is only 100 calories and five grams of carbs) without all the prep, it's perfect for any gluten-free girl on the go.
Calories: 134
Cumin-Spiced Lentils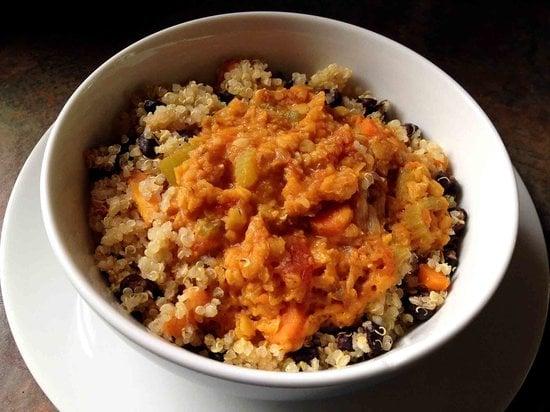 Settle in with a large, comforting bowl of cumin-spiced lentils [37]; packed with protein and fiber, this gluten-free meal satisfies no matter how hungry you are.
Calories: 370
Tofu Scramble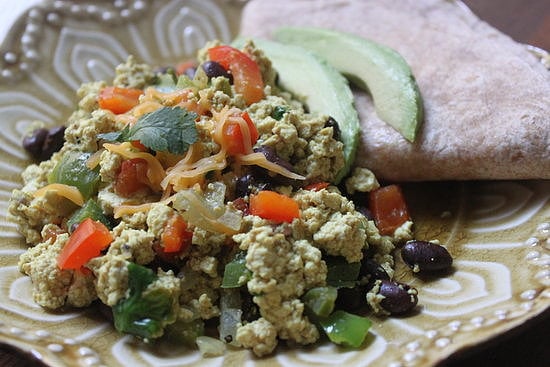 Versatile, quick, and perfect for breakfast, lunch, or dinner, a basic tofu scramble is a great go-to meal. This vegan tofu scramble [38] brings the Southwest to your table, fast.
Calories: 135
Panko-Crusted White Fish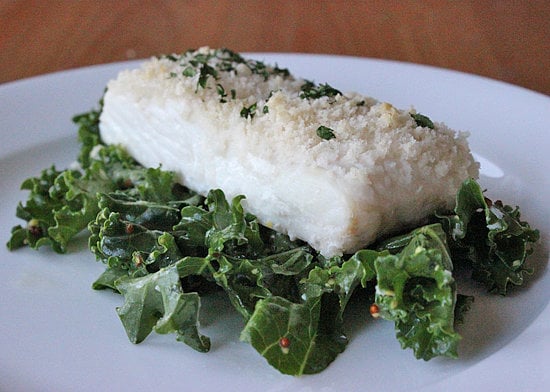 This protein-packed, simply prepared panko-crusted white fish recipe [39] is the perfect post-workout dinner.
Calories: 442
Blueberry, Quinoa, and Kale Salad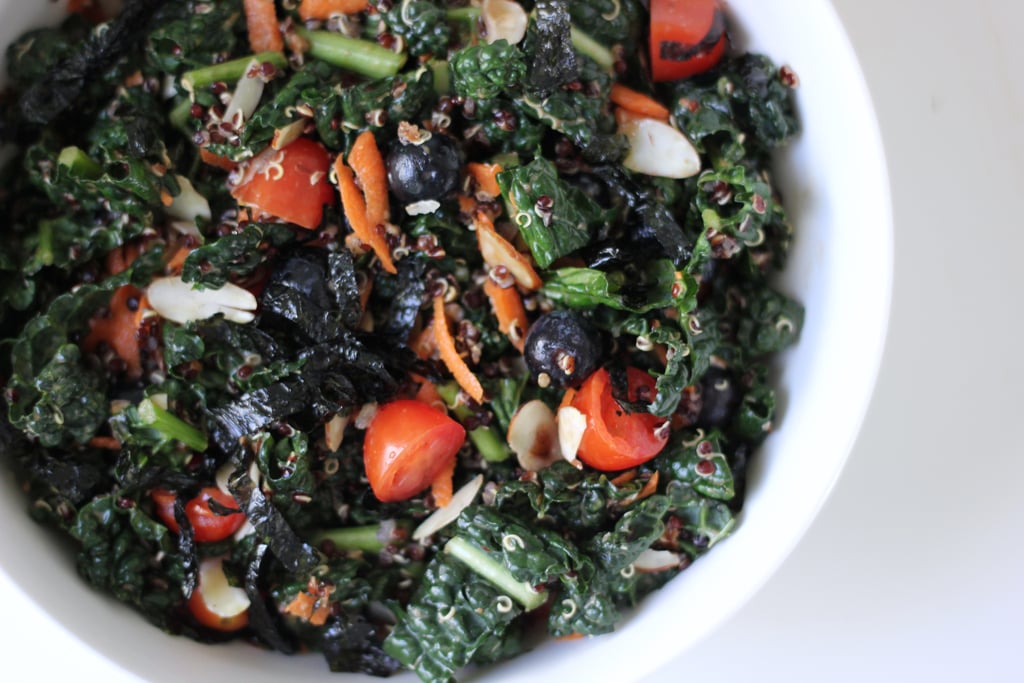 This colorful salad [40] has a bit of everything: blueberries, carrots, tomatoes, almonds, nori, kale, and quinoa, all blended with an Asian-inspired soy ginger dressing. Talk about eating the rainbow!
Calories: 377
Toasted Quinoa and Cabbage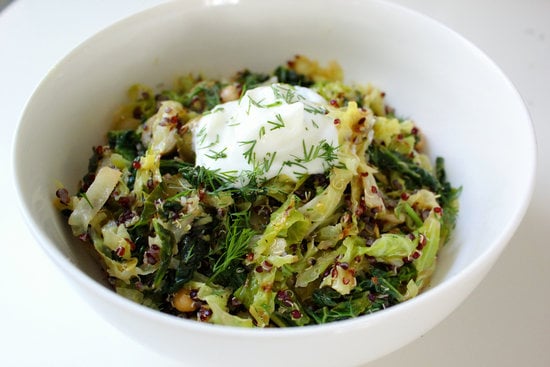 If you need a break from a weekend of heavy meals, then make this digestion-aiding lemony toasted quinoa and wilted cabbage [41] dish.
Calories: 348
Spicy Cauliflower Lasagna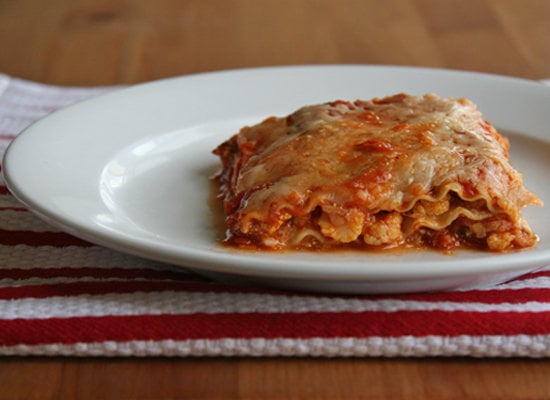 Red pepper flakes, cinnamon, and roasted cauliflower give this healthy version of lasagna [42] amazing depth of flavor.
Calories: 324
Vegan Split Pea Soup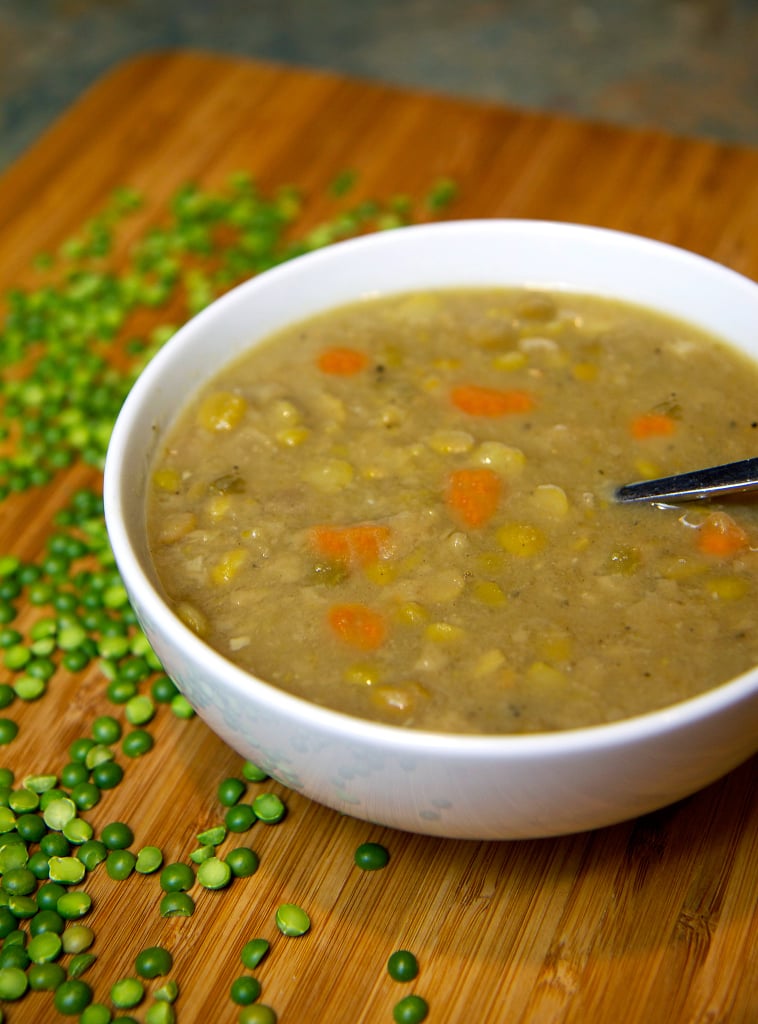 One-pot meals like this vegan split pea soup [43] definitely don't lack dimension. With plenty of spices and sweet potatoes, a large bowl will fill you up for hours.
Calories: 326
Mac and Cheese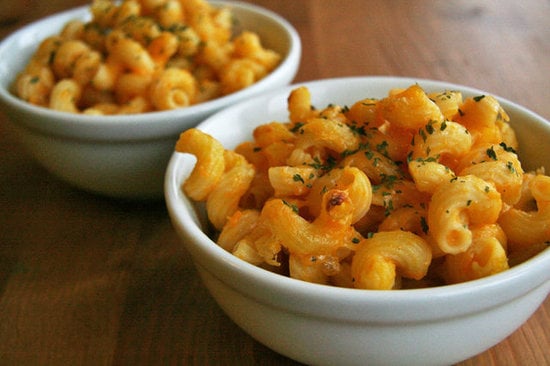 Yes, you can have delicious, healthy mac and cheese. This version [44] owes its low calorie count — and appropriate orange hue — to pureed butternut squash.
Calories: 285
Cheddar Soup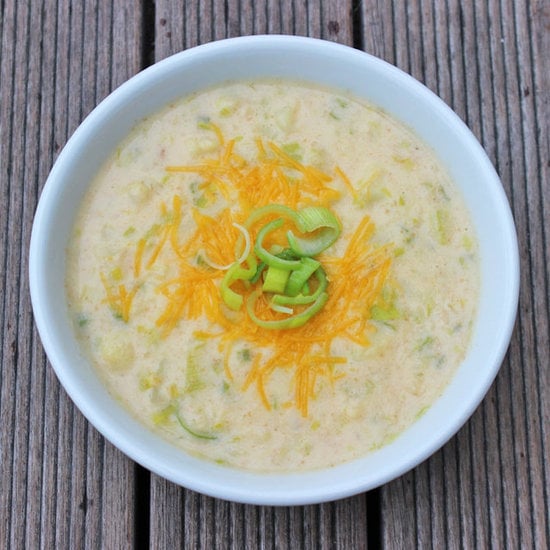 A hearty bowl of creamy cheddar soup can soothe the soul, but it's not always so great for the waist. This healthy cheddar soup recipe [45] keeps the texture you crave but nixes calories by using cauliflower to create a creamy soup base.
Calories: 247
Chirashi Bowl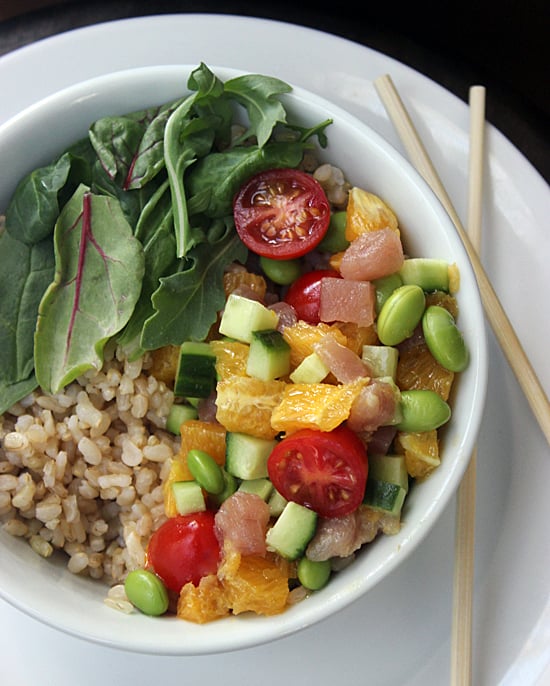 A light, refreshing meal is perfect for hot Summer days. Try this chirashi bowl [46], made with fresh vegetables, brown rice, and sushi-grade tuna, to cool off in the heat.
Calories: 403
Red Pepper and Lentil Bake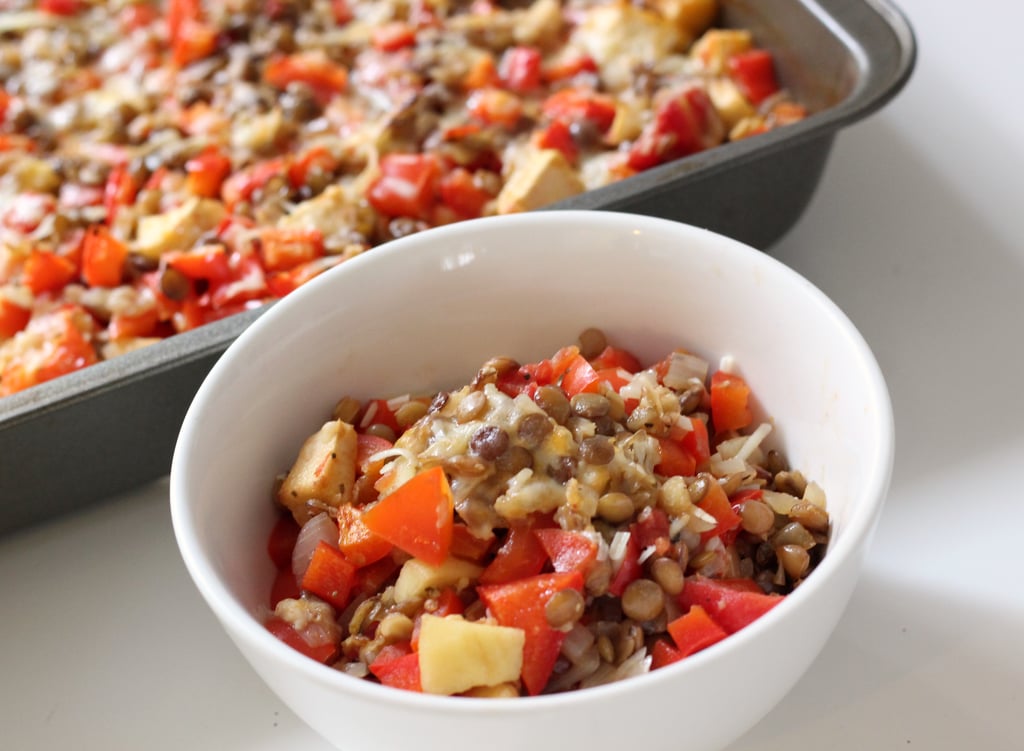 High in vitamin A, vitamin C, and fiber, red bell peppers make a perfect accompaniment to protein-rich lentils in this low-calorie recipe. Even better news? You'll be surprised at how large an under-250-calorie portion of this cheesy red pepper and lentil bake [47] really is.
Calories: 233
Cauliflower Rice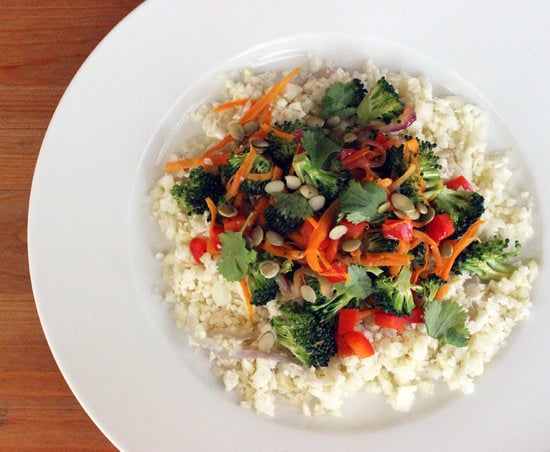 Fried rice should definitely not be on anyone's healthy-eating menu, so get the taste — and kill the cravings — with this paleo perfect cauliflower fried "rice" [48] recipe instead.
Calories: 278
Spaghetti Carbonara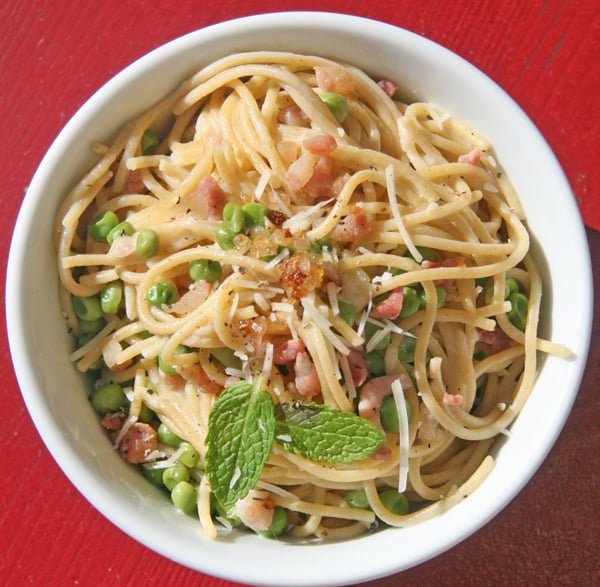 Lighten up traditional carbonara with this whole wheat spaghetti carbonara [49] made with low-fat milk and, yes, a healthy dose of parmesan cheese.
Calories: 376
Healthy Chicken Salad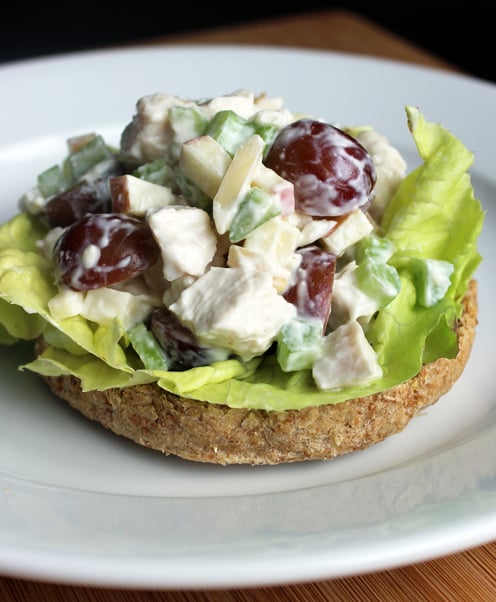 Traditional chicken salad clocks in at 500 calories, but this healthy chicken salad [50] is 139 calories a serving. The secret? A simple swap of Greek yogurt for mayo. Serve with one or two slices of bread (like wheat bread, 220 calories [51] for two slices).
Calories (with two slices of wheat bread): 359
Thai Peanut Soba Noodles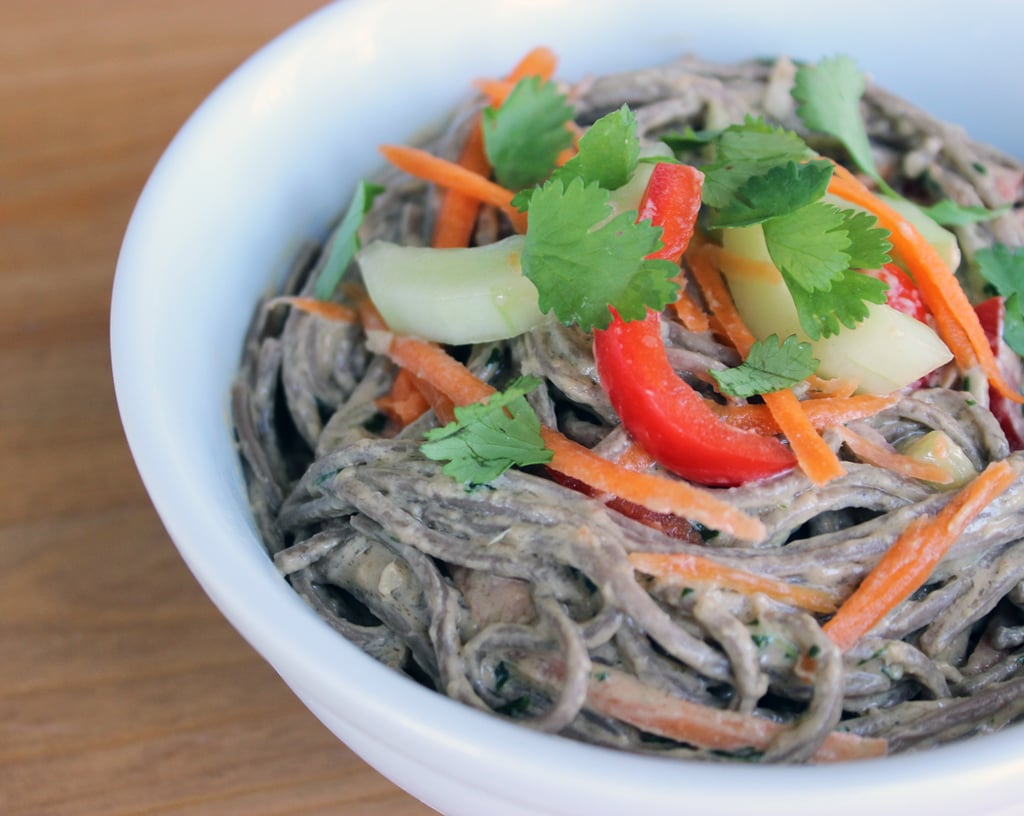 Make this Thai-inspired soba noodle salad [52] for dinner, enjoy it for lunch the next day. The flavors develop with time, making this protein-rich and fiber-full cold dish perfect as leftovers.
Calories: 424
Turmeric-Spiced Mushroom Pilaf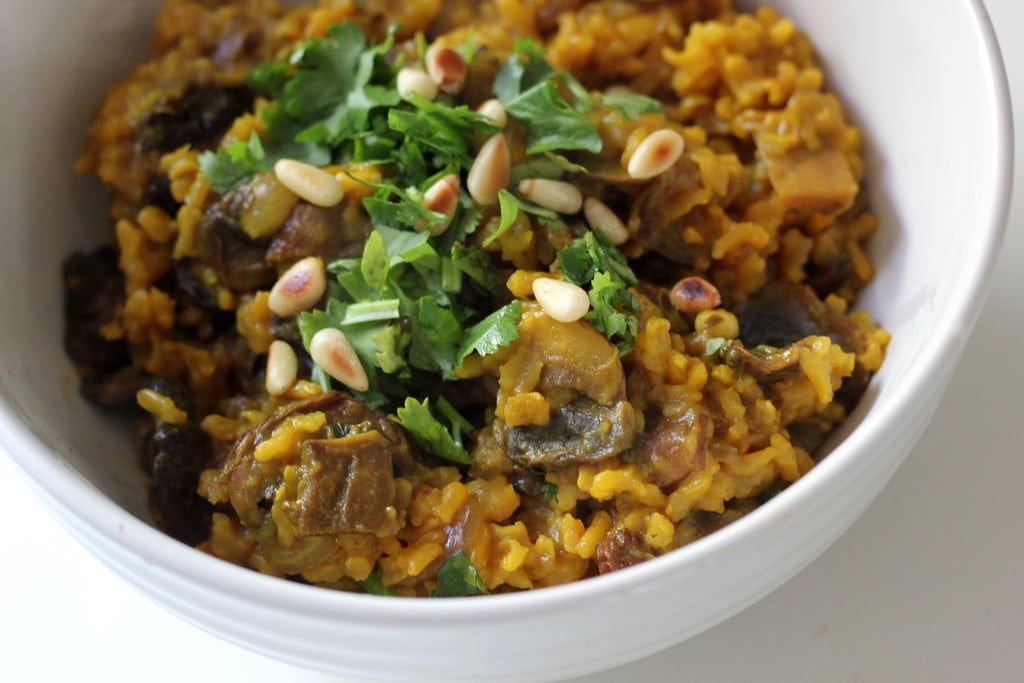 Turmeric might just be a super spice: it's been known to boost immunity, relieve digestive discomfort, and possibly prevent disease. This turmeric-spiced mushroom pilaf [53] is made with a generous dose of turmeric added to a brown rice and mushroom mixture. The result is a mildly spicy, satisfying one-pot meal that helps you feel your best.
Calories: 201
Paleo Meatballs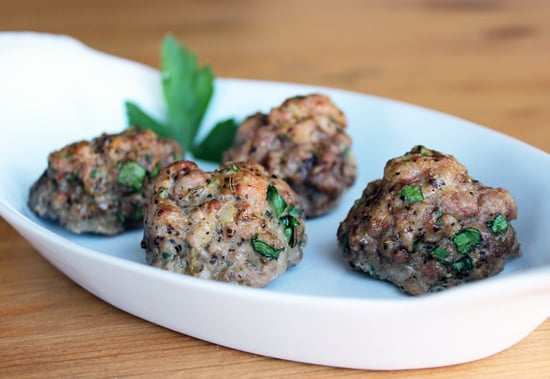 Serve these paleo meatballs [54] on a salad or bed of zucchini noodles, and you'll still hit your under-500 calorie goal.
Calories: 244
Sweet Potato, Chickpea, and Quinoa Burger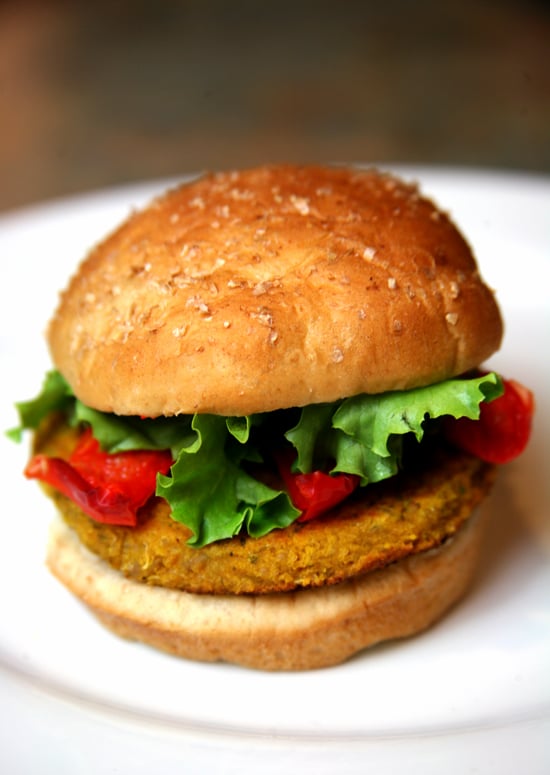 This sweet potato, chickpea, and quinoa veggie burger [55] is perfectly spiced and completely satisfying. At 202 calories per patty, you can add a 120-calorie whole wheat bun and lettuce, tomato, and ketchup (34 calories [56]) and still come in at well under 500 calories.
Calories (with bun and fixings): 356
Cauliflower Crust Pizza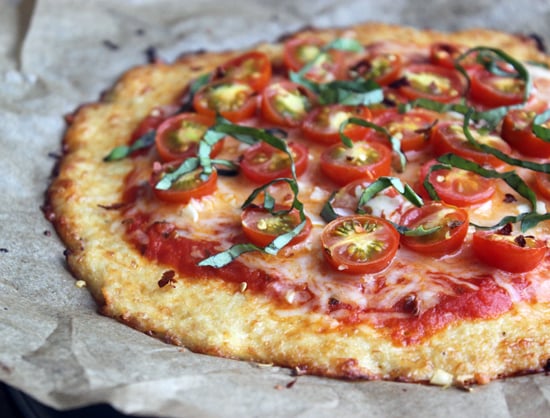 Yes, you can eat half a pizza without guilt. This cauliflower crust pizza [57] features a gluten-free crust and fresh tomatoes, skim mozzarella cheese, and basil leaves for a healthy take on a classic.
Calories: 272
No-Mac and Cheese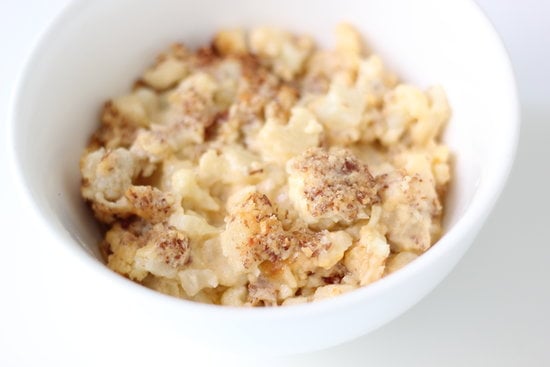 What's the secret to making a pasta-less mac and cheese just as irresistible as the classic? Cauliflower, the perfect vehicle for a cheesy, creamy sauce made from cheese, coconut milk, butter, and coconut flour. While this gluten-free no-mac and cheese [58] is under 400 calories, note that it's high in saturated fat, so enjoy this comforting dish in moderation.
Calories: 376
Zucchini Noodles Aglio et Olio
For those days when you're craving nothing but pasta, reach for a huge bowl of this garlicky zucchini pasta dish [59]. A sprinkle of almond meal instead of breadcrumbs takes this recipe over the top.
Calories: 257
Chicken and Vegetable Quinoa Bowl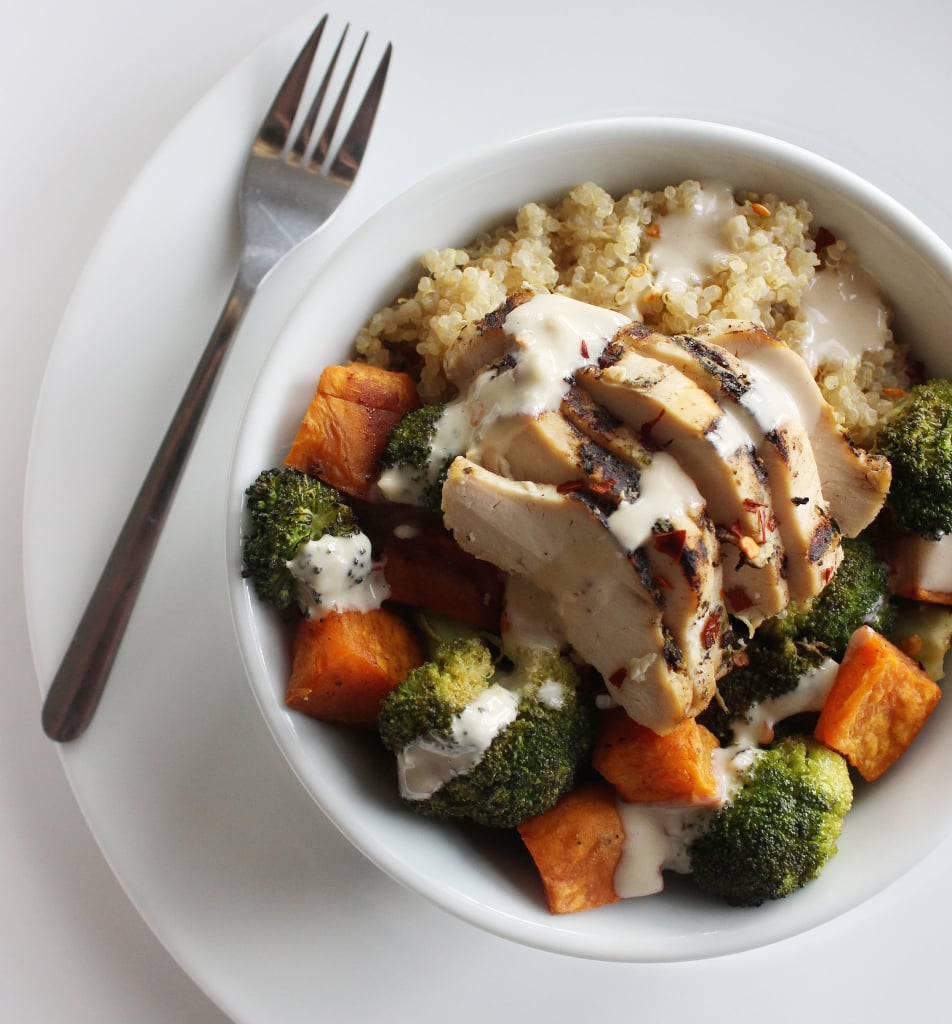 For nights when you don't have time to spend in the kitchen, this chicken and sweet potato quinoa bowl [60] comes together fast. With 40 percent of your recommended daily intake of fiber and 20 grams of protein, it makes an ideal post-workout meal.
Calories: 409
Sweet and Sour Chicken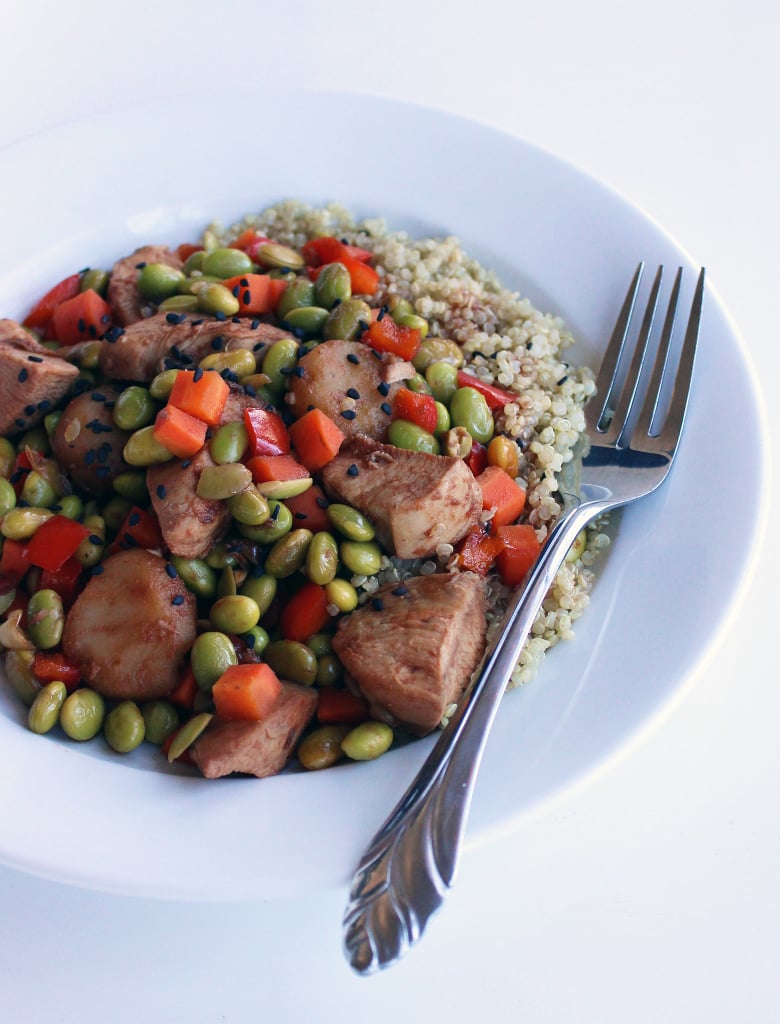 Save money and hundreds of calories by opting for a lightened-up version of Chinese takeout. This sweet and sour chicken recipe [61] is light on calories and fat.
Calories: 348
Chickpea and Kale Soup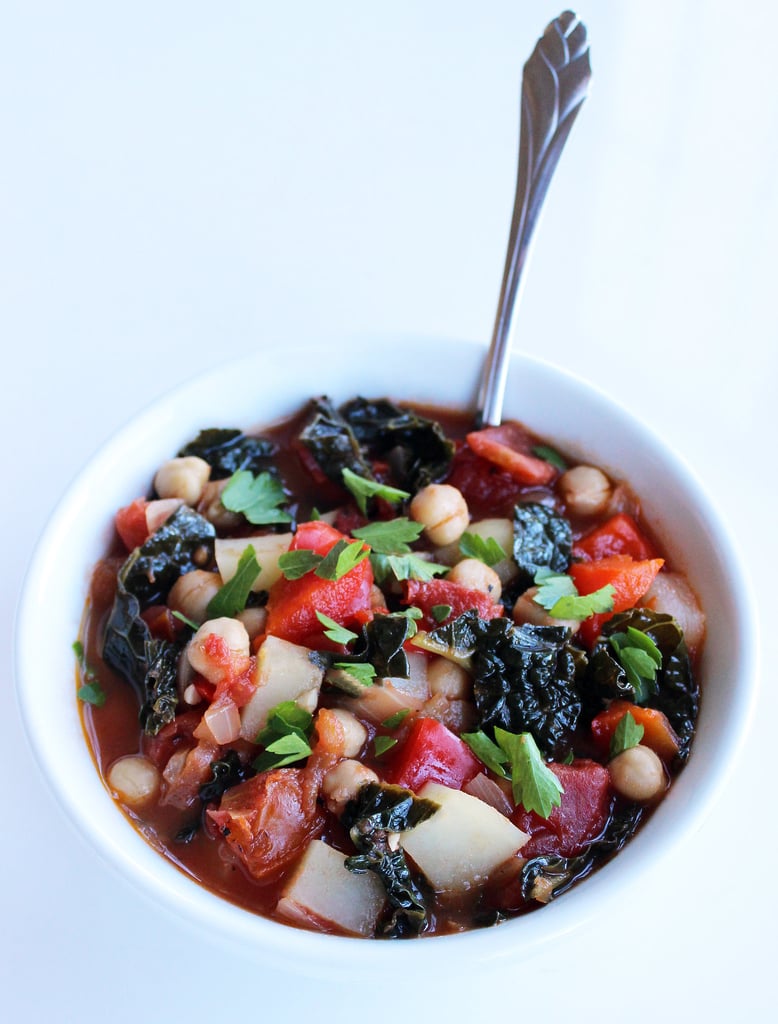 Make a big batch of this chickpea and kale soup [62] on the weekend, then enjoy hearty, healthy lunches or dinners all week.
Calories: 502