Healthy Snack Staples
Stock Up on These Healthy Snack Staples
Snacking can be a helpful tool for weight loss — or the main way you sabotage your goals. For snacking success, we asked healthy chef and fitness trainer Katy Clark to share with us which healthy snacks keep her on the right track. Stock your fridge and pantry with these go-tos.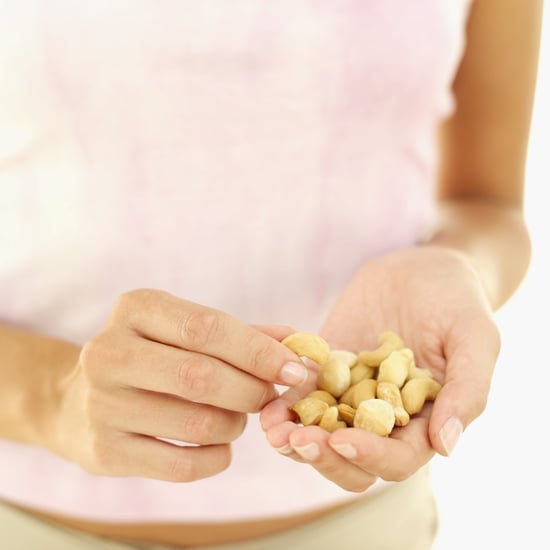 Bagged baby spinach: Katy loves ready-to-go, organic baby spinach because it's so versatile. "You can sauté it, you can eat it raw, or you can put it on top of pizzas. Love it," she says. Keep a bag of washed spinach in your fridge so you can add the bone-strengthening, antioxidant-rich veggie to your meals anytime you want.
Nuts: They're "healthy crunchy choices," says Katy. While nuts are high in healthy fats, they are still calorie dense, so watch portions with our guide to what 100 calories of nuts look like.
Cacao nibs: Packed with flavonoids, cacao nibs add a bit of chocolaty sweetness without a lot of calories. Toss a teaspoon or two into your favorite sweet snack to calm chocolate cravings in no time.
Sprouts: "They're definitely in right now, and they are more nutrient dense than other greens," Katy says. Sprouts are also high in phytonutrients, vitamins, and minerals, so adding them to any of your salads or sandwiches is an easy way to get even more nutrients into your meals.
Kombucha: While the health benefits of kombucha may be hotly debated, many people love the fermented tea for its energizing, detoxifying abilities. Katy keeps kombucha in her fridge as a healthy treat. "It's kinda fun: it feels naughty, but it's not," she says of the fizzy, slightly alcoholic drink.
Coconut water: Mix it with a little water for a refreshing drink that's not too sweet, Katy recommends. You can also add coconut water to your daily smoothies or oatmeal to add a high dose of potassium to any meal.