Healthy Spinach Recipes For Every Meal
A Spinach-Fueled Meal Plan That Would Make Popeye Proud
Now that Spring is here, spinach is popping up at local farms everywhere. We couldn't be happier: this leafy green is an amazing source of iron and vitamin A and not too shabby when it comes to lutein and vitamin C. To get all the nutrients from spinach, it's best enjoyed raw and, when possible, at every meal. Confused about how spinach can make an appearance at breakfast and dessert? This meal plan puts the leafy green front and center for every dish of the day!
Breakfast: Green Smoothie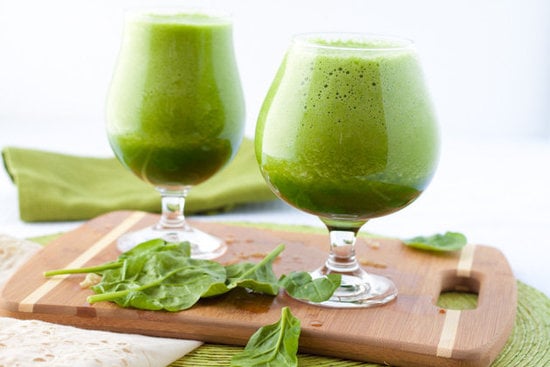 Perfect for those hectic mornings, this ultragreen smoothie is easy to take when on the go. Falling under 400 calories, besides spinach, it's made with antioxidant-rich avocados and hemp seeds, resulting in a fiber- and protein-rich breakfast.
Lunch: Strawberry, Walnuts, and Goat Cheese Salad


Avoid the classic midafternoon slump with our filling spinach salad. Made with in-season Spring veggies, it also harnesses the detoxing properties of asparagus. Pump up the protein factor by tossing some chicken breast or soft tofu to the mix.
See the dinner and dessert recipes after the break!
Dinner: Pesto
Whether it's served with whole wheat pasta, bread, or pizza, we're loving POPSUGAR Food's creative twist on classic pesto. Its spinach pesto recipe is great as is but can easily be lightened up by cutting back just a touch on the olive oil or parmesan cheese.
Dessert: Vegan Brownies


Trick anyone into eating their greens with this simple recipe for vegan brownies that uses spinach as the secret ingredient! From nutritionist and registered dietitian Cynthia Sass, this recipe is made with healthy ingredients like whole wheat flour, extra-virgin olive oil, and of course — spinach!