Healthy Start to 2009: Hash Brown Strata Since having kids, my New Year's Eve celebrations have become considerably toned down. Although I do manage to stay up until midnight. Instead of partying all night, I host a New Year's Day brunch followed by a hike. You know me and fitness!
Every year I make a strata, a kind of savory bread pudding with eggs. This year, I decided to try a new, healthier recipe (read no heavy cream) in an attempt to begin 2009 on the right foot. The new recipe is more like an egg bake, since you use hash browns rather than eggs. This recipe was super easy to make and is a complete meal, with protein, carbs, and some veggies. When I can fit broccoli into a meal before noon, I feel quite accomplished.
To see the recipe, just
.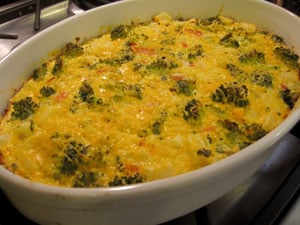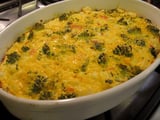 Ingredients
cooking spray
2 cups hash brown potatoes with peppers and onion, frozen
1 cup broccoli
3 ounce Canadian bacon, chopped into 1/4 inch squares
1/3 cup fat-free evaporated milk
2 tablespoon flour, all-purpose
2 cups of egg substitute
1/2 cup reduced-fat cheddar cheese
1 tablespoon fresh basil, finely chopped
1/4 teaspoon freshly ground black pepper
1/8 teaspoon salt
Directions
Preheat oven to 350°F. Coat a 2-quart square baking dish with nonstick cooking spray. Spread hash brown potatoes and broccoli evenly in bottom of prepared baking dish; top with Canadian bacon. Set aside.
In a medium bowl, gradually stir milk into flour. Stir in egg product, half of the cheese, the basil, black pepper, and salt. Pour egg mixture over vegetables.
Bake for 40 to 45 minutes or until a knife inserted near the center comes out clean. Sprinkle with remaining cheese. Let stand for 5 minutes before serving.
Serves 6
Calories: 162
Saturated Fat: 2g
Sodium: 477mg
Dietary Fiber: 1g
Total Fat: 5g
Carbs: 15g
Sugars: 1g
Cholesterol: 17mg
Protein: 15g
Information
Category

Breakfast/Brunch

Cuisine

North American
Pair this strata with a large fruit salad, coffee, and mimosas, and your brunch will be lovely and healthy. Happy New Year!