Healthy Sugar Cookie Recipe
A Lighter Holiday Sugar Cookie
When it comes to Christmas cookies, I'm usually not one to skimp on taste by adjusting ingredients. But, if a slight adjustment can make a cookie a bit healthier while also still tasting delicious, I'm all for it — like these sugar cookies for instance. Even though there's fat and sugar in these cookies, it's a lot less than the original recipe calls for.
See the recipe when you read more.
Ingredients
3/4 cup granulated sugar
1 cup Earth Balance
1/2 tablespoon vanilla extract
2 egg yolks
2 3/4 cups all-purpose flour
1 teaspoon baking soda
1/4 teaspoon kosher salt
1/2 teaspoon cream of tartar
1/4 cup granulated sugar or sprinkles (optional for dusting)
Directions
Preheat oven to 350°F.
Using a stand mixer, mix the Earth Balance and sugar together using the paddle attachment until light and fluffy. Then add the vanilla and egg yolks, mixing until combined.
Add flour, baking soda, cream of tartar, and salt. Mix together until combined and doughy.
Roll dough into 1-inch balls, then dust formed balls with sugar. Place dusted dough balls onto a cookie sheet lined with parchment paper.
Bake cookies for about 18 minutes, or until they are lightly brown around the edges. Cookies should be soft in the center.
Transfer to a wire rack to cool.
Makes 48 cookies.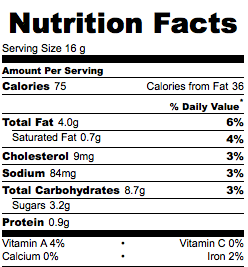 Information
Category

Desserts, Cookies

Cuisine

North American
If these cookies are still not light enough for you, make a smaller cookie to increase the yield and decrease the calorie per serving. You can also decrease the amount of sugar used by adding spices like ginger, cinnamon, or nutmeg.
Source: Flickr user lokate366