Healthy Summer Fruit Snack Recipes
Filling, Refreshing Snacks to Beat the Summer Heat
You're hungry, hot, and tired — time for a snack that'll help you feel better in no time! Here are a few delicious snacks that will fill you up, cool you down, and give you energy for the rest of the day.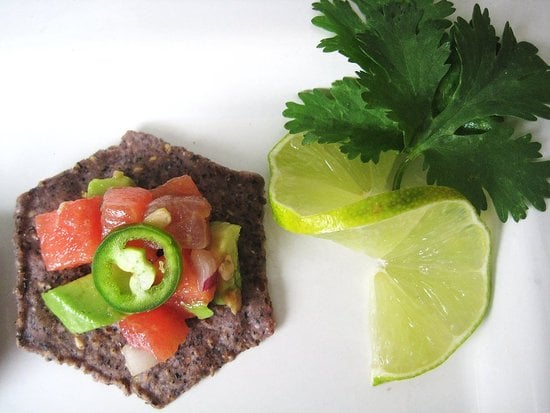 Tuna Watermelon Ceviche
Nothing says Summer quite like ceviche, and this ahi tuna and watermelon ceviche recipe is even more heat-friendly. The antioxidant-rich watermelon hydrates and fills you up, and the tuna is a good source of energy-sustaining protein.
Avocado Toast
It's true — eating spicy foods can cool you down and rev up metabolism. This avocado toast with hot sauce is one of our favorite ways to snack on the in-season produce, and it's not hard to see why. Whipping up this snack is easy, and the hot sauce provides an extra kick against the creamy avocado. And since avocado is high in fiber and healthy fats, your simple snack will keep you full for hours.
Read on for more Summer snacks!
Roasted Tomato Hummus With Cucumbers
When your tomatoes are ripened to perfection, make this roasted tomato hummus recipe. Then serve with slices of cucumbers for a filling and cooling patio snack with friends.
Cream-Stuffed Strawberries
If you're in the mood for something sweet, snack on these banana-cream-stuffed strawberries. The protein-rich Greek yogurt filling (as well as the almonds) helps keep you energized, and at only 150 calories a serving, you don't have to wait until dessert time to indulge!