Healthy Super Bowl Snack Tips From Jillian Michaels
3 Tips on Healthy Super Bowl Snacking From Jillian Michaels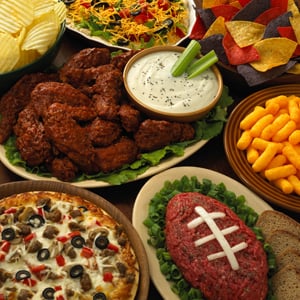 If you're like us, you might be parked on the couch this Sunday watching the Super Bowl. Even if you're not a huge football fan, there's still halftime, the commercials, and Super Bowl parties to contend with. Before you let the big game day deter you from your healthy diet, check out how trainer Jillian Michaels keeps Super Bowl eating healthy, fun, and filling.
Snacking is a hard habit to break . . . so don't — Jillian says to look for healthier snack options instead: Popchips are great alternatives to brands like Doritos or Cheetos, and we love making kale chips. Jillian makes nachos healthier by swapping out cheese and sour cream for black beans, guacamole, fresh salsa, and plain Greek yogurt. And if meat is on the menu, look for lean grass fed beef or organic chicken. Or consider going meat-free with our tofu chili with black beans.
Steer clear of calorie-filled condiments —  When dressing up a burger, Jillian says to avoid high calorie condiments like ketchup and mayo. Instead, she prefers to garnish football fare with avocado and organic veggies.
Watch your alcohol consumption —  Jillian suggests skipping alcohol completely on Super Bowl Sunday, but if that's not possible, go for something lighter. Our picks are a glass of wine, low-cal cocktail, or light beer.