Healthy Sweet Potato Casserole Recipe
Sweet Potato-Pecan Casserole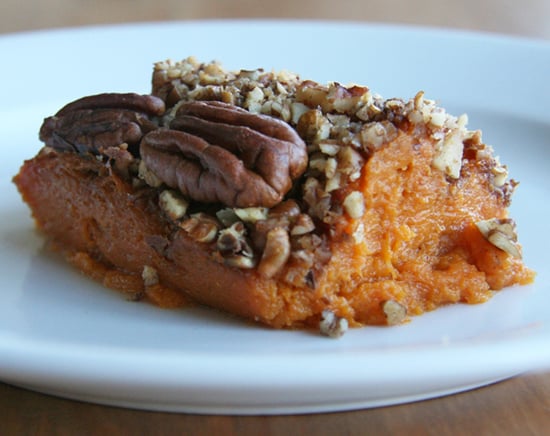 Traditional sweet potato casserole brings a pile of unnecessary sugar and fat to the table. Swapping out marshmallows for a warming cinnamon pecan crumble plays up the natural flavor of this sweet superfood — instead of covering it up! Weighing in under 210 calories, it's a casserole you can enjoy a heaping scoop of without any unpalatable guilt.

The flavor is familiar, but this recipe is fresh, new, and easy to follow. If you're ready to plan a lighter Thanksgiving dinner that everyone will still enjoy, then keep reading for the comforting side dish recipe.
Sweet Potato-Pecan Casserole
From Ellie Krieger, Food Network
Ingredients
5 medium sweet potatoes, peeled and cut into 1-inch chunks
1/3 cup honey
1 large egg
1 teaspoon ground cinnamon
1/4 teaspoon ground nutmeg
1/8 teaspoon ground ginger
1/2 teaspoon Kosher salt
1 tablespoon packed dark brown sugar
1/3 cup finely chopped pecans
Cooking spray
Directions
Preheat the oven to 350°F. Mist an 8-inch square baking dish with cooking spray.
Bring a few inches of water to a boil in a pot with a large steamer basket in place. Put the sweet potatoes in the basket, cover, and steam until tender, 20 to 25 minutes.
Transfer the potatoes to a bowl, and let cool slightly. Add the honey, egg, 1/2 teaspoon cinnamon, the nutmeg, ginger and 1/2 teaspoon salt; whip with an electric mixer until smooth. Spread the sweet potato mixture in the prepared baking dish.
Mix the brown sugar, pecans, and the remaining 1/2 teaspoon cinnamon in a bowl; sprinkle over the potatoes. Bake until hot and beginning to brown around the edges, 40 to 45 minutes.

Serves 6.

Information
Category

Side Dishes

Cuisine

North American