Healthy Tabbouleh Salad Recipe
Snack Smarter: Tabbouleh Salad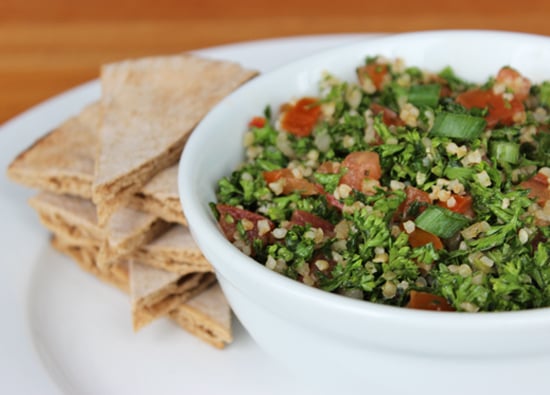 Parsley usually sits on a plate as garnish, but in this traditional Middle Eastern dish, parsley is the star! The cracked whole-wheat grain bulgur ties the recipe together and adds some extra fiber and protein. Tabbouleh is also high in iron, manganese, and vitamins C and A, all important nutrients for the body, and the parsley, lemon, and mint each contain natural detoxing properties. Cutting back on the oil and salt used in more traditional recipes allows the bright, natural flavors to speak for themselves.
This salad is a nice foundation for a healthy lunch, or you can serve it as a satisfying snack with some fresh pita, as pictured.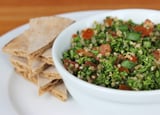 Ingredients
1/3 cup medium bulgur, dry
2 cups finely chopped ripe tomatoes (1 pound)
3 cups finely chopped curly parsley
1/2 cup finely chopped mint
1/2 cup minced white onion
1/2 teaspoon salt
1/2 teaspoon freshly ground pepper
1/2 teaspoon allspice
1/4 cup extra-virgin olive oil
3/4 cup fresh lemon juice
1 large scallion, thinly sliced
Directions
Put the bulgur in a large bowl, and stir in enough water to cover. When the wheat dust and chaff rise to the surface, pour off the water. Rinse the bulgur three or four more times, until the water is clear. Cover the bulgur with fresh water, and let it soak for 20 minutes.
Pour off the water, and then squeeze the bulgur dry. Transfer the bulgur to a large bowl and add the tomatoes.
Stir in the parsley, mint, onion, salt, pepper, and allspice, and then add the olive oil. Gradually add the lemon juice, tasting the Tabbouleh until it is balanced; it should be lemony but not unpleasantly tart.
Cover and let stand for 20 minutes. Garnish with the scallions.
Serves 6.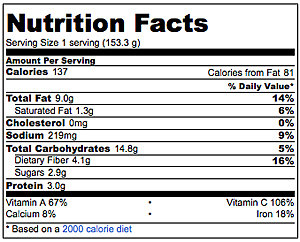 Information
Category

Snacks

Cuisine

North American