Healthy Things to Add to Eggs
Get Excited For These Excellent (Healthy) Additions to Eggs
Remember when you used to read Green Eggs and Ham by Dr. Seuss as a little kid? Breakfast seemed so much more thrilling back then. Green eggs, rhymes, and laughs may have been present but they aren't the only components to get you stoked for a filling AM meal. Studies show that digesting protein in the morning will kick-start metabolism and get glucose levels neutralized for the day. If that doesn't excite you, find out what additions will make you healthy and happy at breakfast.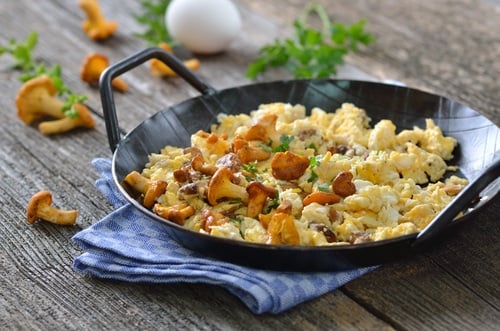 Salt n' Pepper: This doesn't refer to graying hair or the '80s hip-hop group. Although salt and pepper are one of the most common spice groups around, hence, their customized shakers, these two are the easiest ingredients you can add to spice eggs up. Throw a dash of salt into the uncooked bowl of eggs and sprinkle the pepper on the top when finished. Instant satisfaction. For more daring flavors throw garlic and onion into the hot mix.
Egg whites: We don't want to neglect the yolk, which contains valuable fats, we just want to boost the protein power of the whites. Purchase a carton of organic egg whites and add a serving of whites to every egg you crack into the bowl — you won't even notice a difference. The result is cleaner tasting eggs with just the right amount of fat to absorb all that protein.
Got milk? Whether you sip on dairy, soy, or rice milk, a tablespoon can go a long way. Adding milk to your eggs can add vitamin D while fluffing the texture up a bit. Pour some into the mix and whisk until the white disappears into your bowl of eggs, then throw the whole thing onto the pan. If you use a nondairy milk just make sure to use the unsweetened version, the flavor of vanilla is a little less than exciting to find in your eggs.
Cheese please: Cheddar, goat cheese, mozzarella, you name it. A sprinkle of this solid dairy can turn your scramble into a melt. A tablespoon on top of your breakfast can give you extra calcium and essential fats for your dietary needs. Try not to overdo too much of a good thing by adding just a little cheese to your final product. The heat from the eggs will allow it to melt slowly without the stringy texture.