Healthy Thumbprint Cookie Recipe
Vegan Thumbprint Cookies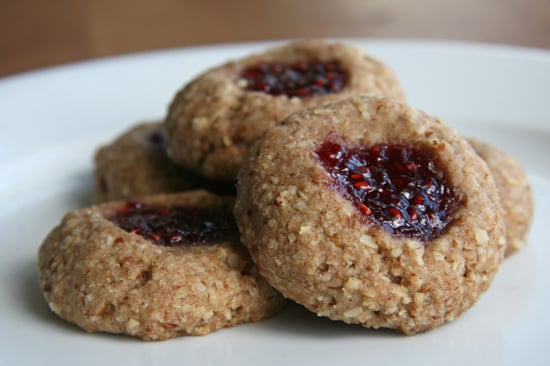 To lighten things up in the dessert department, traditional Thanksgiving treats need a bit of an overhaul. These cute pecan-filled thumbprint cookies are a far healthier alternative to sugar- and fat-laden pecan pie. The best part? They're vegan! This recipe is easy to put together, not overly sweet, and free of cholesterol. After making your mark in the center, fill them up with a tiny bit of your favorite jam, and you've got a delicious dessert on your hands that's under 125 calories. Ready to get baking? Keep reading for the thumbprint cookie recipe.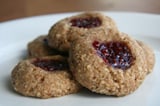 Ingredients
1 cup pecans
1 cup rolled oats
1 cup whole wheat pastry flour
1/2 cup safflower or canola oil
1/2 cup maple syrup or brown rice syrup
1/4 teaspoon salt
5 tablespoons fruit juice sweetened jam
Directions
Preheat oven to 350°F. Put pecans and oats into a food processor, and pulse until coarsely ground. Transfer to a large bowl, and add flour, oil, syrup, and salt.
Stir to combine well. Roll walnut-sized balls of the dough in the palm of your hand to form each cookie, then arrange on two large baking sheets, spacing cookies two inches apart. Press your thumb gently down into the center of each cookie to make an indentation. Spoon a teaspoon of jam into each indentation.
Bake cookies until golden brown and just firm around the edges, 15 to 20 minutes. Transfer to a rack to let cool completely, and then serve immediately or store between layers of waxed paper in an airtight container.
Makes about 25 cookies.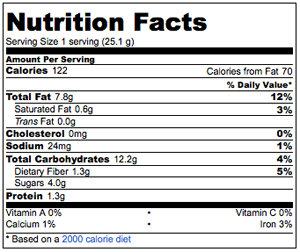 Information
Category

Desserts

Cuisine

North American