Healthy Time-Saving Cooking Tips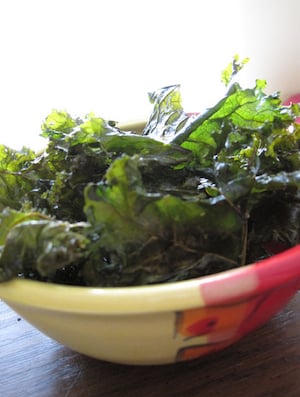 The other day I popped into Trader Joe's for the usual essentials, and I immediately zeroed in on a new product — prewashed, precut kale in a bag — heavenly!
I'm not a big pre-packaged kind of girl, but Trader Joe's always offers a variety of bagged lettuces, and veggies, sliced, diced, washed, and ready for eating. What's great about kale is you can do so much with it and it is full of powerful immune-boosting antioxidants. What I do now is take the entire bag of kale and make delicious baked kale chips. Buying washed and already cut vegetables is a great way to cut your cooking and prep time in half. Even if you can't find the kinds of vegetables you want already bagged and ready to go (or maybe the bagged versions aren't fresh where you live), set aside 20 minutes, once or twice a week to wash, cut, peel, and store a variety of veggies. The next time you need a snack, you can grab some cut up peppers over a handful of cookies!
Another helpful time-saving tip is to stock up on canned legumes like chickpeas, kidney beans, and lentils and different bean-based soups. Beans come packed with protein, magnesium, potassium, foliate, and fiber; they fill you up quickly; require little preparation to use; and you can instantly add them to various recipes to make a dish more hearty. Here are some filling bean recipes to get you started.
Source: aMichiganMom