Healthy Valentine's Dinner Menu
A Healthy Valentine's Day Dinner Made For Two
Instead of rubbing elbows with strangers at an overcrowded restaurant this Valentine's Day, make this indulgent-tasting healthy meal. Surprise that special someone with our four-course dinner filled with vegan and carnivorous options, or double up in the kitchen and bond while whipping up coconut cream together. Either way, it's sure to be an intimate affair!
Goat Cheese Spread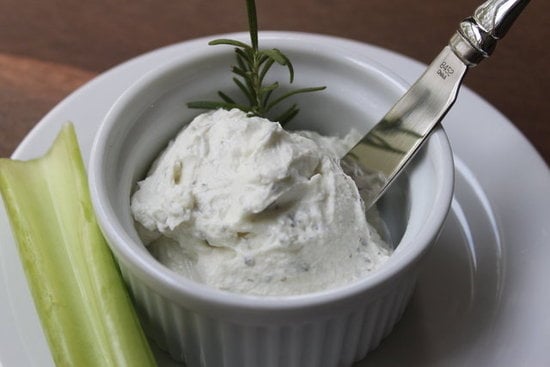 Start the night off with a light bite. Our recipe still has the rich, creamy tang of goat cheese, but without all the calories found in a traditional spread. Pair it with fresh veggies and garlic-brushed crostini.
Apple and Cabbage Salad


Before the main course, cleanse the palette with a crisp apple and cabbage salad. This detoxing salad helps aid in digestion, which will come in handy after devouring this four-course meal!
Wine-Poached Steak With Haricots Verts


Our steak with haricots verts is sure to impress any dinner date (well, unless of course, you're dining with a vegetarian. In that case, try our spicy cauliflower lasagna.). Made with heart-healthy red wine, this meaty dish falls right in line for a celebration of love. And at only 350 calories per serving, there's even more reason to love this dish.
See what cocktail and dessert to serve after the break!
Rio Royale
Before moving on to dessert, have a celebratory toast with your special someone. A twist on the traditional kir royale, Rio Royales are made using antioxidant-rich acai liquer; acai pulp has more antioxidants than blueberries, pomegranates, or red grapes.
Coconut Cream Strawberry Parfait With Almond Biscotti


After polishing off a steak, dessert is kept light with a vegan coconut cream strawberry parfait. Serve this dessert alongside our homemade almond biscotti; it's a light but indulgent way to end the night!