Heart Attack Symptoms For Younger Women
Younger Women Getting Heart Attacks Without Realizing It, Study Says
You may think that heart attacks happen when you're older, and when they do, the sudden, gripping pain in your chest will be all you need to know that you're having one. But a new study published in the Journal of the American Medical Association has found that in reality, women are getting heart attacks younger and without the normal symptoms we think are the signs of a heart attack.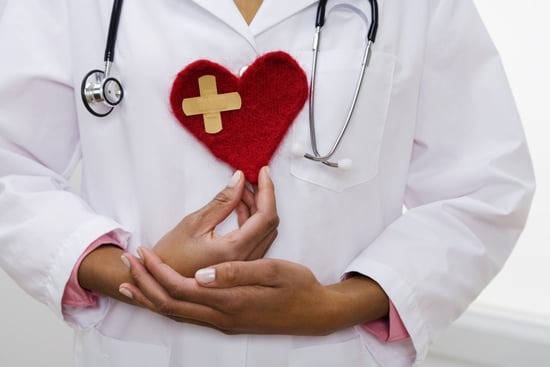 The study, which followed 1.4 million heart attack patients for 12 years, found that 42 percent of the women experienced a heart attack without any chest pain, compared to 30 percent of the men in the study. Heart attacks also led to death in more of these women — possibly because they didn't think they were having a heart attack in the first place, and therefore put off going to the hospital. Also worrisome was the fact that most of the women with these atypical symptoms were younger (less than 55 years old).
Knowing what symptoms other than chest pain you should look out for may help you get the timely care you need. Read on to find out the common heart attack symptoms in younger women.
In addition to chest pain and discomfort, you should be looking out for these symptoms (which may or may not happen alongside chest pain):
Fatigue
Shortness of breath
Pain or numbness in places like your jaw, arms, stomach, or back
Nausea or vomiting
Dizziness or lightheadedness
Breaking out into a cold sweat
Doctors say that many women think they are coming down with the flu, are stressed, or have a pinched nerve, and therefore never go to the hospital. However, it's important that you seek medical attention as soon as possible; the American Heart Association warns that you should call 911 within five minutes of experiencing these symptoms.