Heart Disease Is the Leading Cause of Death Amongst Women
Was That a Heart Attack or Am I Just Tired?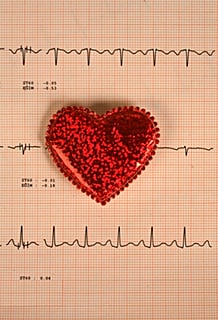 I was shocked when I first heard that heart disease is the leading cause of death amongst women. It's not something many people talk about, at least not in the same way as breast cancer or obesity. Since I associate heart attacks more with men, I wasn't too surprised to hear that a lot of other women are misinformed too.
A study found that almost half of 2,300 women surveyed wouldn't call 911 if they were having a heart attack, primarily because they couldn't identify the symptoms. Most women didn't know that heart disease is also the leading cause of death amongst their gender.
The American Heart Association (AHA) conducted the study as a way to determine how to educate the public about heart disease. Researchers say that the messages provided by the media about heart disease are often confusing — the AHA's goal is to raise awareness by delivering the facts in a straightforward and simple way.
Ladies, it's American Heart Month, meaning there's no better time to learn the warning signs that you may be experiencing a heart attack. Here are the symptoms WebMD advises we look for. Please call 911 if you think you or someone you know is experiencing an attack.
Discomfort, pressure, heaviness, or pain in the chest, arm, or below the breastbone
Discomfort radiating to the back, jaw, throat, or arm
Fullness, indigestion, or choking feeling (may feel like heartburn)
Sweating, nausea, vomiting, or dizziness
Extreme fatigue, weakness, anxiety, or shortness of breath
Rapid or irregular heartbeats