Heidi Klum, Renee Zellweger, Hayden Panettiere Sporting Short New Hairdos
Do You Cut Your Hair Off When the Weather Heats Up?
When I asked you what your workout hairdo is, the vast majority of you said you are all about the ponytail. Not all of you LOVE it, but you do say it's the easiest hairdo to pull off when working out. I'm with you. Whenever I'm active I always pull my hair back into some sort of ponytail, but stars Hayden Panettiere, Heidi Klum, and Renee Zellweger have me thinking otherwise.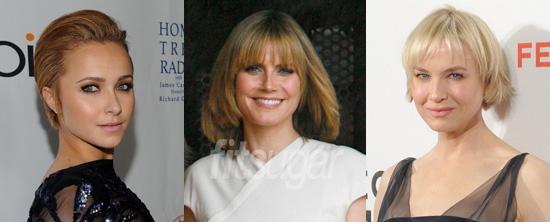 Hayden, Heidi, and Renee all showed up this week with new short 'dos. I have to say that they look really sophisticated and comfortable – there is something so nice about having hair that doesn't touch your chin! When I was younger, I never really had long hair. I was so active in Spring and Summer sports that when the sunny days got longer, my hair got shorter. I just couldn't deal with sweaty, sticky hair getting in my way when I was running around. After seeing these sporty new hairdos, I'm seriously considering chopping all of mine off in time for Summer.
How about you . . .