Heidi Montag Undergoes Plastic Surgery to Become "Perfect"
Have You Thought About Plastic Surgery to Boost Your Body Image?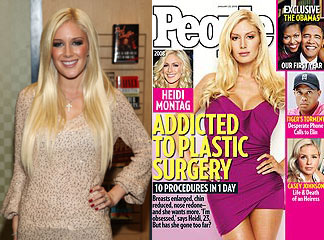 On the cover of this week's People magazine is a new and improved Heidi Montag. After recently undergoing 10 different plastic surgery procedures at once, Heidi says, "I love my body! I still feel a little fragile, but I've never felt more beautiful and sexier. I didn't know I could have this much confidence."
You may be thinking what most of the world thinks when they look at Heidi's before photo — she was already gorgeous. But The Hills actress's many insecurities about her appearance are what led her to have elective surgery to undergo breast augmentation, a brow lift, nose job revision, chin reduction, lipo on her waist, hips, and thighs, tush augmentation, fat injections in her cheeks and lips, botox on her face, and have her ears pinned back. Although this amount of work may seem excessive, many women have contemplated plastic surgery if they are self-conscious about a part of their appearance. Have you?