Herb Chicken-Tofu Burger Recipe
Make This: Moist and Healthy Herb Chicken-Tofu Burgers
I love any kind of burger, especially one that's flavorful without being a caloric bomb. So I decided to forgo my usual ground beef burger indulgence and make one using ground chicken. Since I was using lean chicken breast, I was worried that the burgers would be too dry, so I was looking for a way to keep them moist without having to add ingredients that wouldn't meet the "healthy" cut.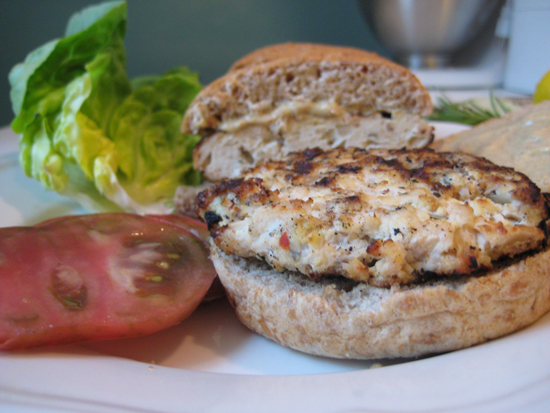 Of course, in times of culinary confusion I always turn to my mom, who suggested I add tofu to the mix, and it was perfect. The tofu added just the right amount of binding so I didn't have to add egg yolk or breadcrumbs, and it blended nicely with the ground chicken. The result was a juicy chicken burger patty that didn't taste anything like tofu.
Check out the full recipe after the break (bonus: it's easy to swap the herbs and spices with your own favorites)!
Chicken-Tofu Burgers
Original recipe
Ingredients
1 pound ground chicken breast
Half block of firm tofu
1 medium onion, finely chopped
2 garlic cloves, minced
1 teaspoon chopped fresh rosemary
1 teaspoon paprika
1 teaspoon red pepper flakes
Salt and pepper
Directions
Cut half of a tofu block and roughly chop tofu or crumble with your hands. Strain using a cheesecloth (alternatively, press and drain tofu while it's still in block form and then chop).
In a medium bowl, mix tofu crumbles, onion, and spices with the ground chicken.
Form mixture into 5 medium-sized patties.
Put patties on oiled grill and cook for 10-12 minutes, flipping once halfway through cooking time.
Serve with your favorite condiments!

Information
Category

Main Dishes

Cuisine

North American
I plugged my recipe into a recipe analyzer and found that one patty is 117 calories, 1.3 grams fat, 57 mg cholesterol, 0.8 grams fiber, and 23.8 grams protein. I served mine with a teaspoon of mustard (0 calories, 0 grams fat) and an Alvarado Street Bakery Sprouted Wheat Bun (140 calories).