High-Carb Meals Make You Crave More Carbs, Study Says
Do You Indulge in Weekend Brunches?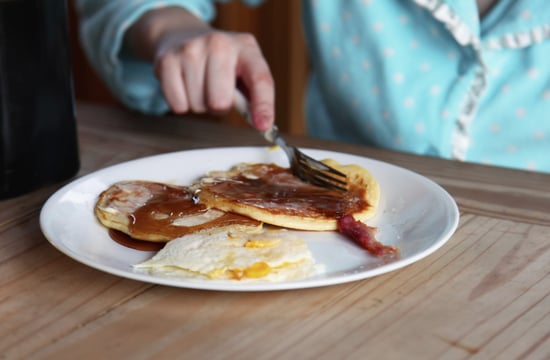 It may be delicious, but that pancake, french toast, syrup-filled brunch may not be the best if you're trying to stick to a healthy plan — and not for just the reasons you may think. A new study has found that loading up on carbs during a meal can make you hungrier and crave even more carbs mere hours after you finish your plate.
The study looked at obese participants and found that those who ate a sugary meal with a high-glycemic load ended up craving more carby foods later and were hungrier four hours postfeast than those who ate a more sensible meal that included foods with a low-glycemic load. Postmeal hunger, carb cravings, and blood sugar crash? Not a good combination for anyone trying to stay on a healthy path.
Even so, sometimes that leisurely, high-calorie brunch is definitely worth it; after all, a diet without any indulgences can be just as harmful! Tell us: when it comes to the weekend, do you relax your eating rules and indulge in a less-nutritious meal or do your eating habits (good or bad!) stay the same no matter what day it is?