Hiking Alone in Yosemite
Solo Hiking Tips I Learned Going to Half Dome and Back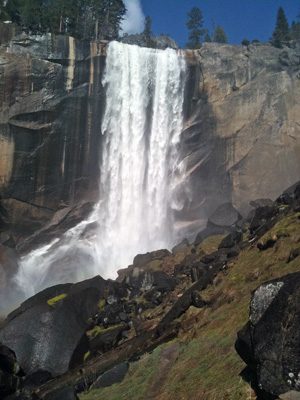 Last weekend started out pretty typical: my boyfriend and I made the four-hour drive to Yosemite for a few days of climbing with friends. But what I wasn't counting on was sleeping in that first morning and missing my chance to climb. Left alone, I figured I might as well go for a hike. My original plan was to do a two-mile hike to the base of Vernal Falls — ha! Twelve hours and 17 miles later, I had endured one of the most difficult treks of my life.
I would caution anyone to face a long distance challenge with a friend — especially for safety reasons. But if you've ever stopped yourself from going on a long run, hike, or bike ride because you were alone, it's worth considering as long as you do your research and come prepared. I can't remember the last time I felt so completely gratified and accomplished. Here are the things that helped me endure the trek.
Do your research. While I wasn't expecting to go beyond Vernal Falls via the Mist Trail and then take on Half Dome, I was prepared. It's a hike I've always wanted to do so I knew what to expect. I studied it enough to know the route and trail conditions with confidence. I also had done the Mist Trail (the beginning of the hike to Half Dome) several times in my past.
Be prepared. I didn't expect to go on a epic hike, but I did expect to be away from my camp until sundown, so I packed appropriately. In my pack I had enough food and water to last me beyond a full day. I also had extra layers of clothing, a headlamp, map, sunscreen, and a compass.
Find out what other tips helped me on my trek, and share your own stories with me when you read more.
Practice safety. Luckily, in Yosemite you can get cell phone reception. I made a point to send text messages to my ggroup letting them know where I was going and when to expect me back. I always keep my ID on me, and when hiking or climbing, I carry a whistle and blinking headlamp. It's a surefire way to get the attention of people from a distance in case you need help.
Know your limits. I saw many people of the trail struggling who had to turn back. Don't push yourself beyond your limit of safety, and make sure to rest. I definitely took time to let my body regain strength before trekking up another difficult push. On the other hand, don't give up if you know you can make it. Enduring a long distance hike or ride alone can be challenging and lonely — I made a point to motivate myself with little mantras throughout the day.
Talk to people. On the trail I tried to speak to people and it paid off in multiple ways. It helped combat the solitude, and I was able to pick up on some knowledge from those more familiar than I was.
Again, I want to stress that if I could have done this with a partner, I would have. While I definitely don't recommend doing the hike to Half Dome alone to everyone, I think it is very liberating to try and meet some physical challenge on your own.