Hiking Tips For the Trail
Hike On! Tips For the Trail
Before sitting down at the Thanksgiving table, I hope you're planning on doing something physical. Every year before feasting my family takes a hike, and I just learned a few helpful hiking tips walking through the hills of Malibu while staying at The Ranch.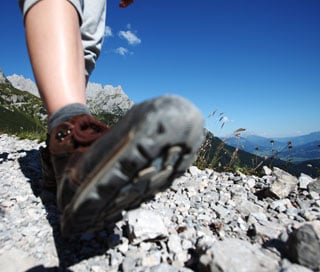 If you're planning on hiking over a couple of hours, invest in a pair of sock liners. The thin buffering layer worn under hiking socks really reduces friction and the chances of developing a nasty blister.
Unless you're carrying a heavy backpack, there really is no reason to wear heavy hiking boots with high ankles. Mark, the fitness director at The Ranch, recommends lightweight, breathable hiking shoes. Merrill and Vasque both make durable, yet comfy trail shoes.
I tend to get shin splints when I hike from walking sloppily downhill. When descending walk softly downhill with a slight bend in your knees to protect your shins.
Carry water no matter what! Even if you're only hiking for an hour, take some water with you. Staying hydrated makes any hike more enjoyable. Try a hydration pack or put a strap on your water bottle.
Look where you want to step. When dealing with roots and rocks, aim your gaze toward the safe ground where you want to put your foot. Your feet will follow your eyes.
Will you be hiking on T-day? If not, will you do something physical — the Kennedy's touch football game comes to mind — before you sit down to your feast?